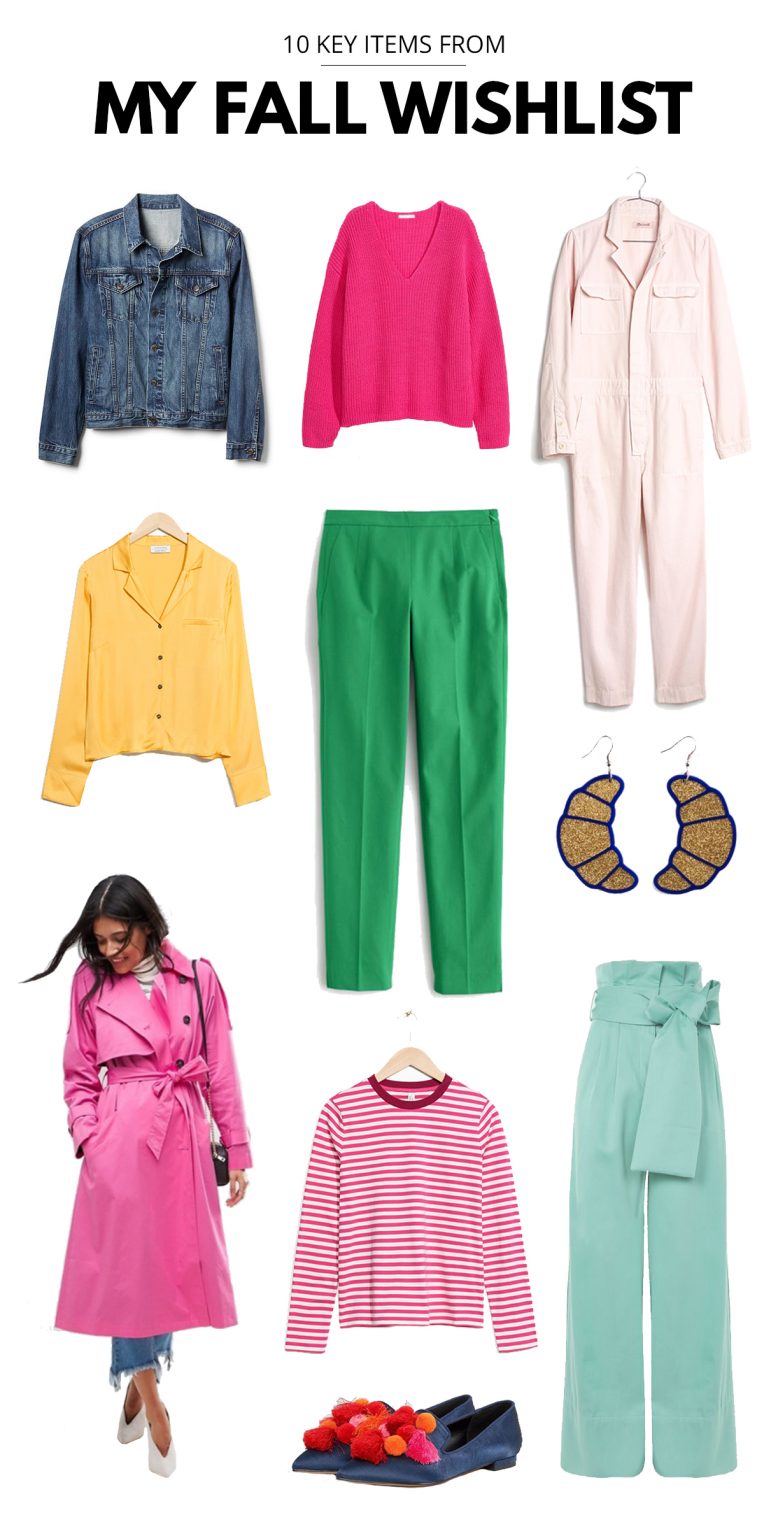 Fall, the hardest time to shop for a colorful wardrobe, in my opinion! Last year we did our colorful fall capsule wardrobe which was so much fun and challenged me to try some new sillhouettes and layering techniques. You can check out the video in the post for lots of tips on how to put one together! And even thought the season has probably already begun for a lot of you, we're just starting to get a few teases of cooler temps here so fall shopping is finally on my brain! Here's ten pieces I'm eyeing this year, and why!
No. 1 Men's Denim Jacket: The other day, I was running gout of the house and it was cooler than expected so I reached for the closest thing I could and it was Jeff's denim jacket. Turns out I actually LOVED how it looked when I got to work and took a look in the mirror. Not only that, it felt so much more comfortable than most of the cropped ones I've tried. WHY OH WHY is men's clothing always so much more comfortable!? #rude I mean, men's sweatpants. THE BEST!
No. 2 Colorful Chunky Sweaters: This is a yearly quest for me. I love a chunky sweater but it's not always easy to find. I snagged this one at the last minute before Create & Cultivate and it's my ideal sweater. I paired it with pink pants for a monochromatic look which I've now rocked a few times. I'm also loving this purple one and this green one.
No. 3 Coveralls: I actually snagged a turquoise pair (one? "Pair of coveralls"?) last year for a shoot but it's been too hot to actually wear them. I cannot WAIT to do so, they're so comfy. I also just ordered this pink pair to try and I can't wait to try it on!
No. 4 Pajama Button Down: I think the pajama trend started last year (?) but there is an opportunity to wear something that feels like PJs, I'm not turning that down. I love the idea of a silk-y button down! I find regular shirts like this to often be stiff and uncomfortable so this seems like a great solution!
No. 5 Tapered Leg Trousers: I've acquired a few oversized blazers and now (hopefully) an oversized denim jacket, but quickly realized almost all of my trouser style pants are culotte style. Wearing both together eats me alive so I'm on the hunt for some fitted, tapered trousers. These are on sale for $60!
No. 6 Croissant Statement Earrings: The statement earring trend doesn't seem to be going anywhere and I'm a-ok with that! I saw these croissant earrings and can die happy now. But seriously.
No. 7 Pink Trench Coat: It is my life goal to find a trench coat that fits, and then make sure it's a fun color and not just tan. This one might be THE ONE! The shade of pink is PERFECT!! But this light pink one is also calling my name. Which one do you like better?
No. 8 Striped Long Sleeve Tee: Jordy snagged this shirt for me in a lighter pink when we did our spring capsule and I've worn it so much. One of my favorite tees I've ever worn, and it's actually the only long sleeve tee I own. Since I spend a lot of times in t-shirts with Arlo around now, I want to build up my long sleeve inventory and snag it in a few new colors!
No. 9 Wide Leg, Full Length Pants: As I mentioned, I own 100 pairs of culottes but virtually no pants that are actually full length and not cropped. Been wanting a pair of high-waisted, wide leg pants to wear with tanks and tees to change up my go-to silhouette a little! (ps This pleated pair is blowing my mind! As are these striped ones.)
No. 10 Pom Pom Loafers: As you've seen by the 100 pom poms in Arlo's room and on the blog lately, we're having a moment. Since I'm now building out the best shoe closet of all time, these need to be in it!!!
What items do you have your eye on this fall? Or what items have you already picked up and are loving!? Share with the class!
p.s. My #1 styling trick and my top tips for getting the best deals at ASOS!
SaveSaveSaveSaveSaveSave
SaveSave