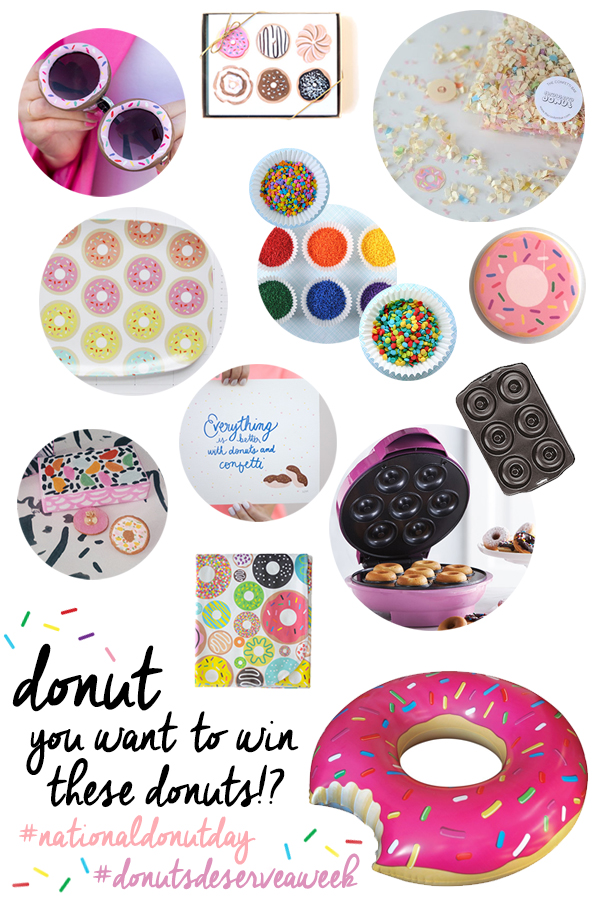 Oh me oh my.. you want to win ALL That fun donut stuff up there!? Well, now's your chance!!! But first and foremost… Happy National Donut Day!!!!!!! This may just be the best holiday. To whoever on the Internet that decided to invent it… thank you. I hope you are all eating a donut as you read this. I've had so much fun having an excuse to talking about them all week long and now I have a great excuse to send a ton of donut awesomeness to one of you lucky folks out there!!!!! Donuts to wear, to make, to snuggle with, to float on and the list goes on!! You can check out all the details and ways to enter below, and below that you can check out some more awesome donut projects, too! Because YAY DONUTS!
So.. what do I win, you ask!? Here's a list of everything you see above, that will soon be packaged up in a big ol' box and shipped to one of your doors for the donut delivery of a LIFETIME! I'm so excited about all the amazing companies that joined forces with me to help make this donut palooza possible! Check 'em out… Top to bottom, left to right.
Donut Sunglasses (Made by moi!) | Donut Cards from Ann Shen | Donut Confetti from The Confetti Bar
Donut Tray from my collaboration with Pencil Shavings Studio | Three Awesome Sets of Sprinkles from Sweet Estelle's | Donut Pocket Mirror from Little Big Fabric
Hand Painted Donut Earrings from Bouffants & Broken Hearts | Donuts + Confetti Letterpress Print from Iron Curtain Press | Donut Pan and Mini Donut Maker from Wayfair
Donut Blanket (35″x54″) from Candy Kirby Designs | Donut Pool Float
(That's just from me, too!)
Enter the giveaway using the Rafflecopter below. This giveaway is open to USA residents only.
And now that you've entered… some donut projects to check out while you eat your second donut. Cool?
The Faux Martha | Mix + Match Donuts!
Coco Cake Land | Milk Tea Donuts
I Am A Food Blog | Waffle Donuts
My Name is Yeh | Biscuit Donuts with Naturally Colored Glazes!
Hummingbird High | Sour Cream Donuts – Two Ways!
Wit + Vinegar
Edible Perspective | Samoa Baked Donuts
A Cozy Kitchen
The House That Lars Built | Donut Macarons
A Beautiful Mess | Donut Pillow
Paper & Stitch | Watermelon Donuts
Happy National Donut Day, everyone, and happy weekend! Thanks for spending the week celebrating with me.. I hope you all have a fantastically donut-y weekend!