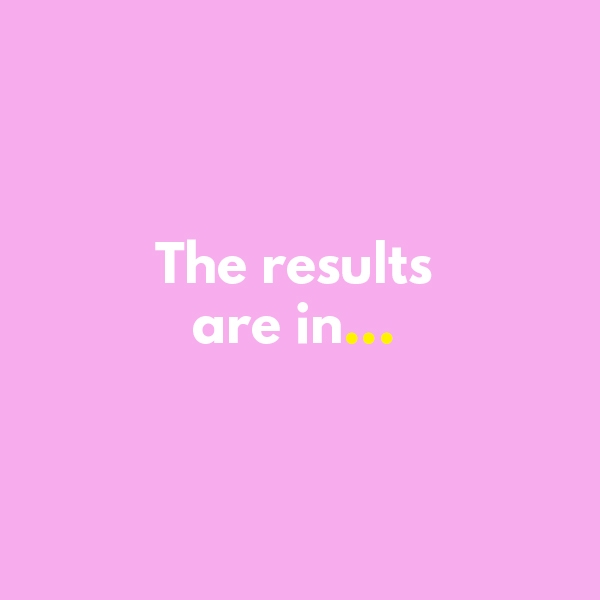 Last week, we put out a Reader Survey and so many of you shared your opinions with us! THANK YOU! I cannot even express how helpful it is to hear feedback at the end of each year, both good and bad! I wanted to write this post to share some of the results, answer some of your questions and tell you a bit about what we have planned thanks to your feedback!
AND! Since we get hundreds of questions and I can't answer all of them here, I did a Periscope this morning answering some more questions and chatting about some of the below. You can watch it here!
Click through for the results!
We have to start with the MOST important questions. Right?
Favorite Mean Girls quote?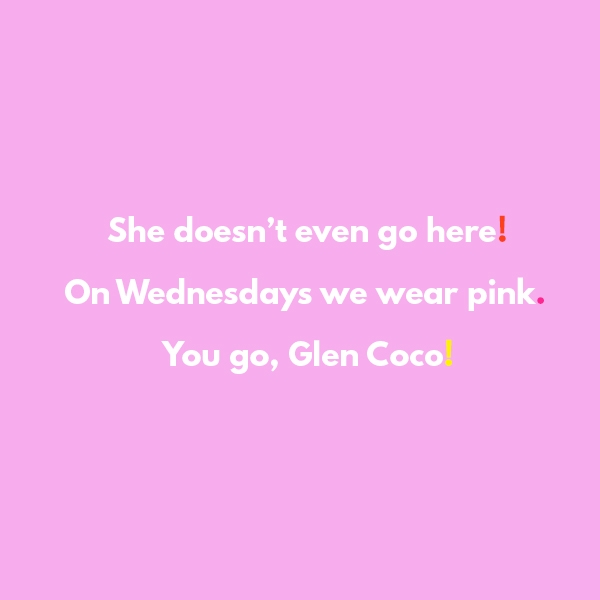 Pretty sure between all of you, you listed every. single. one. But those up there were the most popular!
Backstreet Boys or *Nsync?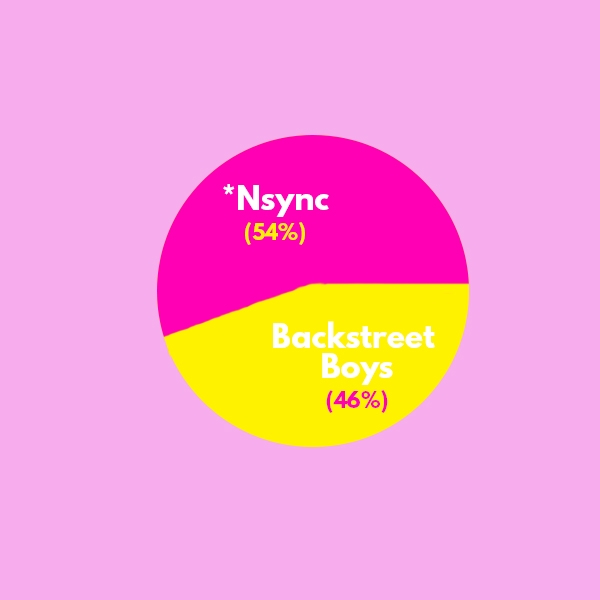 Looks like you're an *Nsync crew! A lot of you asked what side I was on and…. I was actually Team Backstreet Boys!!!! Thank you to everyone who still stuck around despite me spelling *Nsync wrong in the survey. HA. OOPS!!

Which DIY(s) have you made?
Not surprising, our most made DIYs are our Halloween Costumes! You can see evidence of that right here. There was also a lot of you that made our recipes, especially the funfetti ones, and a LOT of you made our emoji DIYs! AAA-YO! Rounding out the most popular are the piñatas and our pun-kins! NOW the real question is… for all of you who made one of our projects.. have you shared it + tagged it with #troopstudiodiy!?
What kind of home decor DIYs would you like to see?
Nearly 100% of you want to see more home decor DIYs in 2016! Primarily wall art, fun organizational ideas, pillows and other ways to add color to a room. ON IT!
And what non-DIY content would you like to see in 2016?
Travel: Ladies and gents! You like to get your travel on! I totally get this, as I am always looking for recs when I'm going someplace new. You asked for more Wall Crawls and more guides to desserts… but in other cities than just LA! Our 2016 plan is to do a Wall Crawl once a month and we're working on a similar concept for desserts, so stay tuned if you want to be a Sugar Fix Correspondent! (Hint hint!)
Fashion + Outfits of the Day: I was surprised at how many of you were interested in seeing more about my personal style, and what I wear to work on a daily basis. SO! We're launching a weekly series that documents what I wore during the week, stay tuned for that this Friday! We'll also continue producing shopping guides and product round ups and will always be conscious of prices, as budget-friendly was a recurring theme in your answers.
Personal + Behind the Scenes Posts: An overwhelming amount of you want to see more personal posts, like the yearly ones that I do. First of all, I am so glad that you enjoy these posts and I love hearing the stories you've shared. We're going to be starting a monthly behind the scenes post and in each of those, I'll talk a bit about what's going on in my life, both in the business and perhaps in my personal life too! We'll also be adding a fun Q&A to each Happy Weekend post and should we buy a house in the next year or so, I will be documenting that process here, too. ONE CAN ONLY HOPE!
Features on Other Small Businesses + Creatives: This was a really exciting one! A lot of you said you'd love to see more creatives, bloggers and small business owners featured here on the blog. I love that! We're actually in the early stages of putting together a REALLY fun interview series that I think you'll love. We are also always working to include more small businesses in our round-ups and other features, and I'm always thinking about fun collabs we can do with creatives!
How can Studio DIY improve? Website: This was one of the biggest topics in the improvement section. The good news is we are in the final stages of developing our new site and it should be ready to go next month. YAYYYYY!!!!!!! This will solve the search issues and the issues of being able to find content and we'll FINALLY have a mobile responsive version, along with updated branding too. So never fear! Solutions are coming!
More "Useful" DIYs: I knew this was gonna be a big one. A lot of you would like to see DIYs that still have that fun and wacky style, but are more useful in your everyday life. I was already feeling this, but it's good to know we're on the same page. You did say that you love the crazier ones we do, but would love those to be sprinkled in with more useful ones, and that is going to be our BIG goal in 2016.
International Frustrations: We got several different frustrations that those of you who do not reside in the US. First was the issue of finding supplies for some of our DIYs. That's a REALLY tough one, as it's hard for me to know what is available where, but I will continue to try my best to use basic supplies that can be found most places. And second, some of you mentioned that during the months that I focus on US-only holidays (i.e. Thanksgiving), you felt a bit left out. TOTALLY valid! We are working on another new series this year where we'll be sharing more about international celebrations, and I'm really excited about it. And I will try to be sure to have some posts applicable to everyone around those US holiday times.
Instagram: Two big things with Instagram. First, you wanted to see more original content on Instagram, not just photos from the blog. Second, you wanted to see other people featured more often. BOTH are happening in 2016! It's hard for me to manage consistent original content and features on Instagram on top of the blog, but we're bringing on some social media help to keep me on track. Don't worry though, Instagram will always be coming from me, there will just be someone behind the scenes making sure I'm following through. =) Which leads me to…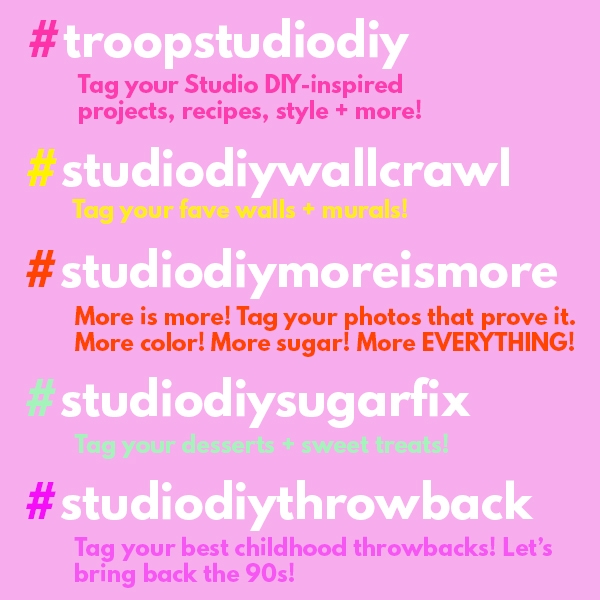 Our hashtags!! We are going to be featuring a lot more of your photos AND opening up some more hashtags for you to share with too! Check above and get to tagging!! We're really excited to feature your images on Instagram daily this year!
And now for some of your questions!
Are you starting a YouTube channel? Are you ever going to sell Studio DIY products?

Mayyyybeeee! 😉
What is your favorite cheese?
This is like picking a favorite child. But I'm pretty into brie, mozzarella, burrata and goat cheese.
What is your favorite post you've ever done?
I think when we filled a car with balloons was one of my favorites. I'd been dreaming about that for a LONG time. I also loved the lemon shoot and DIY-wise, I'm pretty head over heels for the heart emoji balloons, taco piñata, burger costume and the tie dye s'mores.
What kind of photo equipment + editing software do you use?
Jeff shoots with a Canon 5D Mark iii and primarily a 50mm 1.4 lens. He also recently got these lens extenders for food shoots. He uses these bounces, too, and edits in Lightroom and Photoshop.
Favorite food?
Pizza and chocolate cake.
What are some of your favorite craft supplies to work with? Your least favorite?
I love my hot glue gun. Like, I want to be buried with it. I will try to do basically anything and everything with a glue gun first. As far as least favorite, I actually really don't like spray painting. It's messy and smelly and annoying that it has to be done outside!
Which DIY trend can you absolutely NOT stand?
I think this has come and gone mostly, but chevron. I just don't like it, never have and never will!
How did Miley Cyrus find you?
Through Instagram! I'm not 100% sure how, but someone made a meme of Miley's face on my body and tagged us both. That night, she followed me and emailed me asking to work with her on her upcoming tour!
If you weren't a blogger, what would you be doing?
I would really like to be 1) A private investigator 2) A lawyer or 3) a backup dancer. I think I'd be really good at the first two. But being a dancer would make me the most happy, but I'd never get hired. HA! I don't think I'm ever happier than when I'm dancing!
Do you have a post about your blogging journey you can direct me to (like when you started blogging full time, when you were able to hire help, etc) or do you have plans to write one?
Yes, sort of! I have a post about my path that led me to Studio DIY which you can read here. But I'm hoping to do another post about the evolution of Studio DIY that kind of picks up where that left off. Stay tuned!
Business is booming, why kids now versus later?
This is a great question. A few reasons. First, Jeff and I have wanted to be parents since we were in college and knew we would pursue it as soon as we felt more financially stable. 2015 was the first year where I was able to hire employees, who will be integral once we become parents, and it was the first year we saw some real income that we could support a family on. That said, I don't think anyone ever feels 100% "ready" for kids and I'm very much a "just do it and figure it out later" kind of person so that's the plan. HA! Lastly, I love love LOVE my job, but there is no job I'd rather have than be a mom, so for me, putting off starting a family to continue pursuing a career wasn't an option. So both it is!
What would you tell past Kelly?
Go to business school, elope, SAVE MONEY, be prepared (Life is going to be CRAZY!) and remember to live in the moment sometimes, and not always focus on what's next.
Any travel destinations you haven't been to that you'd like to travel to this year?
Not this year, but my dream destinations are India, Australia and wherever this is in Portugal.
When you were a little kid, what did you want to be when you grew up?
First a veterinarian, followed by a zoo keeper, followed by a cat house designer (Yep.), followed by a dancer, followed by an interior designer, followed by a fashion designer and then I somehow fell into weddings and blogging and the rest is history! =)
If a high school/college student wanted to have a business like yours someday, is there anything they could do now to prepare for it to help them be more successful?
Don't just rely on school to get you to where you want to be. Take on internships and get EXPERIENCE! If there isn't a class that fits what you want to do, find a way to do it anyway. Do independent studies or ask to form your own curriculum. And if there isn't a major that fits either, major in business. Because you'll need those skills, ALWAYS. You can read more about my high school and college experience here.
What is your favorite Lisa Frank character?
I was pretty obsessed with Casey (the yellow lab) as a kid, probably because I had one. Ha! Nowadays I'm pretty obsessed with Spotty and Dotty.
And on that note! To summarize, in 2016 you'll see all the good/crazy/colorful content from 2015 PLUS….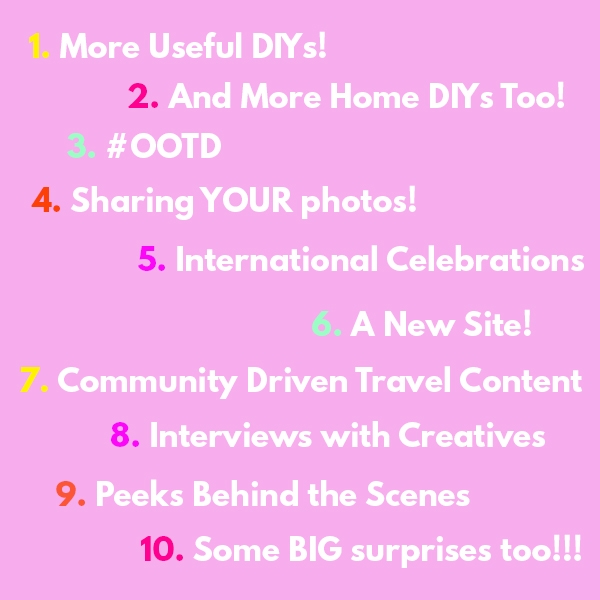 Phew! That was a long one, but there was a lot to cover. I'm REALLY excited about 2016 and what we have in store. Hope you are too, and thank you as always for being here! You're all rockstars!!
Remember you can watch the Periscope HERE to hear a few more of your questions answered, and more of my thoughts on 2016. I'll try to post the replay link if you can't be there live.