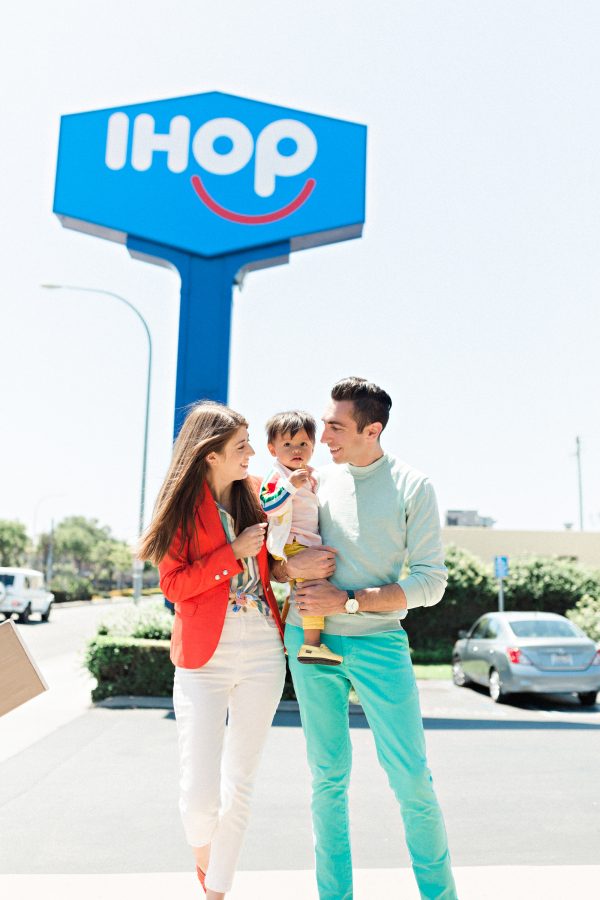 Photos by One Eleven Photography
Finally! I'm kicking off a five part series about adoption. We get SO many questions about our adoption process and story and I wanted to finally put it all together in one place. However, since each question and answer is so robust, I'm breaking it up into five different parts to not overwhelm you. Here's how it'll go: Today I'm going to share an in depth timeline of our process. This information will also help all the other questions I'm going to answer make sense AND help define a few terms I'll be using throughout the other posts so please read this post first and also refer back to it as we go through the other three parts of the series! 
Next, I'll be doing a full breakdown of the finances of our adoption. This is the #1 most asked question I get so I'm giving it it's own post. The final three installments will be Q&A style and go as follows… Part 1: First Steps through Home Study Approved, Part 2: Home Study Approved (AKA a "waiting" family) through Placement and Part 3: Post-Placement. Feel free to leave any questions you have below. I've already collected a bunch but always happy to add more if this information sparks any! These posts will be very lengthy but if you're seriously considering adoption, I figure you want all the info you can get!
And last thing before I dive in. A disclaimer: Every single adoption is different. The experience isn't the same, the costs aren't the same, the child isn't the same, the relationship with the birth family isn't the same. I will be speaking exclusively from my experience as an adoptive parent as that is what I know! I don't claim to be an expert and I'm still learning a lot myself. Everything I speak to will be focused on domestic infant adoption, I will not cover foster care or international adoption because I have no experiences in those areas! Ok, ready??
Below you will find the breakdown of every step we went through from reaching out to friends who had adopted to match to placement (which means when Arlo was placed into our care/custody) to finalization. This is primarily for timeframe purposes so I don't get into the emotions and extreme details of each step, which I'll instead cover during the Q&A portion. The total timeline from the first email I sent to our adoption team to the time Arlo was born was about seven months. The total timeline from the first email I sent to our adoption team until our adoption was finalized was 21 months. Here we go, from the beginning!
July 2016: Research
I started my more serious research shortly after our second miscarriage which for me was the "straw that broke the camel's back" and pushed me to pursue adoption, which was always a path we hoped to take for our family at some point. I did some initial research (i.e. I googled things.) and then I emailed an acquaintance (now friend!) Jenna. I had seen on her Facebook that she had recently adopted. She was the only person I knew who had recently been through the process so I sent her a Facebook message asking if she'd be open to answering some questions for me. She was, and a few weeks later we met for lunch and I asked her anything and everything. At that time, she also gave me the contact information for her adoption team.
Aug 4th, 2016: First Email to an Adoption Professional
Shortly after our lunch date, I reached out to the team Jenna recommended via email. This consisted of two people: an adoption consultant and an adoption attorney. I like to equate the adoption consultant to a doula. She was there to guide us through the process on a more personal level. She, an adoptive mom herself, answered all our questions, helped us create a plan for our outreach to birth mothers, helped us make our profile book, gave us insight into what the birth/hospital experience would be like and what the initial few weeks after would be. Then there was our attorney. She handled all legal paperwork from start to finalization and also did outreach to birth mothers through her connections on our behalf, among other things.
Aug 19th, 2016: Meeting with our Consultant
We set up an initial informational meeting with the adoption consultant where she answered a lot of our questions and also got a lot of information from us, to ensure we were in the right head-space to proceed with the adoption process.
August 20th, 2016: Weekend Away
The next day, we went on a pre-planned weekend trip. This is the weekend where we decided to officially move forward with the adoption process. We had several hours in the car to talk through all our options and ultimately decided that adoption felt exciting and hopeful whereas another round of fertility treatments felt daunting and painful. Adoption was always on the table for us, but it took this weekend to step away and look at our situation to realize how CLEAR our answer was.
August 22nd, 2016: Signing with our Adoption Team
The day we returned, I emailed the team again and told them we officially wanted to sign on and start the process.
August 27th, 2016: Meeting to Build our Profile
Our consultant came to our house for a three hour meeting where her goal was to learn everything about us as a couple. She asked us about our careers, our families and our hobbies. She also asked us and educated us about what we were open to when it came to gender, race, level of open-ness in the adoption, drug/alcohol exposure, etc.
With all of this information, she gave us an outline for how we should build our profile book and online profile. The profile book is a photo book (think Shutterfly, Mixbook, Chatbooks, etc.) that is presented to birth mothers when they are choosing an adoptive family for their baby. Our online profile was used for the outreach we did on an adoption website called Adoptimist. It is similar to the book, just in more of an online "about page" format.
September 6, 2016: Signing Up for Our Home Study
At that meeting, she also gave us the information for the agency we were to do our home study with. The home study is approximately a two to three month process that includes a background check, fingerprinting, adoption education classes, extensive informational paperwork, written recommendations from loved ones and in-home visits with a social worker.
We had to email them to receive our packet of paperwork and schedule the first visit with our assigned social worker.
September 9, 2016: Putting Together Our Profile Book
While we awaited the paperwork and visit we put together our profile book. We were lucky that this came easy to us because of our careers. We had a TON of photos of us and we were already pretty good at writing and "marketing" ourselves since that's literally what we do for a living. I'm not sharing our book because it's incredibly personal but it included about a dozen pages like: intro pages for each of us, a page about our careers, a page about each of our families, a page about our travels, a page about our hobbies and two pages about our promises to our future child.
September 13th, 2016: Fingerprinting
We went to get our fingerprints done for our home study.
September 25th, 2016: Our First Home Visit
We were terrified of our first home visit because social workers and adoption is often painted in such a negative light in the media. Turns out we had NOTHING to be worried about. We had an amazing social worker (Who told us about her love for food-themed halloween costumes. I MEAN! We were meant to be!) and she was primarily interested in making sure we were both stable individuals, in a committed relationship and that our home environment was safe for a child.
In this meeting, she went over all of the paperwork and answered any questions we had before we filled it out. She toured our home and made a few notes on things we had to move or update for safety reasons.
Early October: Filling Out Home Study Paperwork
You are required to answer dozens of questions, do a complete autobiography of yourself and get several references from co-workers or friends. We spent a few weeks working on this paperwork prior to our final home visit.
October 31st, 2016: Final Home Visit
In this visit, our social worker checked to ensure we had made the requested updates (purchased child safety locks, put medicines in a locked box, etc.) and purchased a car seat. She then met with each of us individually to answer questions, and then with us as a couple to answer additional questions. She reviewed all our paperwork to make sure she had everything she needed before she did our official home study write up.
November 15, 2016: Announced We Were Adopting to Family and Friends
Our adoption team firmly believed in telling anyone and everyone that you were adopting because you never know where that connection might happen with a birth mother. So on our two year anniversary, we announced on Facebook and via email to family and friends that we were adopting. We made a video to do so and we asked everyone to share it to their own Facebook pages to spread the word. We also created a adoption dedicated website, Facebook page and Instagram to do outreach and asked them to share those too.
Nov 28, 2016: Home Study Approved
On November 28th we received our official, signed off on home study! That means we were home study approved and officially considered a "waiting family." We were now able to start reaching out to birth mothers and finding our match!
November 29, 2016: Profile Live on Adoptimist
Now that we had our home study approved, our profile went live on the adoption website we chose called Adoptimist. We created a dedicated google phone number (it just forwarded to my cell phone but didn't actually give out our real number, for safety reasons) and email address just for adoption and that's what went on the website.
December + January 2017: Birth Mother Outreach + Conversations
The next few months involved a LOT of outreach, updates and conversations with birth mothers. We continually updated our social media pages and our blog on Adoptimist with posts about what we were doing and what we hoped to share with our child once we became parents. I spoke with several birth mothers who reached out via adoptimist and we also encountered several financial and emotional scammers. Each time someone reached out, we'd let our attorney know so she could help vet if it was legitimate or a scam. We also were presented a couple situations from our attorney. (I'll say "situation" a lot which means a potential match with a birthmother. Most "situations" that are presented to you will include info on race, age, financial estimate, alcohol/drug use if applicable, birth father involvement, etc.) We passed on them for various reasons and because each one gave us a gut feeling that it wasn't right.
January 24th, 2017: Possible Match
Our attorney called us to discuss another birth mother who I'd been speaking with and I had told her I didn't feel comfortable moving forward. After that, she mentioned a new birth mother she had just been connected with and asked if I'd be interested in having our profile book presented to her. She told me that she was 32 weeks along, it was a boy, both parents were Mexican and let me know the initial financial estimate. It was the first time I didn't have an instant bad gut-feeling.
I quickly connected with Jeff and we decided together we'd like to be presented to her.
January 26th, 2017: Our Attorney Meets the Potential Birth Mother + Unofficial MATCH!
Our attorney met with the birth mother and presented us and a few other family's books to her to look at. She calls us later that night to let us know the birth mother picked us! Yep that was Arlo's birth mother and we were unofficially matched!!
February 7th, 2017: First Meeting
We drove to meet our attorney and this prospective birth mother at an IHOP. After meeting and talking, she let us know that she would love for us to accompany her to her ultrasound that afternoon. We got to see him and also found out she was actually 35 weeks along and her new estimated due date was March 14th.
February 8th, 2017: Officially Matched! First Birth Mother Expenses are Paid and Paperwork is Signed
The next day we talked with our attorney and told her we were officially on board and that meant that we were officially MATCHED! We signed initial paperwork with the adoption facilitator (this is the person who Arlo's birth mother reached out to when she decided to place the baby for adoption. He is the one that then reached out to our attorney and connected us.) and paid his initial fee, as well as getting to work on paying initial birth mother expenses (Rent, food, etc.).
February 11th, 2017: Birth Mother Meets with Adoption Service Provider
An Adoption Service Provider is a birth mother's advocate. They meet with the birth mother to ensure she understands the adoption process and her rights and also to put together a hospital plan (who will hold the baby first, where the baby will sleep, who will name the baby and make medical decisions, if she wants to see the baby before discharge, etc.) and a plan for for contact with the adoptive family after the birth.
She met with Arlo's birth mother to gather this information and then passed it along to us to review, to ensure there weren't any red flags and that we were all on the same page. We were!
February 14th, 2017: Hospital Letter Filed
Our attorney sends the hospital Arlo will be delivered at a letter informing them that this birth will be an adoption and letting them know our hospital plan and who the baby was to be released to (us).
Mid February – Mid March: Doctor's Appointments and Hospital Tour
About once every 1-2 weeks, we drove to meet Arlo's birth mother for her doctor's appointments. At one of those appointments, we also got to take a tour of the hospital together.
March 3rd, 2017: Birth Mother Waiver Consultation
A separate lawyer was required to ensure, from a legal perspective, that Arlo's birth mother understood the waiver of rights document she would need to sign to place him in our custody. They had a phone meeting with her to go over this document and answer questions. We and our lawyer were not allowed to be involved in this to ensure we were not swaying her or forcing her to sign anything.
March 14th, 2017: Arlo's Due Date!
Came and went… no baby!
March 15th, 2017: Final Doctor's Appointment
We went up for a final doctor's appointment. The doctor said if she hadn't gone into labor by March 20th, he would put her on the induction list. We debated whether to get a hotel near the hospital to wait it out but ultimately decided to drive home to wait it out.
March 17th, 2017, 11:30pm: The Call!
We are asleep, but wake up to a call from Arlo's birth mother that she is in labor! We frantically gather all of our stuff and arrange a ride for her to the hospital as we start our journey to meet her!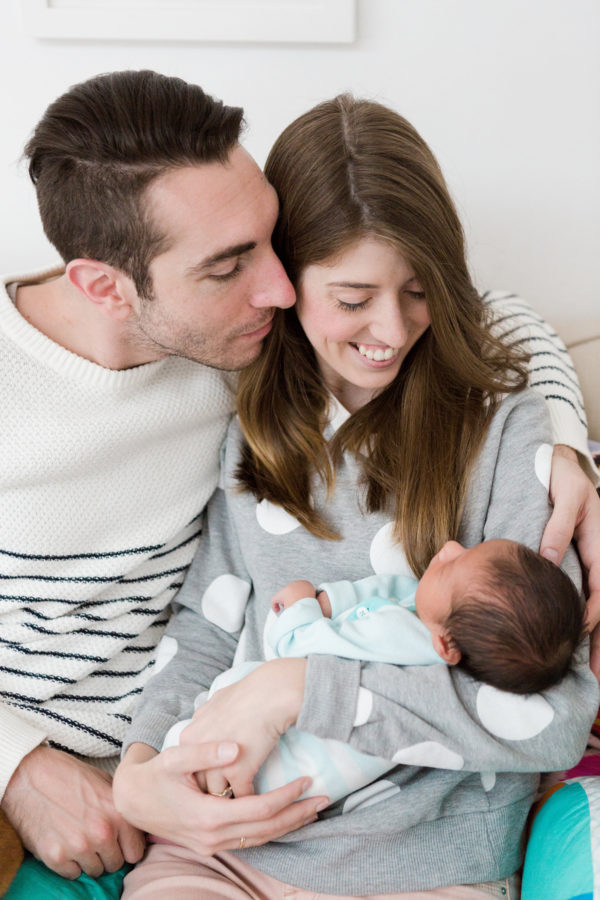 March 18th, 2017: Arlo's Birthday!
3am: Arrive at hospital, check on Arlo's birth mother, get checked in to our hospital room
4am – 12pm: We wait. I waited with her in her room and Jeff waited in the next. We all slept on and off.
12:38pm: Arlo is born! I got to be in the room for the birth and cut the cord. Jeff got to hear his first cries from the next room!
1pm – 2pm: We wait again. Arlo's birth mother spent alone time with Arlo for about an hour after the birth. This was our most nerve-wracking time but was incredibly important for the two of them.
2pm: Nurse comes to get us for his first bath!
2:30pm: Arlo comes back to our room where we get to hold him for the very first time, feed him for the first time and decide on his name!
The rest of the day consisted of learning how to be parents, filling out birth certificate paperwork, a visit from our attorney, visits with his birth mother and lots of photos!
March 19th, 2017: Arlo's Birth Mother is Discharged
Arlo's birth mother is discharged from the hospital. This was an incredibly painful moment for all of us. We have to remain at the hospital another night because he tests positive for jaundice and has to remain under the lights for about 16 hours.
March 20th, 2017: We Are Discharged + Rights Waiver and Adoption Placement Agreement Are Signed
We are cleared to be discharged. Prior to that, the Adoption Service Provider comes to the hospital to have us sign the adoption placement agreement, stating that Arlo will be placed into our custody. She then meets separately with Arlo's birth mother to sign the agreement and sign the waiver of rights stating that the next business day at 5pm her rights will be permanently terminated.
We are then discharged from the hospital and begin our journey home!
March 21st, 2017: Rights Are Terminated
At 5pm, Arlo's birth mother's rights are officially terminated and she is no longer able to change her mind and decide to parent. We both sat on the couch just watching the clock and it was a very surreal, painful and relieving moment all at once.
March 23rd, 2017: We Introduced Arlo to You!
This is the day we told you all that we were the luckiest people in the world! =)
April 19th, 2017: DCFS Begins Post-Adoption Report Process
We receive an email from our state-assigned social worker who will be completing a post-adoption report on us. This includes more paperwork, references, fingerprints and home visits.
May 25th, 2017: First Post-Placement Visit
Our DCFS (Department of Child and Family Services) social worker comes to our home for a visit and to collect the paperwork and references we have filled out. She does a check of our home and where the baby is sleeping and asks a few questions about how we are handling parentood. Because we had just purchased a house, she lets us know that she will have to come back out for a safety check once we are in our new home.
June 2017: Additional Paperwork + Legal Work
I can't discuss here because it isn't my story to tell, but from June 2017 through January 2018, our attorney continued to work on other paperwork and boxes that needed to be checked in order for us to finalize our adoption.
We also start to put together a comprehensive list of our adoption expenses to submit to the court.
September 20th 2017: Safety Check Home Visit at New Home
Our DCFS social worker comes to inspect our new home for safety. She can then file our report.
February 8th, 2018: Final Home Visit
We have one final home visit which lasts only about five minutes and is just to check on how Arlo is doing.
March 2nd, 2018: Our First Hearing
We attend a hearing (again, I can't discuss here) as the last step before we can receive our finalization date. The judge gives us our date then, May 7th!
May 7th, 2018: Finalization Day!
On May 7th, 2018 we sat before a judge, with family and our adoption team there to witness, as she asked us if we agreed to love and care for Arlo as if he was our biological son and, of course, we said YES! She officially declared our adoption finalized, I cried and we got a certificate of family membership for little A! While all rights had been terminated long ago, this was the final step of the process to make it "official" in the state of California. This means we were now able to apply for a new birth certificate and social security number for him as well. We celebrated with a pancake breakfast at IHOP, just like the first meal we shared with his birth mama.
And that is that! I hope this gives context to all the questions I'll be answering of the next several weeks in the follow up parts of this series. Like I said, if this sparks any new questions you might have, leave them in the comments below and I will try to include as many as I can in the applicable Q&A posts!
SaveSave
SaveSave
SaveSave
SaveSave
SaveSave
SaveSave