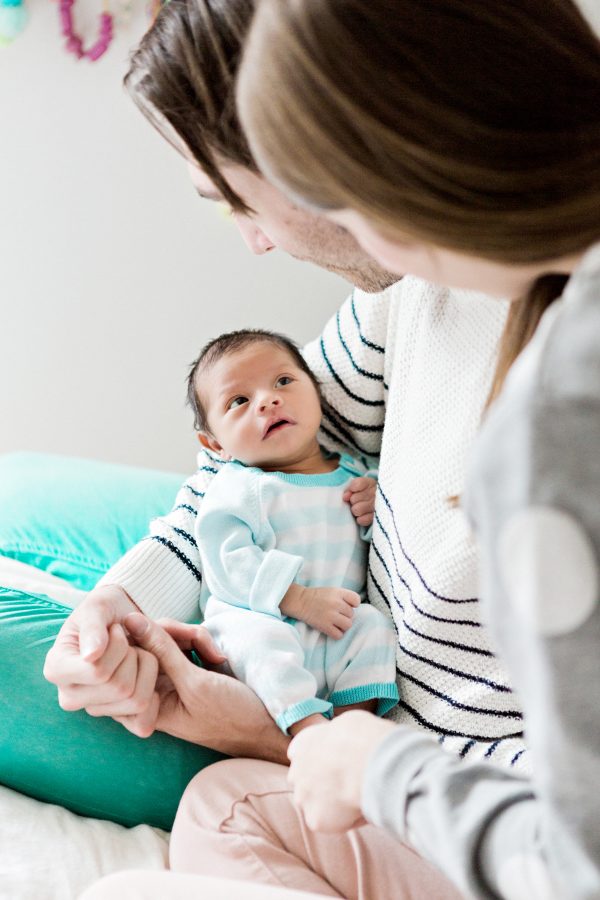 Photo by One Eleven Photography
Ready for the next installment of our adoption series? You can see the first post here, which details our entire adoption timeline.
This post is a BIG one. I'm talking finances today! Without a doubt the biggest question I get and the most confusing one. Today, I'm sharing a comprehensive breakdown of our adoption costs. I hesitated to share this because our adoption was actually more expensive than the average the adoption world tells you, which is $25,000 – $50,000. I was (and am) afraid it would scare some of you out of the process.
Please remember, we chose to do a private domestic adoption. Foster to adopt is also an option, which costs little to no money, but I do not know anything about that and cannot speak to it here. Please also note, I know people who have done a private adoption for way cheaper than $25k too through self-matching. I'll try to talk about that in the first Q&A, along with ways to help fund your adoption. For now, I'll continue with our cost breakdown!
Generally with every possible adoption situation you are presented with, you'll get an estimated breakdown of the total expense so we were aware that it was going to be towards the high end and decided to move forward because it felt right, deep in our gut. But, it's also important to understand that there are some expenses you can't fully predict up front and to be aware of that. In fact, Arlo's adoption ended up being a few thousand dollars more than we initially expected.
I have approximated some numbers, grouped a few things together and left a few categories slightly vague to protect all the parties involved in our adoption. I still think this should give you a good idea of what the costs look like. I also tried to explain when each fee was paid. It's not like we had to write a single check for $50k+, it was over the course of almost two years. Here we go!
Legal Fees + Consultant Fee: ~ $23,500
Legal fees include our attorney's fees throughout the entire process (for both legal and facilitation services) as well as a smaller fee paid to a lawyer who represented Arlo's birth mother. Our consultant fee was paid to the adoption consultant who helped walk us through the initial home study and "marketing" process, as well as guided us from a personal standpoint after being matched.
These fees are paid in installments throughout the process. Our legal fees were paid in three larger chunks: upon signing with our lawyer, at the time of our match and at finalization. The ones paid after placement are the ones that are estimated because each situation is different and some involve more legal involvement than others. The consultant fee was paid in full to our consultant up front, as the bulk of the work we did with her was on the front end. For reference, the majority of the number above was paid to our attorney.
Agency Fees: ~ $20,000
Agency fees includes our home study, which was conducted by an agency (Approx $2,000), as well as the fee for the agency that connected our lawyer (and therefore us) with Arlo's birth mother (Approx $18,000).
The home study fee was paid up front when we signed on with them. The other agency fee was paid at time of match.
Adoption Service Provider: ~ $2,200
The adoption service provider is the person who spoke with Arlo's birth mother to ensure she understood her options and the adoption process. They also worked with her to develop a hospital plan and get an initial idea of the open-ness she wanted for the adoption. Lastly, they act as a notary and handled the signing of paperwork for the termination of rights and adoption placement agreement after Arlo was born. 
This fee was paid in two installments, when the provider first met with Arlo's birth mom and when we signed the termination of rights form and adoption placement agreement. 
Birth Mother Expenses: $ Amount Excluded for Privacy
I am not going to share a number here out of respect for Arlo's birth mother and her privacy. But in general, birth mother expenses are one of the biggest variables and can be very minimal or several thousand dollars depending on when you are matched and what financial or living situation the birth family is in. Expenses can include (not always, but also not limited to) all necessary living expenses from match through the time of birth (and sometimes beyond) such as rent, utilities, groceries, medical expenses and/or cell phone.
These expenses were paid monthly from match until placement. 
Department of Child and Family Services (DCFS): ~ $1500
DCFS conducted the post-placement visits once Arlo was in our home as well as an additional background check and fingerprinting. Since we moved in the middle of our adoption, we had to have additional visits so they could inspect our new home and ensure it was safe for a baby.
This expense was a one time fee paid when we started the post-placement home visit process about one month after we brought Arlo home.
Marketing Expenses: ~ $750
Our marketing expenses includes all of our outreach materials used to connect with birth mothers. That encompass the profile books we made for our attorney to show to prospective birth mothers, the expenses of listing ourselves on Adoptimist and Adopt.com for direct outreach to birth mothers and our phone number we used exclusively for adoption.
The one-time expenses here (profile books, phone number, etc.) were incurred early on, while we were completing our home study. The listing fees for the adoption websites were paid monthly.
Travel Costs: ~ $350
We are lucky that our adoption was done entirely in the state of California and within driving distance from our home. Plus, Arlo was born at an adoption-friendly hospital so we were able to stay there with him. This expense solely includes the cost of gas to drive to and from medical appointments and the hospital.
These costs were incurred over time between match and placement. 
Other: ~ $4,650
This section involves a few things I'm not comfortable sharing publicly since, again, it is not my story to tell. But generally there can be other expenses that are specific to your situation. This could involve additional fingerprinting costs, private investigators, newspaper listings if searching for birth parents, gifts, translators, travel and/or childcare for court appearances, etc.
These costs, for us, were incurred primarily during the finalization process.
Total Cost: $52,950+
I hope that breakdown is helpful, if nothing else than to show you where the money goes. I can not reiterate enough that there are SO MANY variables, which is why this isn't often talked about. But there are just TOO many question marks out there surrounding adoption which are preventing people from pursuing it as a result, so I'm hoping this will help shed some light into what the financials look like (even if yours would be completely different).
Like I mentioned, I'm going to talk about ways to help pay for your adoption in the next post, but today was just for informational purposes! If this post sparks any other questions for you, leave them below and I will try my best to include them next time!
It goes without saying but every single penny was worth it and then some for bringing our family together. I'm purposely trying to leave emotions out of these initial posts so they don't get too long, just trying to stick to the facts. But couldn't end this without saying that we'd do it again, tenfold… and of course, we plan to! =)
SaveSave
SaveSave
SaveSave
SaveSave
SaveSave
SaveSave
SaveSave
SaveSave