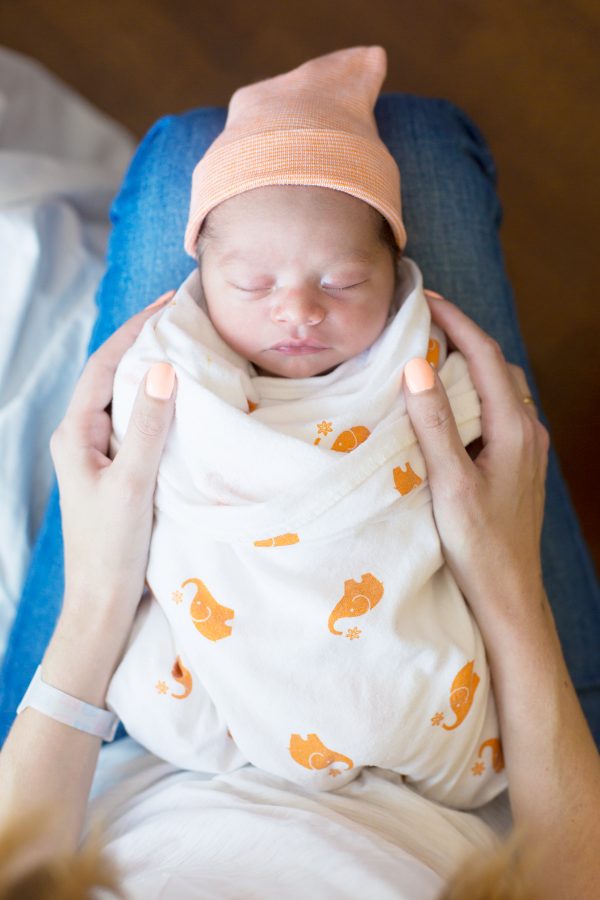 It's time for the second part of our Q&A in our adoption series! (Read part one here!) Last time, I covered everything up until being home study approved and today I'm picking up from there and answering your questions about "the wait," being matched and placement. I'm going to dive deep into what talking with expectant mothers looked like for us, how to help friends going through the process, failed matches, and the "birth" experience when you're an adoptive parent.
Gotta give my schpeal again first! Every adoption is incredibly different and all of this information is from my experience and point of view. As a result, I am only focused on domestic infant adoption as that is what I went through and know! You are always free to share your experiences and answers to these Qs too in the comments below!
What happens once you are home study approved?
Once you're home study approved, you're considered a "waiting family." This is when you start doing outreach yourself to birth mothers and/or when your agency or attorney will start presenting possible situations to you. This is the biggest "unknown" when it comes to a timeframe. Some families wait only a few weeks and others wait a year or more. In domestic adoption there is no "list." You are waiting for an expectant mother to pick your family as the best family for her child and you don't have control over when the right match will come along.
What is the outreach process like?
I'll answer this in two sections:
First, outreach we did ourselves: This means we put our profile on an adoption website (We used Adoptimist) and created social media pages specific to our adoption journey with the purpose of connecting with expectant mothers who were considering adoption. On these, we shared regular updates and information about our family. We provide our first names and a specific email address and phone number that we used only for adoption. We made sure to have the email connected to our phones so we were able to check it throughout the day. Sometimes things can happen REALLY fast in the adoption world and you don't want to miss the call or email.
Second, outreach our attorney did for us: Our attorney has a lot of connections with various agencies, hospitals, doctor's offices and other resources for expectant mothers. She sent our physical profile book we made to them to have on hand, and also would meet with expectant mothers in person and bring our book to show them (with our permission). This is ultimately how we connected with Arlo's birth mother.
Why were you encouraged to tell everyone you know?
You never know who knows someone who might be considering adoption. Really and truly. SO many adoptions happen because of personal connections or connections that have just a few degrees of separation. By talking about it to everyone and sharing your decision to adopt with your friends/family and asking them to share it too, you're reaching more people than you know. Between word of mouth and newer tools like Facebook, it's amazing the power one person has to pass along a message and share it with the world.
Not everyone is comfortable with this as some are more private but we felt the value of making a connection was the most important thing we could do so we shared with everyone. We sent a very detailed email to close friends and family with how they could help us spread the word, and we made a huge announcement on our personal Facebook pages asking everyone to share there too.
What did you talk about on the phone with the expectant mothers you spoke with?
This was the part that intimidated me the most! I learned that in relationships where there is at least one woman, the woman tends to be the one who speaks with expectant mothers first. I only spoke with about three women on the phone, but several more via Adoptimist, email and Instagram DM.
In both instances I'd start out asking about how they were feeling, what they did for a living and where they lived. Then we'd talk about the baby… due date? Gender? Race? Next, I'd ask why they reached out to us? What attracted them to our family? After a phone call or two, our attorney encouraged us to ask the expectant mother if she would be open to chatting with her to answer any questions she has about the adoption process. It would then be our attorneys job to inquire about why she was considering placing her child, any medical care she had, what kind of adoption she was looking for, etc. etc.
Did you have to reject any expectant mothers? What was that like?
We did. We were in touch with two expectant mothers that we decided not to proceed with because it just didn't feel right in our gut. We connected them with our attorney because she was able to put them in touch with other families that were looking to adopt. It was uncomfortable, but parenthood is for the rest of your life and the situation has to feel right. But on the flip side it's amazing to think that we were able to be a part of connecting other adoptive families with the right match!
Did you encounter scams?
Yes. There are both emotional and financial scammers in the adoption world and it's really sad. Through Adoptimist, we encountered several. It's typically pretty easy to tell from what's written, if money is asked for right away or if the expectant mom doesn't want to talk on the phone with us or especially with our attorney. Having an experienced adoption professional on your side is so important here as they know a lot of the "signs" and can help you ensure you don't fall victim to a scam.
How quickly were you matched post home study?
Our home study was approved at the end of November and we were matched the last week of January!
How did you cope with the wait?
We stayed extra busy because we had to prepare for a "maternity leave" that could happen at any time. So we worked double time to get lots of content shot and uploaded so we could take time off whenever baby came! Our wait was not super long so I didn't feel the depths of sadness and frustration that come with a longer wait. We did our best to stay active on our adoption outreach which helped us feel like we were constantly making strides forward!
What did you buy, if anything, before being matched?
The only thing we bought was a car seat because we were required to have one for our home study. After we were matched, we bought the basics: a bassinet, changing pad, diapers, bottles, a few onesies and swaddles and a stroller. I am very superstitious so it made me super nervous to buy anything before we had Arlo in our arms and home but we wanted to be at least somewhat prepared!
What does it mean to "match"?
Our attorney called us one day to let us know about an expectant mother who was due in March and looking to place her child for adoption. She gave us the information she had (gender, prenatal care, ethnicity, cost, etc.) and asked if we wanted to be presented to her as a possible adoptive family for her child. In our gut, it felt right, so we said yes. A few days later we got a call that she had picked us! From there, we decided to go meet her. After that meeting, we still felt the same and we were considered "matched." At this point, some paperwork was signed and we began to incur some of the expenses that start after being matched, like legal and facilitation fees and birth mother expenses. We started talking regularly with Arlo's birth mom and developed a relationship, while also setting up a plan for the birth, how open the adoption would be, etc.
Do you have any say in how open your adoption will be?
Yes, initially. Matching is like dating. If you and an expectant mother don't want the same things, you might not be a good match. That said, I encourage you to go in with an open mind as you never know how you may feel once you develop a relationship. The level of "openness" in adoption is discussed pretty thoroughly and early on on both sides. Every situation our attorney presented us with, she let us know what level of openness the expectant mother wanted.
However, once your baby is home with you, there are so many variables that can change the agreement you had. It may end up more open or more closed than you thought and there's no way to predict that. It's your job to feel it out from a safety and emotional perspective for the well being of the child. But you also have to respect the distance their birth mother/family may unexpectedly want and need.
Is there a birth father in the picture?
We get this question a lot but it's not something we want to share at this time!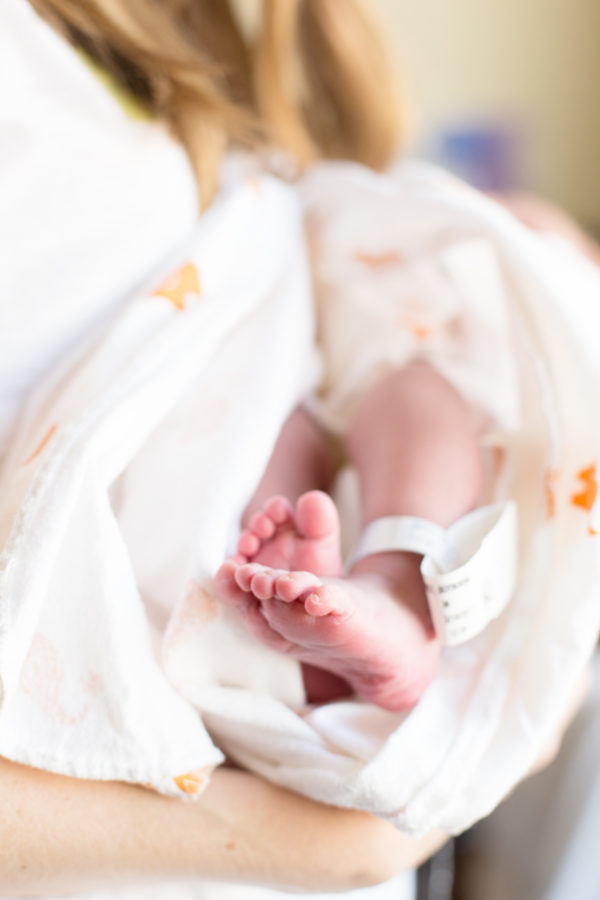 Did you have a "birth plan" like someone who is expecting a biological child would? 
We did! Arlo's birth mother completely dictated the birth plan as it was most important for her to feel comfortable, of course. After we all discussed the plan, our attorney sent a letter to the hospital to let them know that this was an adoption situation and this is what we had planned for the birth. We were able to connect with the hospital social worker as well who was really helpful in guiding all three of us through the process.
That said, almost nothing went according to plan once we were there in the moment and that is my number one piece of advice I would give to other adoptive parents: You have to make a plan, but be prepared to completely throw it out the window.
What was it like being at the hospital for Arlo's birth?
We were SO lucky that Arlo was born at a very adoption-friendly hospital. We were able to have our own room right next-door and the nursing staff welcomed all of us with open arms and minds.
I've never experienced such a range of emotions as I did being in that hospital room watching Arlo come into the world. Happiness, devastation, excitement, fear, confusion… it was intense. I held it together pretty well until I walked back next-door and saw Jeff and that's when I really broke down. At the end of the day, pain is very intertwined with adoption and it's not easy to watch that unfold, but it really gives you a new respect for the strength a woman has in her.
What is the best way to support friends who are waiting?
The disappointing thing about adoption is you're not treated the same way you are when you tell someone you're pregnant. To be honest, BOTH involve a LOT of risks and unknowns, but for some reason people tend to focus on those way more with adoption than they do with pregnancy. Be positive and excited, but also sensitive as emotions are high. Some people, like me, are happy to talk about adoption all the time, but don't want to physically prepare for it in any way (nursery, baby shower, etc.) and others are the opposite and want to do all the things you'd do if you were expecting a biological child. Follow their lead, you know your friend and can probably get a sense of which boat they're in. Distractions are always welcome, they'll just look different for each person!
Slightly off topic but relevant, one of the nicest things a friend did for me was tell me ahead of everyone else that she was pregnant. When you are in that "wait" period or if you've recently suffered a loss, hearing of any pregnancy news can be really hard. Not because you're not happy for them, but because you're sad for yourself. It meant a lot that she reached out to me privately to let me know so I had a little time to prepare myself before all the hubbub of Facebook announcements, excitement etc. Essentially I'm trying to say, if you're pregnant and need to tell a friend who's waiting and struggling, consider doing it privately and in a way that is sensitive to the situation they're in.
What is the best way to support friends who have had failed adoptions?
While I can't speak from experience as we haven't been through it, but having experienced a miscarriage, I can tell you what helped us the most. People bringing meals (or sending gift cards for meal deliveries/take out), helping with chores or errands, doing laundry, etc. Our plan *if* Arlo's birth mother had changed her mind was to take a vacation so we could unplug and get some space. If that's the case with your friend, offer to house sit or watch their pets, be there for them with a meal when they return or clean their house before they get back. More than anything else, be there to listen when they need you, free of advice or trying to make reason of the "why" behind it. Having someone to just listen is so important.
In the last part of our series, I'll be answering all of your questions I've collected about what happens post-placement! Leave 'em below if you have any more!