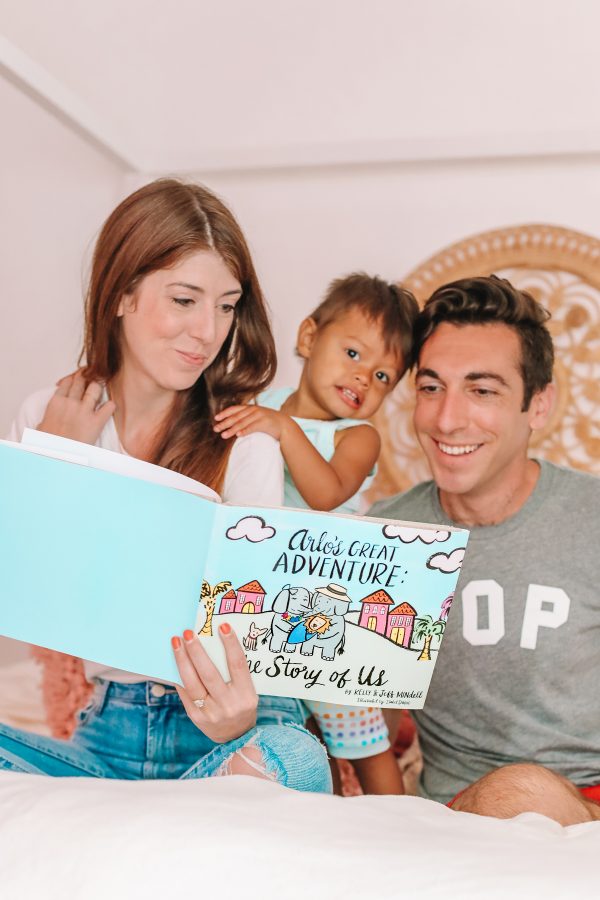 Welcome to the final installment of our adoption Q&A series! To recap, here's what we've covered so far: our adoption timeline breakdown, our financial breakdown, Q&A Part 1 (First Steps to Home Study Approved) and Q&A Part 2 (Approval to Placement)! Today, I'll be answering all your questions about what happens post-placement, from the finalization process to how we plan to talk to Arlo about adoption and our plans to adopt again! Here we goooo!
Will you stay in contact with the birth family?
Yes! We have an open adoption and regularly speak with Arlo's birth family and have had one in-person visit. We hope that continues forever but also know that it might look different as time goes on. I always say the adoption process is very "fluid" and we just try to take one day at a time!
Are you worried if he'll want to find his birth family?
No! We are ready and 100% willing to help Arlo connect with his extended birth family someday should he want to. That's not to say it will be easy or painless for him (or us) but we will be nothing but supportive of his decision when he's old enough to make that choice.
What does finalization mean? Was arlo's birth mom still able to change her mind before the adoption was finalization?
Finalization means you appear before a judge who officially asks you to care for the child as if they were your biological child and signs off on all the paperwork you've been collecting since you matched. Every state has a different time period in which a birth family can change their mind. This happened for us long, LONG before finalization (before we even told any of you that Arlo existed, actually!) so it was not a worry of ours. The long wait was mostly due to finishing paperwork, us moving in the middle of it all (we had to have additional home visits since we were in a new home) and backed up LA court systems.  
What did you have to do in order for the adoption to be finalized?
We had to have three post-placement visits from a DCFS (Department of Child & Family Services) social worker. I believe it's typically just one visit but because we moved in the middle of the finalization and they needed to do a safety check of our new home, and one additional visit after some additional legal paperwork we had to go through.
As a part of that process, we also had to have our fingerprints done again, some medical forms on Arlo filled out by his pediatrician, a new set of references from friends/loved ones and put together a complete review of all our adoption expenses.
After all of that was done, a large part was just waiting on DCFS to finish their report and the courts to process it. We had a couple other things to take care of that I can't talk about, but that did delay our process but we were lucky to have no issues pop up during that process. Just took time because there are so many parties/laws involved!
Were there any "rules" or regulations you had to follow before the adoption was finalized?
Yes! We were not allowed to travel out of the state with Arlo for more than one month. We could travel anywhere in the world with him, but for a max of 29 days. And like I mentioned above, we had to notify DCFS of our move so they could come check out our new home.
And not necessarily a "rule," but we were unable to obtain a new birth certificate and therefore social security number for him until we were finalized. At one point, we needed to open a bank account for him so we got an adoption-specific tax ID number in place of a social and were able to use that to open the account.
Would you do anything differently now that you've been through it?
I would be less stressed about things like the home study! It's built up in people's minds (myself included) to be this terrifying thing but it was pretty painless for us and honestly, I'm grateful for the conversations it started between Jeff and I about our relationship and how we intend to parent our children.
Will you do the same process again?
Yes! We loved all the options we were given by working with an independent attorney as well as doing our own outreach. We're planning on starting the same process again later this month!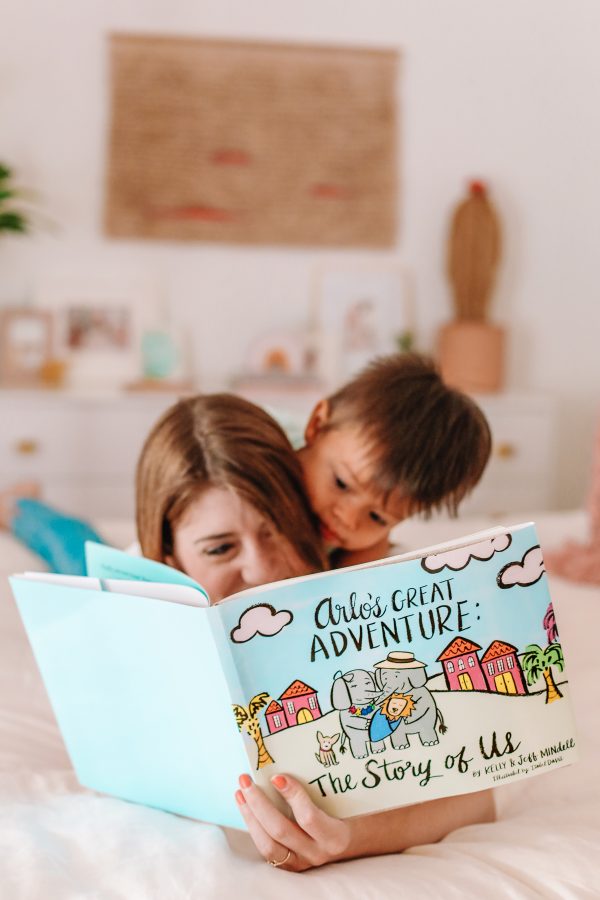 How do you plan to explain adoption to arlo?
While he is young, we plan to really lean on books to help us explain the process, as well as continuous open discussion about it. We want him to know he is adopted before he can even fully understand what that means. We have pictures of his birth family that we show him regularly and are lucky to be directly in touch as well. We don't ever want to keep secrets from him about his story, even if that means sharing the hard parts (in an age-appropriate way).
Adoption or not, we're making it a huge priority to teach him about all the different ways families are made and all the different ways they can look and act. We love The Family Book by Todd Parr for that. 
That said, because every single adoption story is differnt, you'll likely never find a book that is the same story as yours. So I decided before we adopted that I wanted to write each of our children a book that tells their story. There's actually a few sites that have a "plug and play" type version of this (You can just Google and find 'em!) but since a friend of mine, Isabel (She designed my bridal shower invites!) is an illustrator, I decided to ask her to do something completely custom.
Jeff and I wrote the book and Isabel did an amazing job illustrating it. We just got the printed copies a few weeks ago and it's already my most treasured possession. It's crazy because we decided to use elephants as the animal for Jeff & I when Arlo was just a few months old and now it just so happens to be his favorite animal. Every time Arlo grabs it off the shelf, my heart bursts a little!
What was the best thing you experienced during the process?
Well, obviously Arlo! And his birth mother. I am eternally grateful to her and for our relationship.
But outside of the greatest gift someone could ever give us, the adoption process also put a LOT into perspective for me. I spoke to women from all over the country in all different situations. It opened my eyes to the privilege I have, to the struggles so many are facing, to the depths of racism and so much more. I know that might sound weird to be the "best" thing but I am really grateful to now be facing life with my eyes and heart open so much wider.
Do you plan to adopt another hispanic child?
Yes. It's very important to us to have a "mirror" for Arlo in our home so while it may not be our next adoption, we do plan to adopt another hispanic child. Same would go for if we ended up adopting a child of another race too. 
How did you decide you wanted to adopt again?
I always wanted a big family and while Jeff was unsure at first, after being around my big family and listening to me chat about all the benefits, he hopped right on board too. When we started the adoption process we said we would see how it went and then decide if we wanted to continue pursuing adoption to grow our family or if we wanted to go the fertility treatment route again.
The second Arlo was in our arms, any desire to have biological children diminished completely. We had such an amazing experience and felt full of hope. Of course, if that should happen someday we will welcome that baby with open arms but we have 100% closed the door on fertility treatments and cannot WAIT to adopt again.
What were the biggest concerns you had going into the process? Did they resolve?