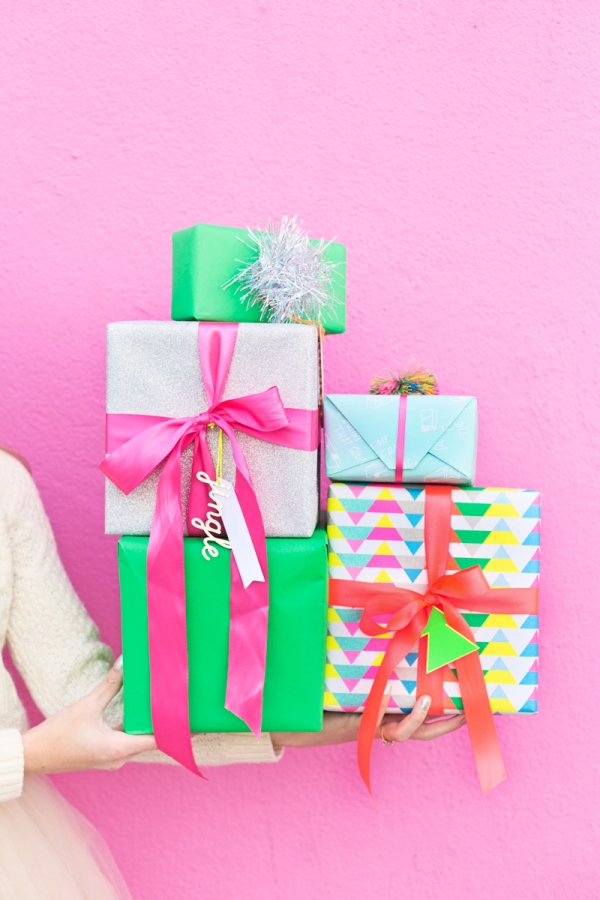 Got another gift guide for you all today!
Similar to my toddler gift guide, this list is a combination of items I have and love and items I've been eyeing for myself or came across and thought they'd make a really wonderful gift for someone in your life! Once again, it's full of a lot of small businesses and makers whose work I really admire. Here we go!


Photo by Jeff Mindell | Graphic by Meagan Knight for Studio DIY
Unique and Colorful Gift Ideas
1. Woman Sweatshirt: I have this sweatshirt and live in it, and anytime I wear it, I get TONS of questions about it! She has a few others too, the cut is great!
2. The Magic Is In You Flag: I've been saving this flag for our next nursery, but I think it would be so great in a living room, hallway or other space too. I love the sentiment, and in general have been really drawn to fabric wallhangings lately!
3. Icon Women Art Print: I came across Violet Red Studio's work at a little shop when we were in Becaon and just LOVED her iconic women series. Each print (and there's cards too!) has a different iconic woman illustrated alongside a powerful quote she said. What a great gift for any woman in your life!
4. The Art and Flair of Mary Blair by John Canemaker: Since we've been learning about Mary Blair so much as a family due to Arlo's Small World obsession, I've been personally getting even more interested in and inspired by her career, too. This book is on my list this year as a result!
5. Embroidery Now by Jennifer Riggs: We've worked with Jen here on the blog in the past and I was so excited when she sent me her new embroidery book! I was a HUGE cross-stitcher and needlepointer as a kid but never got into embroidery. It's something I'd love to learn and this book has so many stunning ideas and patterns to work off of! Great gift for a crafter in your life.
6. Leopard Scarf: I've been really wanting a pretty silk scarf lately, to tie in my hair or around a bag! I thought the price point of the ones from Kingston Jewellery was really amazing compared to many I've seen, and the designs are stunning!
7. Enneagram Art Print: If you have any friends or family who are really into the enneagram, these prints are a perfect gift and kind of hilariously accurate.
8. Rainbow Stripe Bucket Bag: I am head over heels in love with these bucket bags from Lillian Farag. The rainbow stripe is obviously AMAZING, but honestly my favorite may be the face one!
9. Rainbow Earrings: Lots of great earrings in this shop, and at a great price point for handmade jewelry! GREAT colors, though I really love the neutral speckled ones!
10. Pink Leather Laptop Case: We own so many beautiful items from Lola y Tula, including this handmade laptop case that is the most VIVID shade of pink. Practical gifts are always appreciated, but it's extra special when they're pretty too. 😉
11. Ceramic Rainbow: We have a few of Eloeil's pieces in our home and they're beautiful. I really love the color palettes she chooses, they're so unique and stunning.
12. "Something" Tote: Another find from one of my favorite Australian brands. She has several different styles, including a "Library" one which would be so great for a book lover!!
13. Mini Tassel Basket: We have the larger versions of these in our bathroom! This small size is great for a desk, so it would be a great friend or coworker gift!
14. Rolling Basket Cart: Been wanting one of these for the farmer's market and flea market! They make matching mini ones for kids too which would be a great kiddo gift too.
15. Initial Necklace: By far the most asked about item I own, and the one I wear the most (literally every day). These initial necklaces are totally customizable with your kiddo(s) initials and come in a few different gold finishes. It's the most special gift for a mom! I gave my mom one too with Arlo's initial on it!
16. Ceramic Paint Palette: Is this not the BEST gift for an artist!?!? I've been eyeing these ceramic paint palettes for quite some time, they have all different sizes and are a great price considering they are handmade.
There it is! Got a few more gift guides headed your way! And have been sharing even more ideas over on my IG stories if you aren't following there yet!
*This post contains affiliate links if you click some of the links here and make a purchase, I may get a small commission at no additional cost to you! As always, I only support and recommend products I love and/or have tried myself. Thank you for supporting them, too!