It's here! My 24 Merry Days giveaway day has arrived and boy oh boy is it a good one! Do you guys know about Poppin? (Of COURSE you do!) It's only the most colorful, well-designed office supply shop on the planet! And I'm giving away a whopping $500 gift card to their site!!!!! Oh, you want a bright yellow file cabinet? DONE! What about a desk set in your fave shade of hot pink? YEP, they've got that too! When I first discovered Poppin I went a little bananas. Just know that if and when Studio DIY get its real studio, it's going to be decked in Poppin's vibrant goodness. You can check out all the awesome products Poppin offers right here (Guys. They even have free printable bows for your stapler!), then use the Rafflecopter below to enter (Up to 20 chances!) so you can jazz up that desk of yours (and all your friends' desks, too, while you're at it!).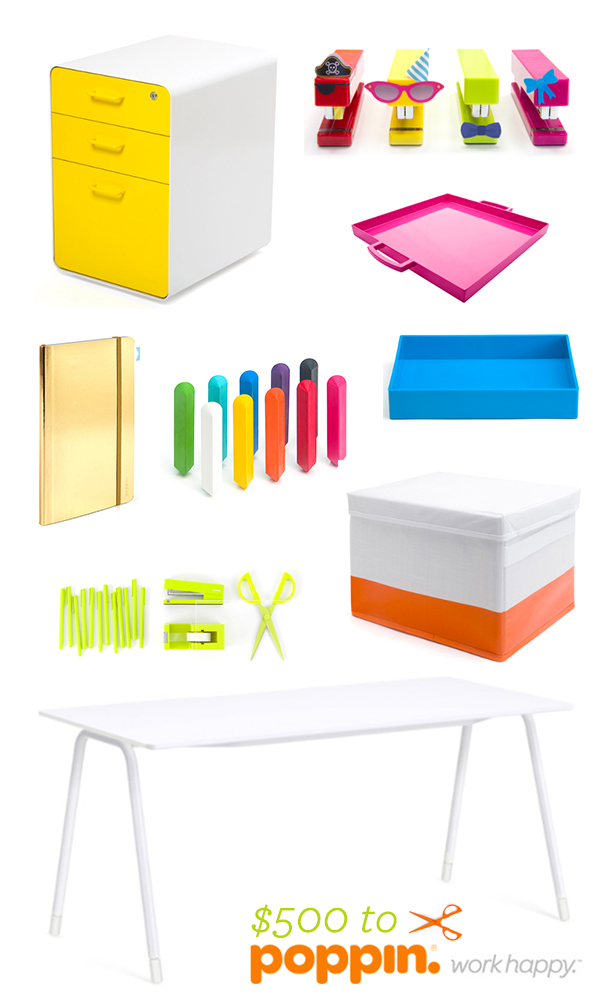 File Cabinet / Printable Stapler Accessories / Serving Tray / Notebook / Crayons / Accessory Tray / Desk Set / Storage Box / Desk
Use the Rafflecopter below to enter! The giveaway will end December 16, 2013 at 11:59 pm PST and is open to US readers only.
Poppin is running some fun holiday deals of their own, too, so be sure to check 'em out!
And in case you missed it over the weekend, don't forget to pop over to Paper & Stitch to win a West Elm side table and Fellow Fellow to win an ah-mazing necklace from Leah Singh! You can find the line up for all the 24 Merry Days giveaways right here.