If you follow me on Twitter or Instagram, you know very well that I went on an epic craft and party supply buying spree for the holidays yesterday. To save on shipping for the basics, I hit several stores over about six hours and have a hefty amount of items to get my craft on with this month. Since I've already done the rounds, I wanted to share with you my highlights from each store, what their style is and what you can find there for your crafting needs. This is a lot wordier than my typical posts, but I hope you find it helpful. A few stores are LA specific, but most are nationwide or at least have an equivalent you're likely to have nearby.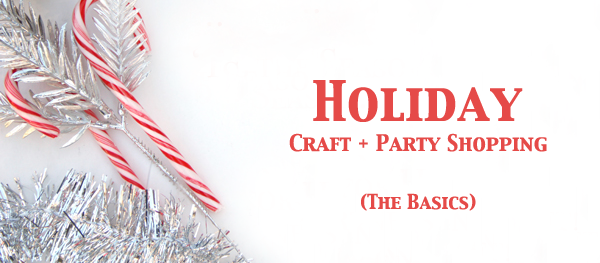 The 99¢ Store
This was by far my most successful stop. I love the 99¢ Store more than I can tell you for project supplies. They have EVERYTHING. For $1! Stop it right now. Now, I'm talking specifically about the line of 99¢ Stores in LA but I'm sure your local dollar store has a decent supply. I hear Dollar Tree is awesome but I don't have any convenient to me. Anyway, I stocked up for Halloween here too but they quickly moved everything I didn't buy out of the way for Christmas. The holiday aisle was fully stocked. And I was beaming.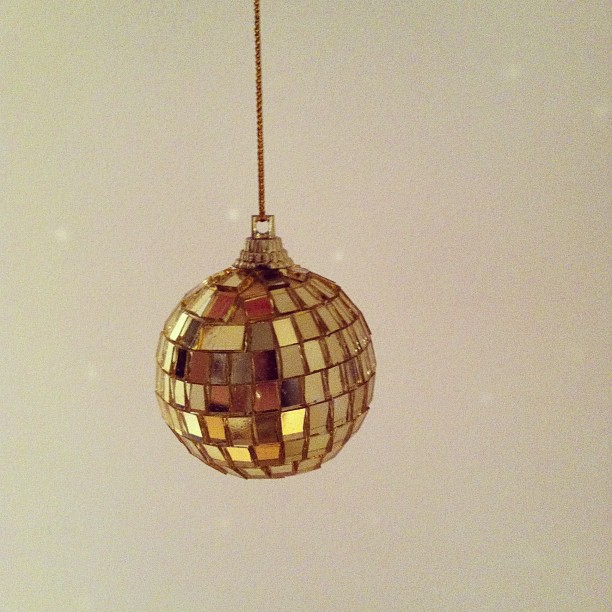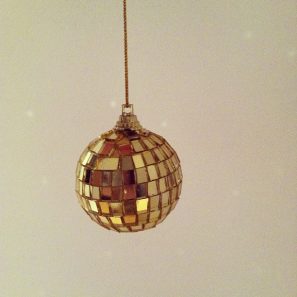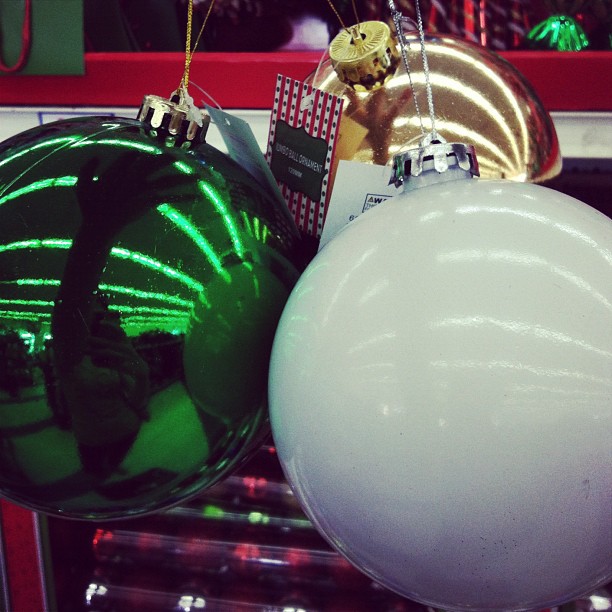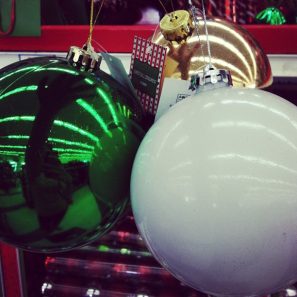 Highlights:
Giant Bulb Ornaments
Affordable Sets of Bulb Ornaments in all Colors
Holiday Beaded Garland
Plain Snowflakes in All Sizes (Perfect for DIY-ing into a garland or chandelier, and for kid's projects)
Glittery Pails (Great for favors)
Ikea
If you're looking for a highly curated Christmas selection where just about everything is beautiful and not tacky, you're going to want to hit up Ikea. I was walking around the holiday tent (At ours they have a whole outdoor tent full of stuff, how about yours?) gasping.The entire time. Unfortunately (or perhaps fortunately for you!), just about everything is in the red, white and silver palette which is the exact opposite of my personal chosen color scheme this year (Green, gold, black and white, and maybe some gray) so I couldn't buy too much for my own gifting and decorating. But I sure got some awesome things to share with you!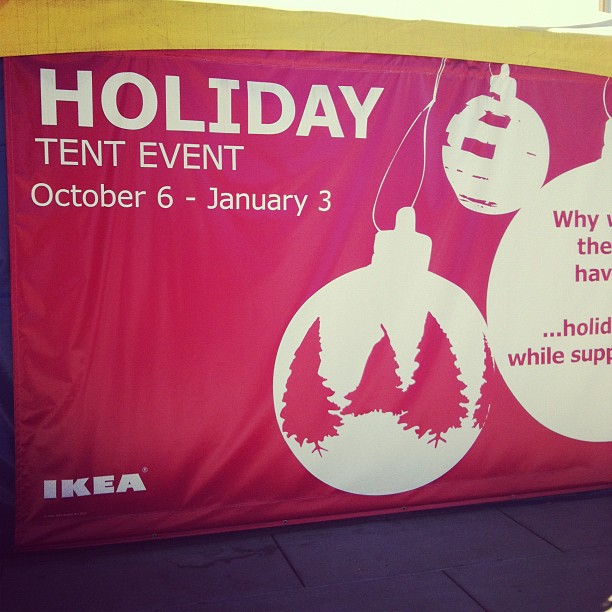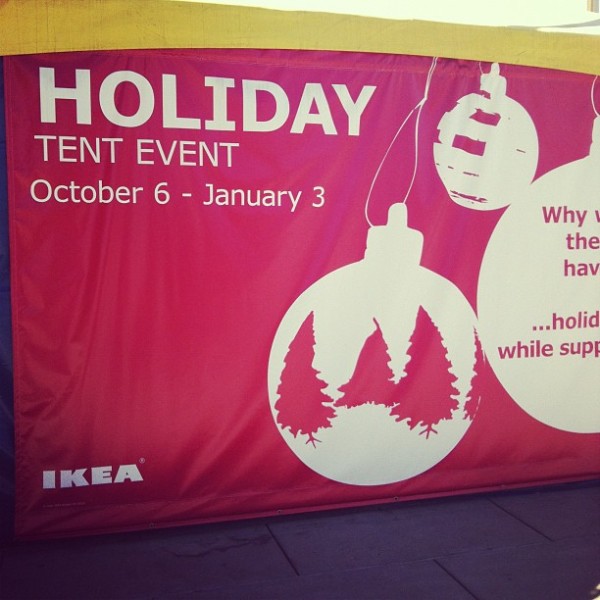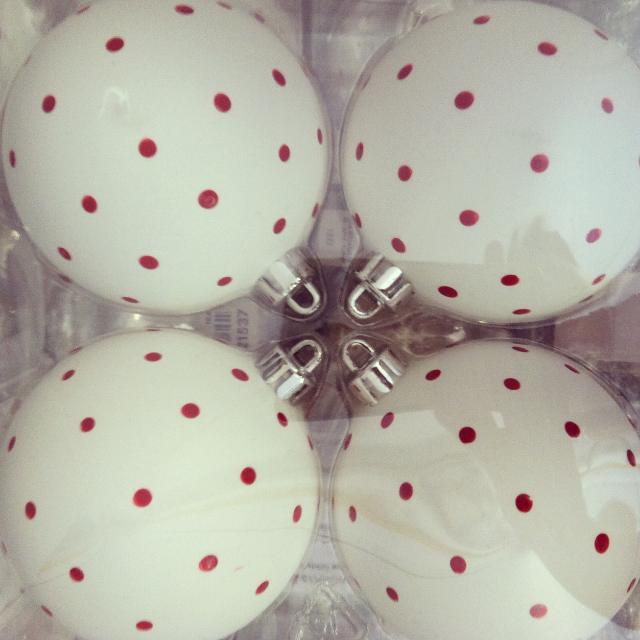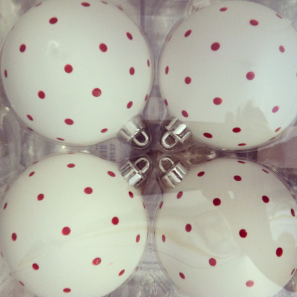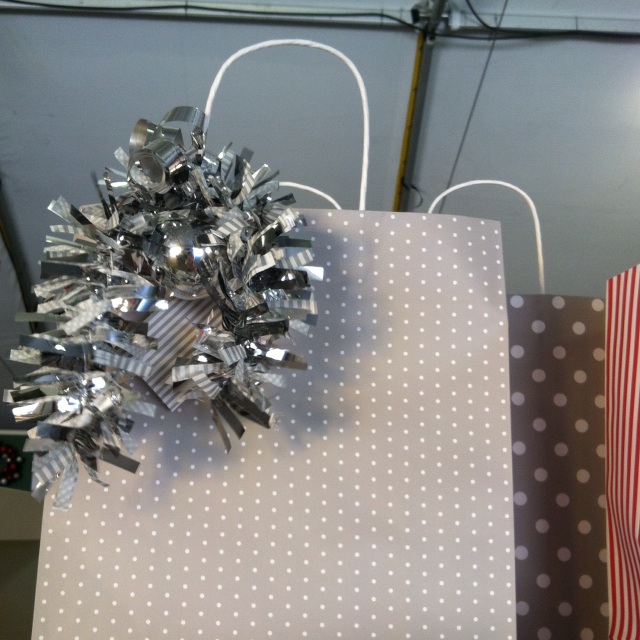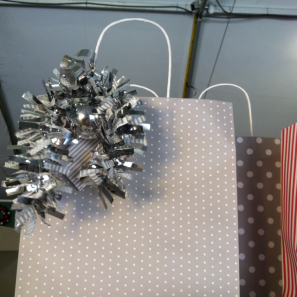 Highlights:
Gift Bags + Gift Wrap (Seriously. YOU NEED TO BUY IT ALL! Gray polka dot bags, giant festive gift bags and the most awesome red + white striped paper)
Trays (They have some adorable red trays, and also some with gingerbread and snowflake motifs, if that's your style)
Fabric Tree (Fabric yardage printed to look like a tree. Great if you're in tight quarters and can't get a real one!)
Polka Dot Ornaments (Oh, you heard me right. See above.)
Advent Calendar Boxes
Napkins (Polka dots! Stripes! Do it!)
Jars, Plant Pots, Etc. (These are great for creative favor and cookie packaging. I bought a few mini silver plant pots for $0.79 each. Can't beat that!)
Michaels
If you're shopping at Michaels for your holiday supplies, go early. I can't stress this enough. Things sell out weeks before the holidays and the lines start to wrap around the store. Of course, this place has just about everything for holiday crafting and decorating. Michaels is not as budget friendly as the above two options, so you need to be smart about coupons. They give out a lot of them. Download their iPhone app, it will have several coupons in there or check out their weekly ads. Keep an eye out for special ones that often pop up around the weekends which offer a discount on your total purchase. Another trick? Bridal magazines. Bridal magazines like Martha Stewart Weddings and Brides almost always have a Michaels ad with a coupon for 10-20% off your entire purchase. The savings are probably worth the cost of that mag! Martha Stewart Living also always has a coupon, usually for her line there. Her craft paint rocks, and her paper punches are great for holiday cards.
Highlights:
Ribbon (Literally every kind you'd ever want. They run great sales on their ribbon, keep an eye out.)
Martha Stewart Everything (No, it's not cheap but the lady knows her crafts. Her craft paint is the only one that works on fabric too.)
Clear Bulb Ornaments (These are already on sale, and they have plastic ones in addition to glass ones. Great for crafting.)
Plain Tins (For cookies!)
Target
You know I'm a Target worshiper and lots of my supplies and ideas come from the Dollar Spot. However, Target has been a little slow getting their holiday stuff out this year and the awesome signs beat the product to the floor. The Dollar Spot, at least the one at my Target, only has a few bulb ornaments right now. No other signs of holiday life. Lots of Turkey hats though! I will update this when they are fully stocked to give you the full highlights.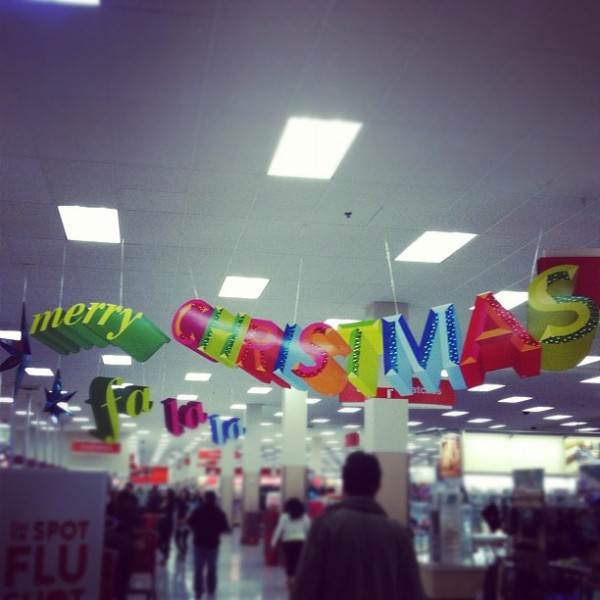 Current Highlights:
Lights (They stock every kind of light you'd ever want, in every color you'd ever want.)
Galvanized Buckets (For drinks, in classic silver and in all sorts of festive colors!)
Party City + Party Stores

More coming soon on this front. I have a local party store (literally walking distance) that I usually go to, so I don't frequent Party City often. I hit up one yesterday and there was virtually no holiday supplies there. None. Hoping that will change quickly this week. Party stores have some great basics though to DIY with, even if they aren't in the holiday aisles. I'm hitting up my local party store later today and will update all you LA-ers with their highlights. Here are the ones from Party City for now…
Current Highlights:
Fringe Curtains (Easily turn these into confetti by snipping the fringe into small pieces)
Balloons (Because you can always use balloons. Duh!)
Party Horns (If you're thinking forward to New Years, they always have these and you can really get crafty with them. More soon!)
If you guys like this little guide, I'll try to put one together for some favorite online resources where you can find more unique items to jazz up your holidays! Happy Shopping!
(pssst.. If you're in the US, don't forget to vote today!)