Big news!! Yesterday I took the plunge, and signed a lease for a real live studio space for Studio DIY! WHAT!? I can hardly believe I'm writing that, but it's true. I'm equal parts terrified and jumping-up-and-down excited. It's a pretty big jump to go from your living room, to 900 square feet of space! There's some construction to be done, but I'll be moving in to my new digs on February 1st! In the meantime, a few "before" shots… and a little bit about how this came about.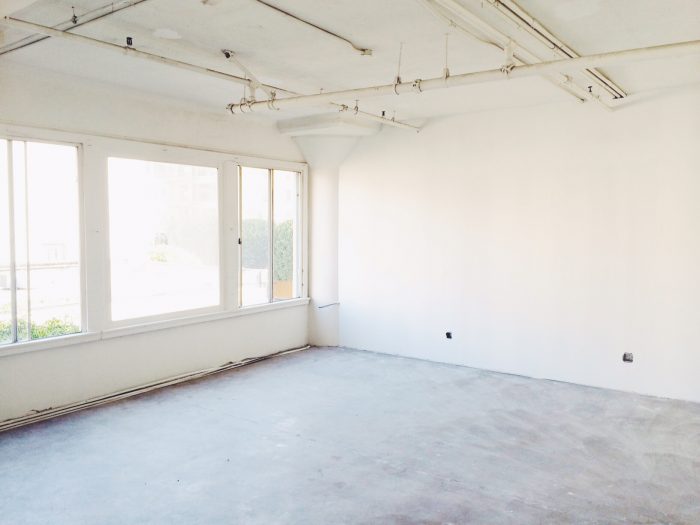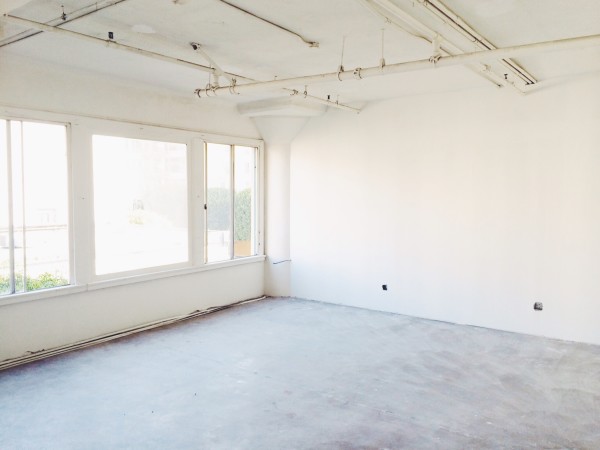 My number one goal coming into the new year was finding a separate space for Studio DIY. Truth be told, living in our apartment has been quite miserable for most of 2013. It is covered, all day every day, in craft supplies, unfinished projects, finished projects I won't throw away and (oh yeah!) confetti. When you live in a small loft-style apartment where you have one room of living space, and it's become more of a studio than a home.. it's a problem. It wasn't fair to Jeff, and it was putting a lot of stress on me, knowing that I had pretty much destroyed any sense of "home" in our home.
So we started looking for bigger apartments. Something that had a second bedroom with great light, that I could use as my own space. Easier said than done, folks. As we looked around, I started to realize that with the larger scale projects I'm being asked to do nowadays, a bedroom wasn't going to cut it. So I started not very seriously looking at studio spaces. I knew downtown LA had great, raw spaces with awesome light, so I toured a few spaces, but didn't love the area within downtown they were in (there's some great parts of DTLA, and there's some not-so-great parts). I bookmarked one building to check out, and then the insanity of December happened and it was no longer top of mind.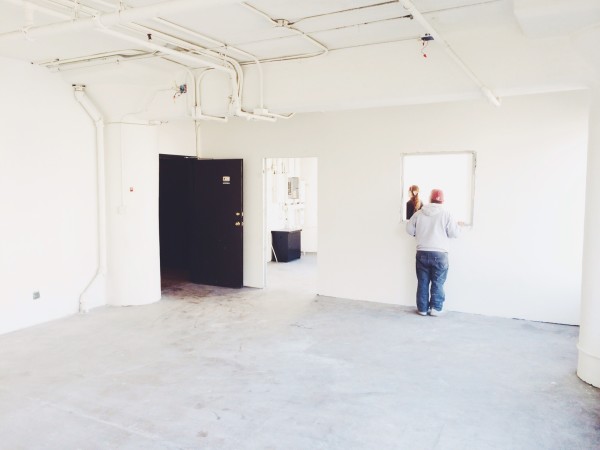 Shortly after the New Year, I decided it was time to pick up the search again, and finally checked out the building I had bookmarked a few months back. And BAM! It. Was. Perfect. I knew I had to grab a space like this while I had the chance, so after a few days of thinking long and hard about it (and a quick run back for a second in-person viewing to get Mary's opinion on the light!) … I decided to make the jump. WOW! The building is slowly being converted into creative office spaces, and is in a much better area than the previous spaces I'd seen. It's just a few blocks from the new Ace Hotel (Have you been? GO!) and nearby some great restaurants too. (If I can walk to Bottega Louie, I'm a happy girl.)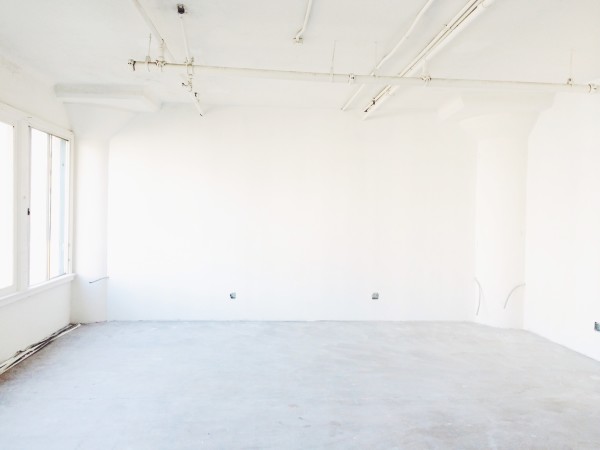 Now I've got myself about 900 square feet, in a corner unit, with white walls, concrete floors and, most importantly, lots of windows! They'll be doing some construction on the space, like knocking down that divider wall, building out another wall to cover some electrical equipment and polishing up the floors. Speaking of which! I'm not sure of my exact options with these floors yet, but if I have options… What do you guys think? Keep the neutral gray/taupe-ish concrete and polish them up, or go crazy and paint them white? And if you vote white… anyone have experience keeping them CLEAN!? Or is that just impossible? I can't decide!
Once the construction is done it is time to DECORATE! Of course, in my space (read: living room) right now I only have a desk and some (not so pretty) shelving that is overflowing with supplies, so this is going to take a lot of work! But I'm SO excited to jazz it up a bit…. though a little lost for where to put things because I really just want every corner of this space available for photo shoots! Ha!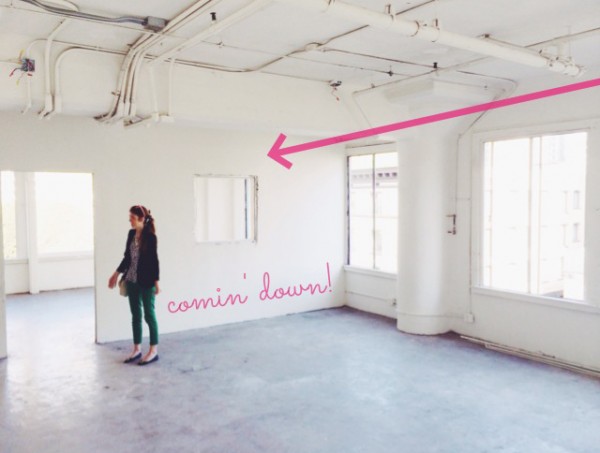 I'm feeling all sorts of emotions right now! I want to run around throwing confetti everywhere, and I want to curl up in a ball and hope I made the right choice. All I know is my working situation in 2013 was not working, and I needed to make a change. This felt right, so I closed my eyes, crossed my fingers and made it happen. Am I the biggest blogger on the block, with a whole team behind me? Nope. Am I feeling totally pumped to now be responsible for two rents? No way. But as this little business of mine grows, I know I need to invest in it and this investment is one I think will benefit myself, my relationship, this blog and you readers, too!
So what do I really need this space for? I'm hoping to use it for photo shoots, especially larger scale ones, for Studio DIY, and I'm dying to bring in some awesomely talented people to teach workshops! I may host some workshops myself too, of course, but I'm really excited about the chance to work with other creatives and help them share their skills with you guys! That will be a few months down the road, but I'd love your input. What would you guys like to learn? What workshops would you be dying to take? Calligraphy? Floral Design? Piñata making? Donut crafting? (Or just donut tasting?) hehe. Let me know, and it just might happen!
I'll be posting some updates about the studio here and on Instagram, so be sure to follow along there if you don't already. Now, please excuse me while I go take a deep breath, eat a donut, and start bustin' my butt to make this space awesome!