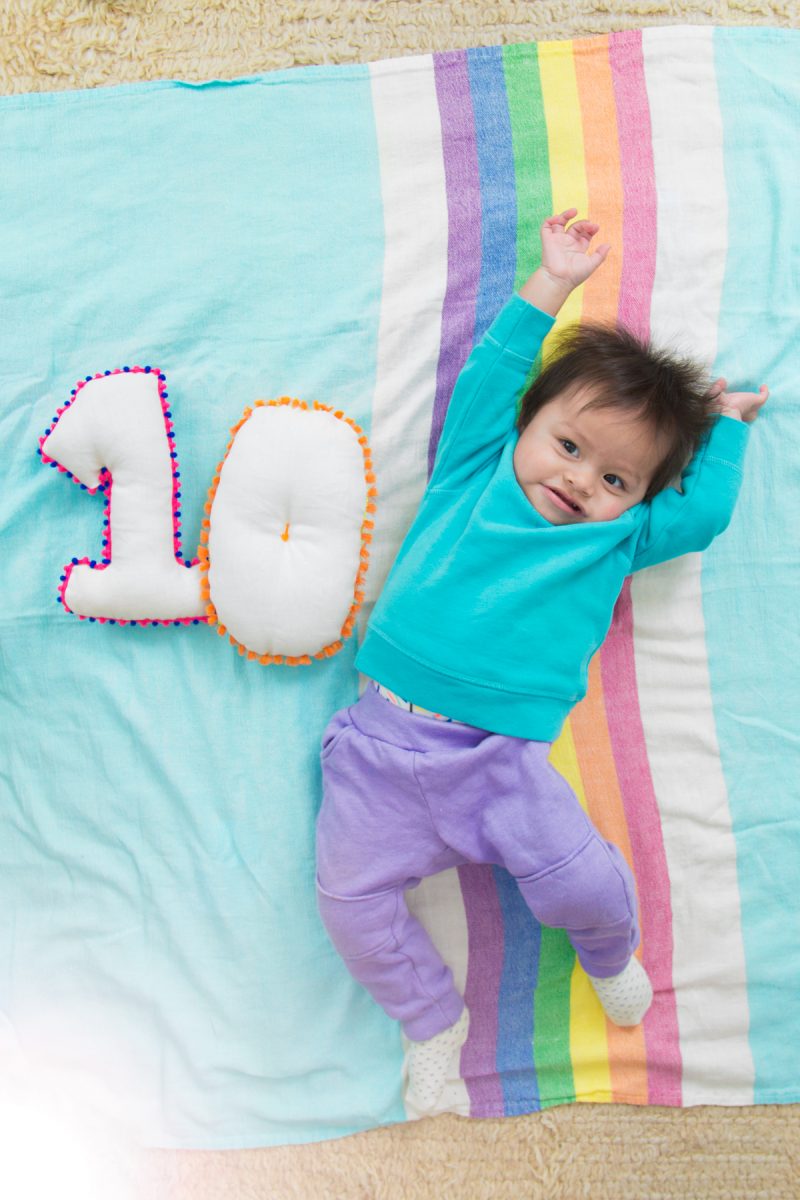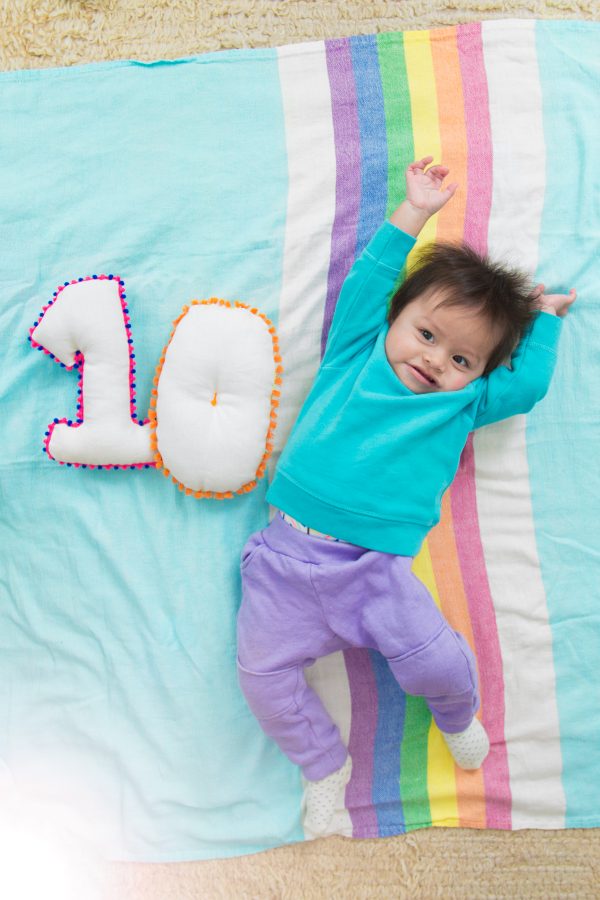 DOUBLE DIGITS!!! Yowza. Eight weeks away from his one year birthday… I can't even handle it.
Let's see… the biggest Arlo-related news is that we finally hired a nanny! She's wonderful and we're really excited because she is speaking exclusively Spanish to him. That was our #1 priority and requirement when hiring someone and we're so happy that he'll now be exposed to the language so consistently. Our hope is that he will grow up bilingual, or as close as possible to it so this is a great start.
Milestone-wise, it feels like nothing super major happened, he's just gotten better at everything! He's getting more and more steady on his feet, but I think we actually have a little more time than we expected before he'll start walking. He gets super nervous when standing sometimes, probably because he's fallen a lot since he's so active and overly ambitious, so I think that'll buy us some time before the walking insanity begins! He also recently started clapping, which is beyond adorable! And he has six teeth!!
He's thankfully doing much better on sleep. Most nights he'll sleep about 11 hours. *Knocks on all the wood* Here's what we changed: We started putting him in overnight diapers (Pampers Swaddlers Overnights) and we moved his bedtime up a half hour to 7:30. We also feed him an extra small bottle in-between his normal ones which I think helps, even though we still have to fight him to take a bottle.
But while we're on the topic of eating, his appetite is CRAZY now! OMG he eats so much!!! It feels like before we'd just kinda give him a few bites of what we were having but now that doesn't really work because he JUST KEEPS GOING! Ha! So I'd love to know, what are some easy and healthy (dinner) meals that you prep (or prepped) for your little ones around this age?? Preferably finger foods so we don't have to spoon feed him. Our new nanny has been helping with some meal prep stuff but I'm super curious how you all handle it. It's completely overwhelming thinking about feeding another human when I feel like we barely feed ourselves proper meals!!! Any tips? Do you have a prep day so you don't have to think about it all week? I know a lot of you might just say you feed them whatever you're eating, but a few nights a week we do a meal delivery service and there isn't a ton of "extra" to feed him, but yet he doesn't eat enough to warrant paying for a third meal. Need something to feed him on this nights! His favorite foods of late have been strawberries, avocado, eggs, chicken, meatballs and lentils.
All around, it just feels like he "gets" things more. He's so darn smart. Our music classes started up again after Christmas break and while he always loved it, he's so much more involved now. I set him down and he's off and grabbing all the instruments, shaking/playing them, interacting with the kids… he barely even remembers I'm there. Ha! And now when we say things like "Where's your car!?" or "Where's dad??" he'll go hunting for them/him! He's getting the concept of rolling a car down the hall, flipping through books on his own and opening/closing/unlocking things on his busy board.
Every day he gets smilier and more excited to see us. And every day I can't beleive this whole "mom" thing just keeps getting better and better! And that's Arlo, 10 months!!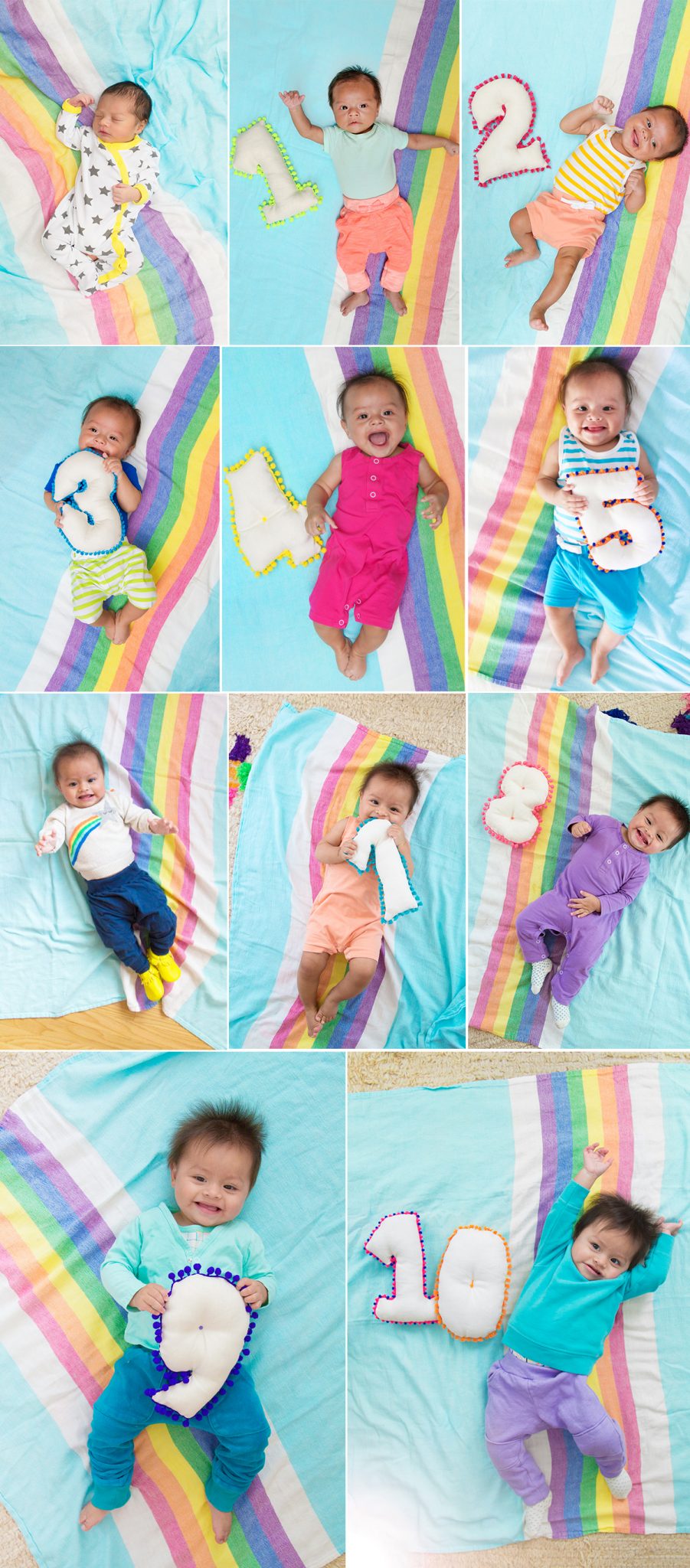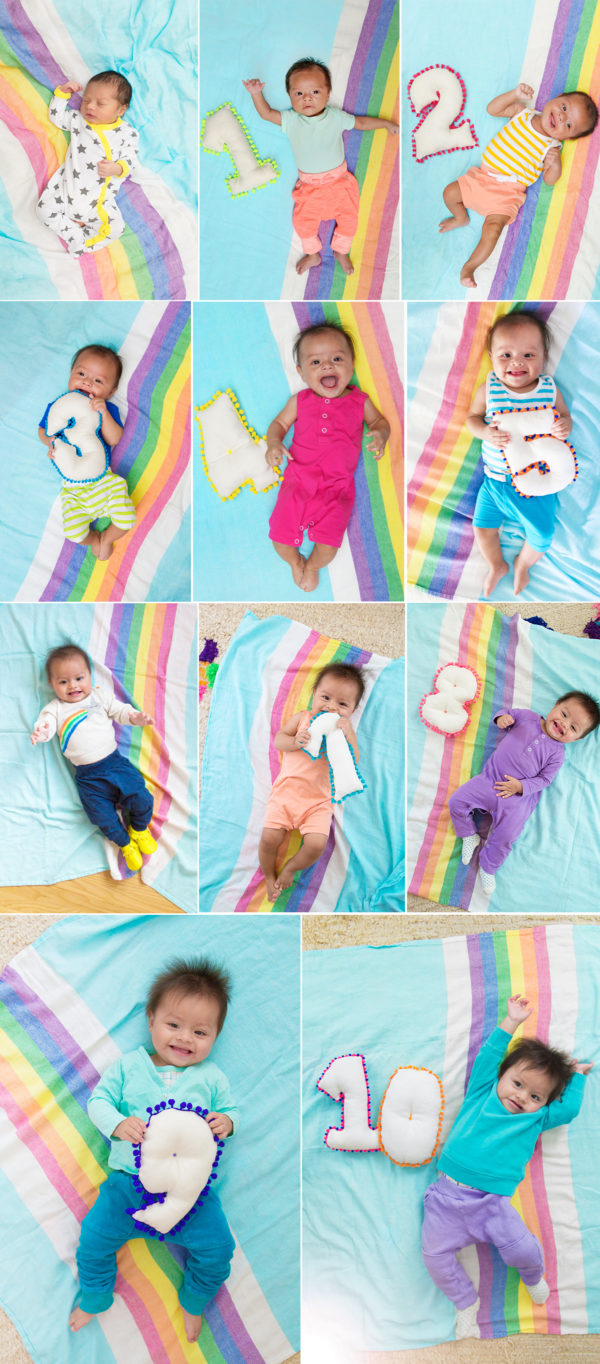 Find the tutorial for the monthly number pillows here!
SaveSaveSaveSave