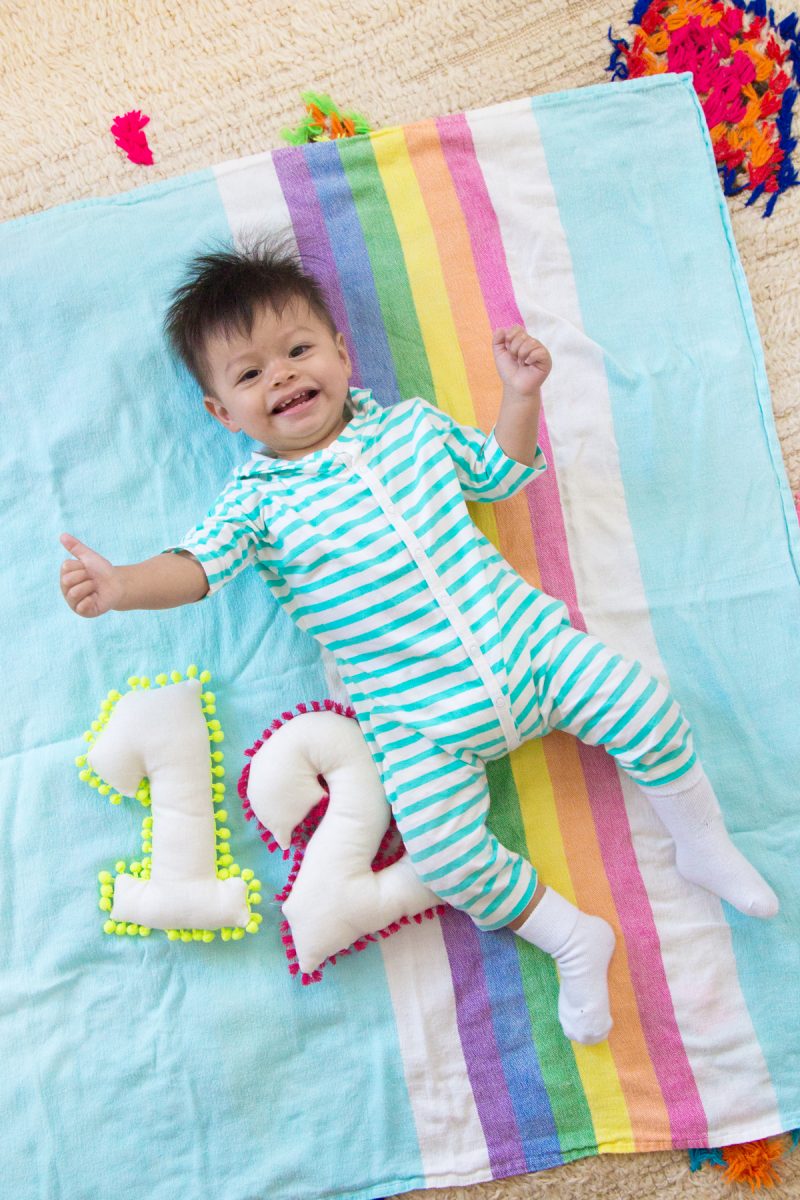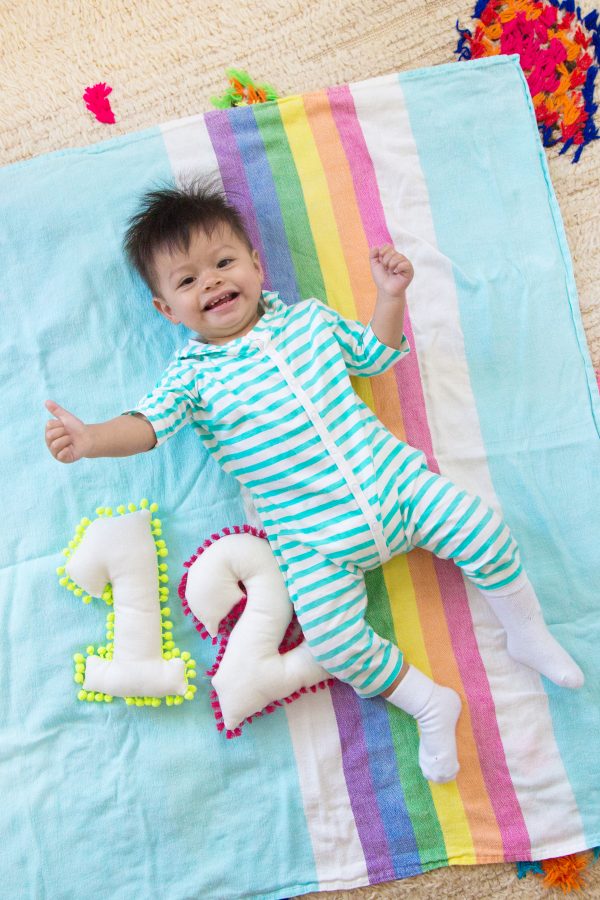 The final update. *CRIES* Last week, my baby turned ONE YEAR OLD! I guess the biggest update here is just that he, essentially overnight, became a toddler. He got a big ol' haircut (That one is our fault!), his laugh changed, he understands everything, and he throws full blown toddler tantrums. Did any of you notice such a seemingly abrupt change when your babes hit one!?
He now claps for everything, it's so cute! And he grabs your hands and makes you clap too. He reaches and points for what he wants. He responds to all sorts of things we say to him, and he doesn't miss a THING! That is probably the coolest thing about being a parent. Watching a little human learn and understand… it's so mind blowing!!!
He'll sit still for longer at night now so we can get through nearly two full (short) books! He still loves music more than anything and dances any time a song comes on. (!!!!!!) His favorite toys of late are a shape sorter and this basketball hoop for the tub. He doesn't have much interest in anything else, toy-wise, but there were a LOT of great toy recs here so I may look into some of those soon!
He's not a big fan of anyone else holding him right now, but he wants to make sure everyone is looking at him, talking to him or smiling with him. He's a big flirt, especially at the grocery store. He continues to be incredibly opinionated (there's a LOT of screaming involved) and sleeping and eating is still a bit of a rollercoaster. I think a lot of this has to do with the fact that he just keeps getting sick.! Ugh, I knew kids got sick a lot but MAN is it rough to live through. He's been sick almost non-stop since Christmas. Any genius solutions to boosting a baby's immune system?
Still no real words from him, just repeating some sounds/pitch-levels, and no walking yet! He will walk while holding our hands now though! When he feels like it.
This has been the most random final update but this month, it really feels like there was an overall shift in his behaviors versus any specific milestones or issues. We had the best time at his birthday party and there will be a whole separate post coming on that. Obviously you'll continue to see Arlo here but I won't be doing any more monthly updates. As he grows from a baby into a person, we'll continue to be more and more selective about what and how we share. But for now, that's it! That's Arlo, twelve months. One year. 365 days. The best days I could have ever asked for!


SaveSave
SaveSave