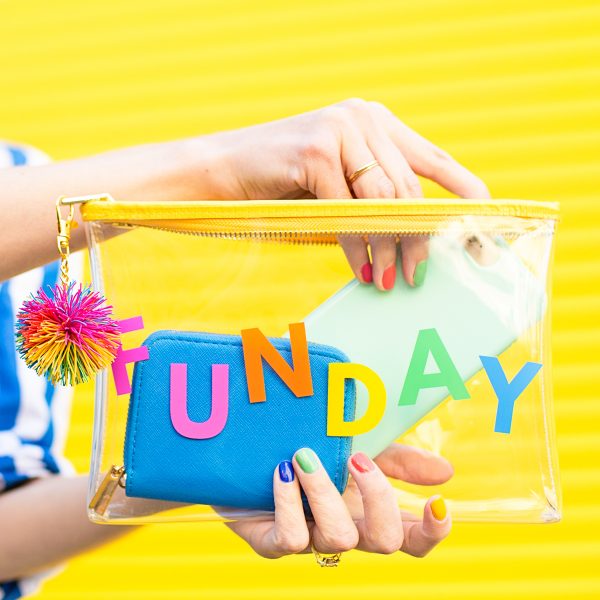 February!!!!! It's here! It's happening!!!! Meet February's Funday clutch!!!!!!!!! Oh man, this one!! I have so much to say. Okay first, it's see-through!!! This clutch was inspired by our 'Funday' window display that's been hanging out on our office window for about nine months now. I freaking LOVE the contrast between the clear bag, the rainbow letters and that yellow zipper!! The zipper is my favorite part. Other than the KEYCHAIN!!! Repeat. Have you seen the keychain!? That one was a "I wonder if we could ever make a…. yes we CAN!" kind of moment for me.
I feel like right around this time everyone's headed out on those winter or spring break getaways. This is the PERFECT bag to take to the beach! Pop it in you bag to hold all your essentials. BAM! It's also perfect for concerts and sports venues that require clear bags. BAM BAM! And uh.. it's also just great for every day life!?!? It looks great with any bold color and also pretty fun with a black and white outfit too. It'll be your new Sunday Funday bag for sure. Head here to watch the unboxing and subscribe if you haven't already!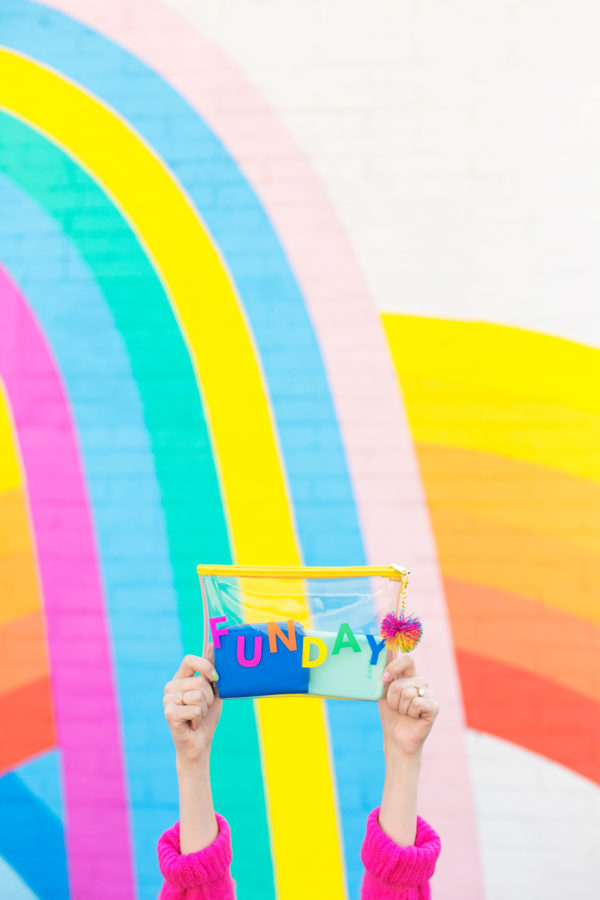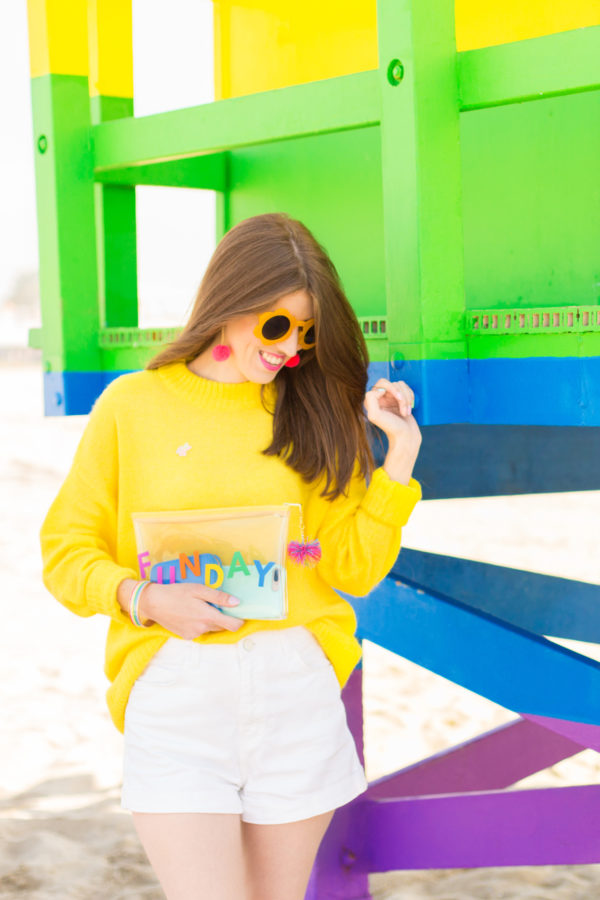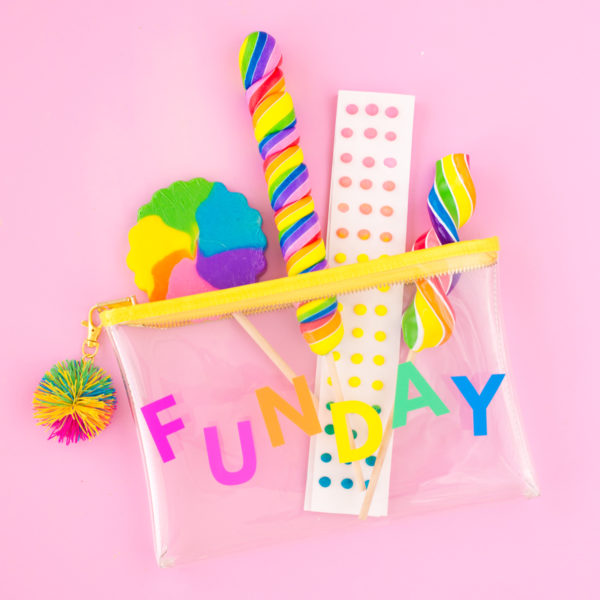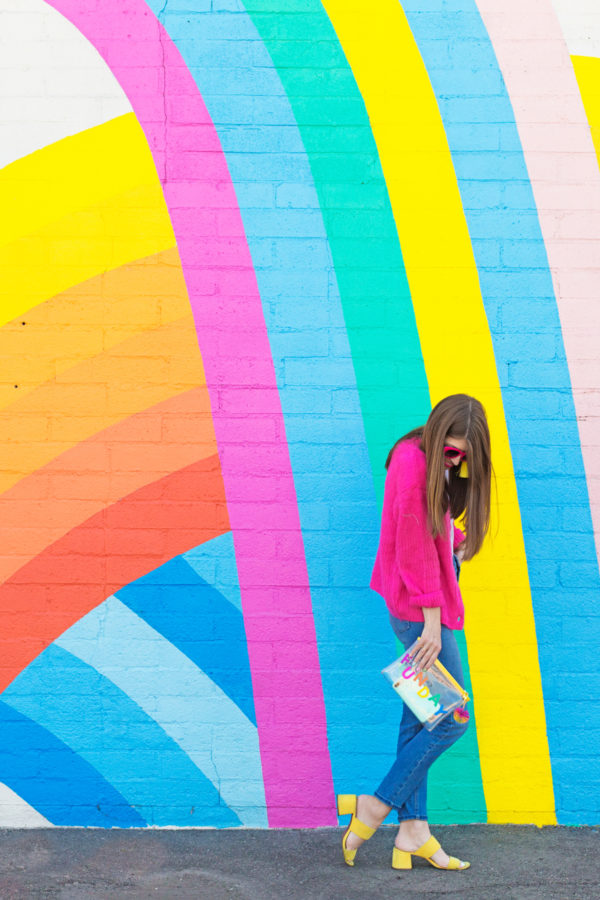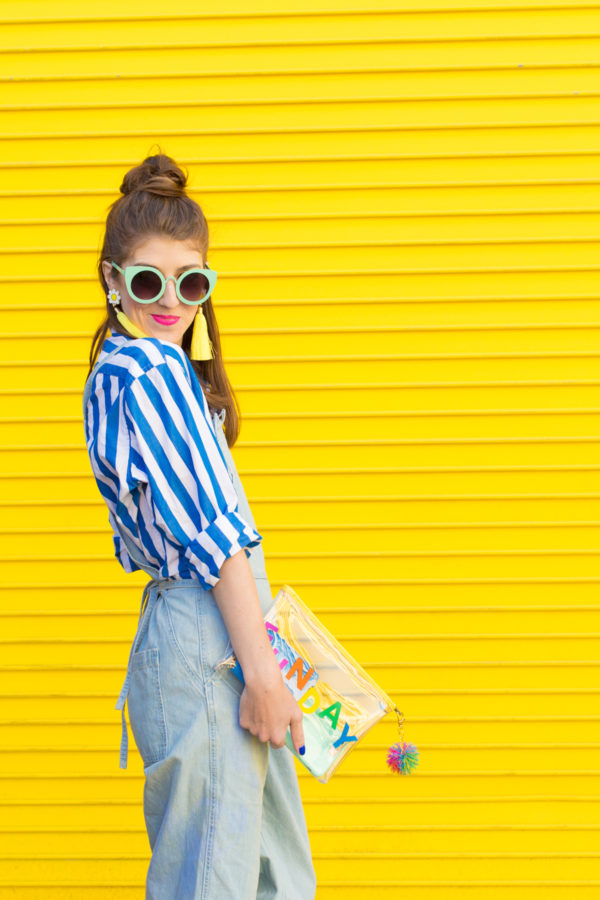 Photos by Jeff Mindell
You guys loved the extra add-on feature last month (If you missed it, we offered some extra items you could add to your box so they shipped for free!)  so we've got some really fun additional add-ons this time too! Like those daisy earrings and that rainbow bracelet you see me wearing in the photos above! You can see them all here.
Subscribers! Remember to head to your shop account and add your keychain and pin before your box ships on January 20th!
And in case you're new here.. what is Can't Clutch This!? Let me tell ya! It's our month-to-month subscription where you get a new (exclusive!) clutch in the mail each month. You can choose to add on fun keychains, pins and accessories to pair with it, too. With each clutch, my goal is to help you infuse a little bit of Studio DIY style and color into your everyday! Come join the party!!
SaveSaveSaveSave
SaveSave
SaveSave