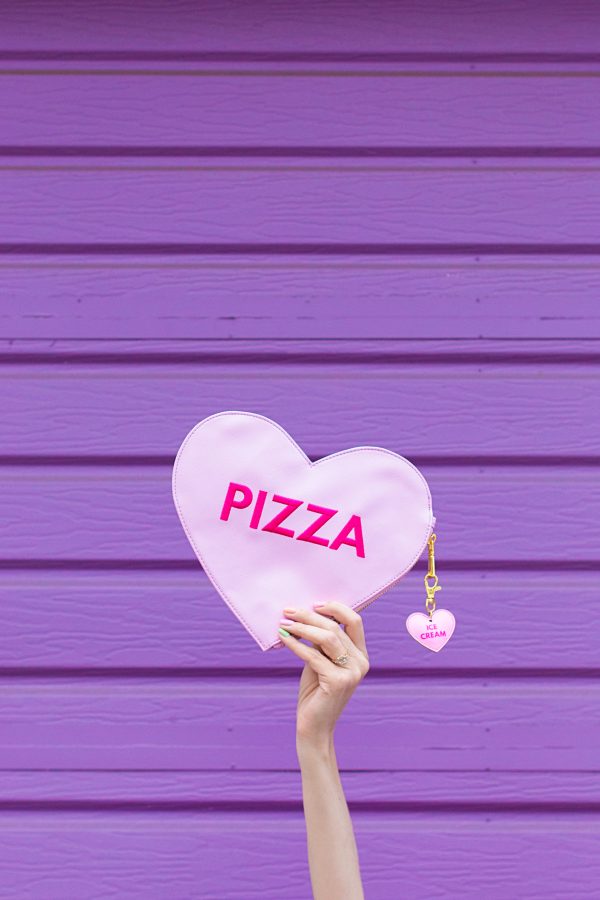 THIS clutch is our first holiday themed clutch!! And! Our first shape!!! Not surprisingly, I'm over the MOON about that. It's a conversation heart clutch!!!!! Well actually a trio of conversation hearts… clutch, pin and keychain! Bam, bam, BOOM!
For these though, I didn't want to make them too Valentines-y. I want you to be able to wear it year-round, not just for February 14th! So instead of typical lovey-dovey phrases, I went with some other things we all know and love… food! Everyone's favorite guilty-not-so-guilty pleasures. So, has this pizza heart clutch stolen a pizza your heart yet!? 😉 Sorry, had to. If you buy it, you can make that pun all day long too! Haha! You can watch the unboxing below for the full scoop and then head here to subscribe if you haven't already!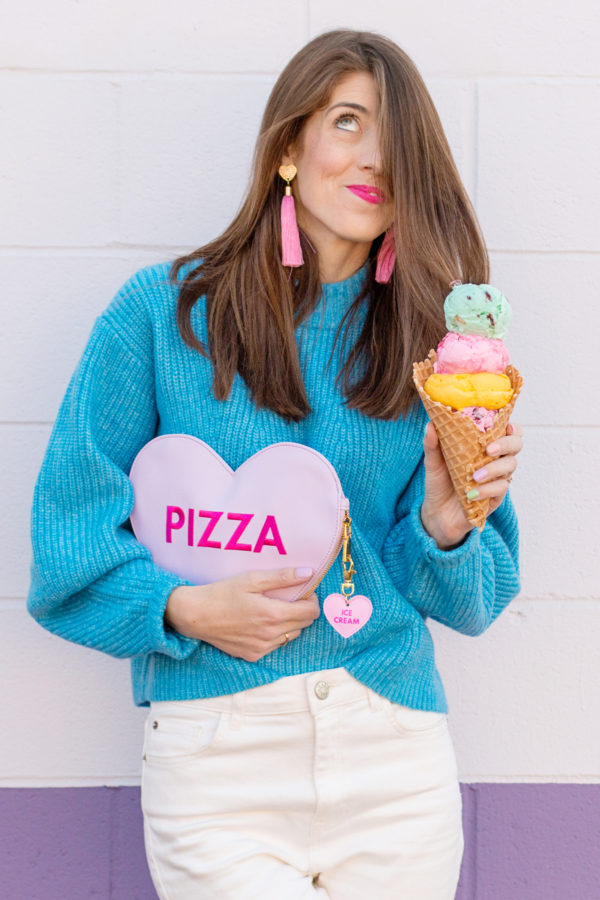 Something else REALLY exciting I wanted to share! This month, we have another new feature!
In addition to the matching keychain and pin you can add to your clutch, you're now able to add a few other items from our shop to your box before it ships! That means items like the earrings I'm wearing in the photo above and our conversation heart balloons will ship FREE (or for $3 international shipping) with your clutch!! YAY!!!!!! You can find them in the same add-on section where you pick your keychains and pins.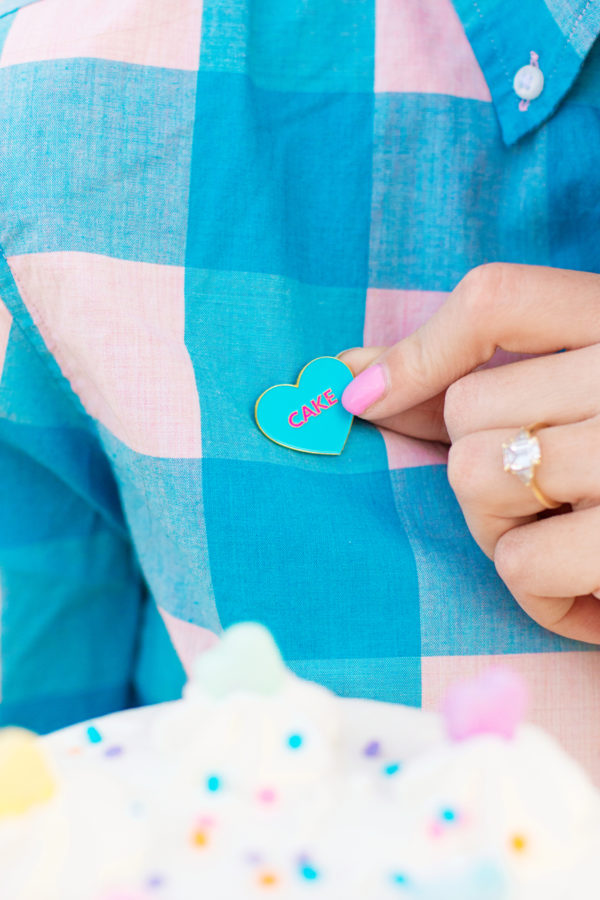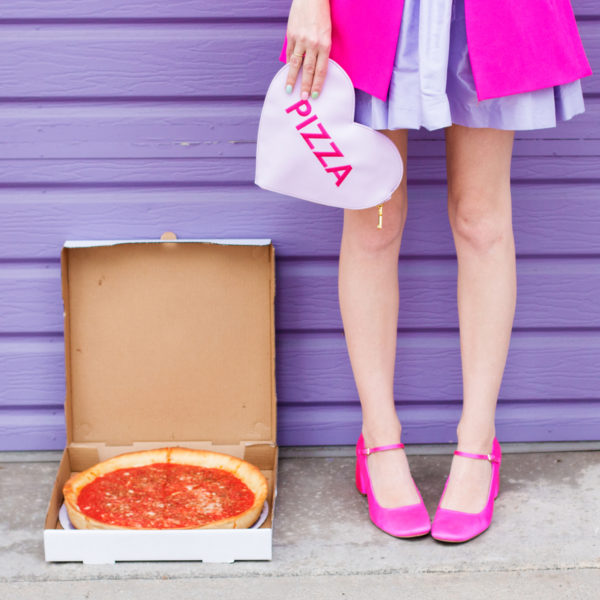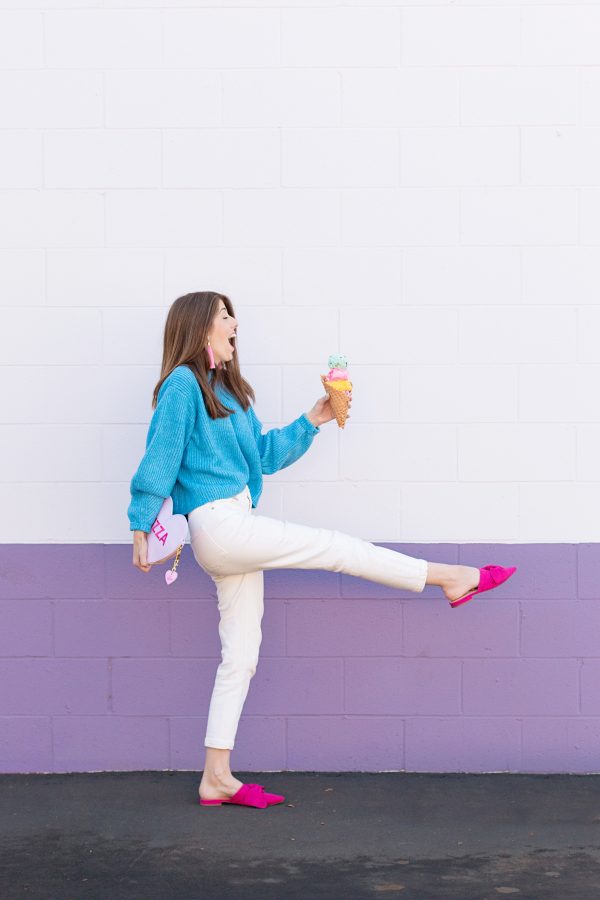 Photos by Jeff Mindell
Holiday themes and shapes have been LONG requested so I've been working so hard this last year to make sure we made it happen for you guys!!! I'm so excited to see you celebrating Galentine's, Valentine's and just your average Friday pizza night with this clutch!!
Remember, if you are already a subscriber be sure to head to your shop account and add your keychain and pin before your box ships on January 20th!
In case you're new here.. what is Can't Clutch This you ask!? Let me tell you about it! It's our month-to-month subscription where you get a new (exclusive!) clutch in the mail each month. You can choose to add on fun keychains and pins each month!! With each clutch, my goal is to help you infuse a little bit of Studio DIY style and color into your everyday!