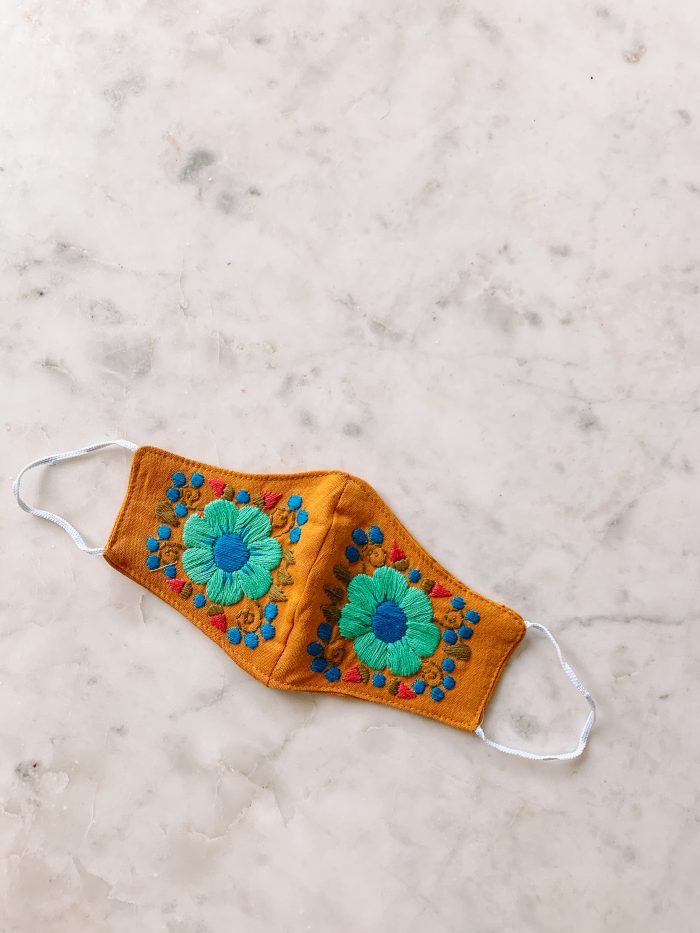 Wearing a mask is an easy thing we can do right now to help protect others (and ourselves) so today I wanted to share a variety of colorful face masks for kids and adults all from small businesses!
So many small businesses have pivoted to create beautiful masks in what has been an incredibly hard time for entrepreneurs. If you are looking to purchase a mask, I highly encourage you to shop small or local! Hopefully this round-up provides you with a good start!
Many of these companies are doing 1:1 or other donation models with their mask sales, those are all indicated by being bolded in the source lists below. Additionally, many sell both kid and adult sizes, and those are all indicated with a ** in the source list below, if you want to get masks for the whole family in one spot. Hope you find something you love!
Note: Fabric masks are not a replacement for or equivalent to medical-grade masks or devices. And, because all of these come from small businesses and many are handmade, there are often periods where the masks are sold out.
If you're interested in a mask that is sold out right now, follow the company on Instagram, sign up for their emails or do a pre-order (if available) in order to be notified when their masks come back into stock! I've found that most do come back into stock, but quantities are small so notifications help!
Colorful Face Masks for Adults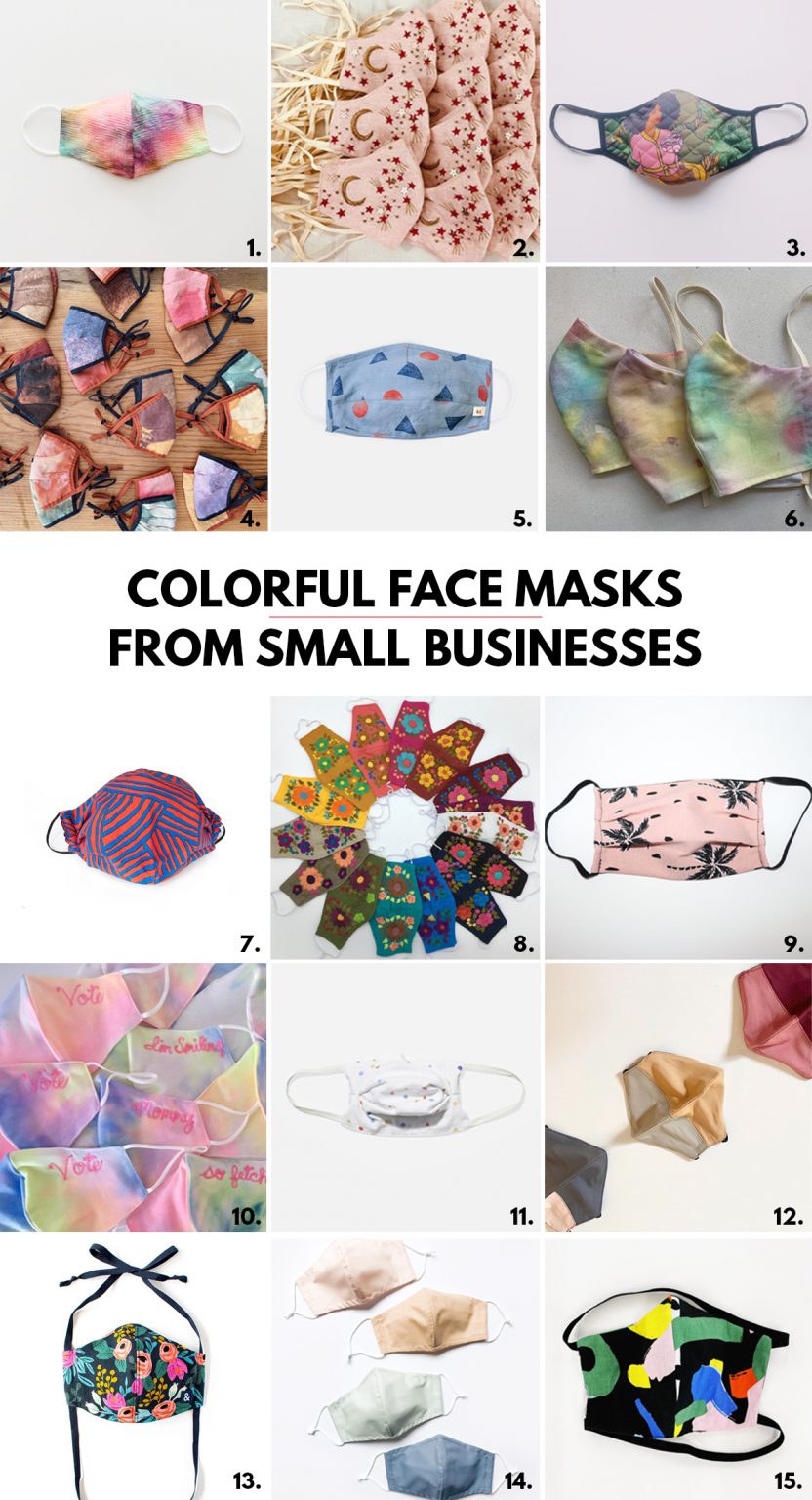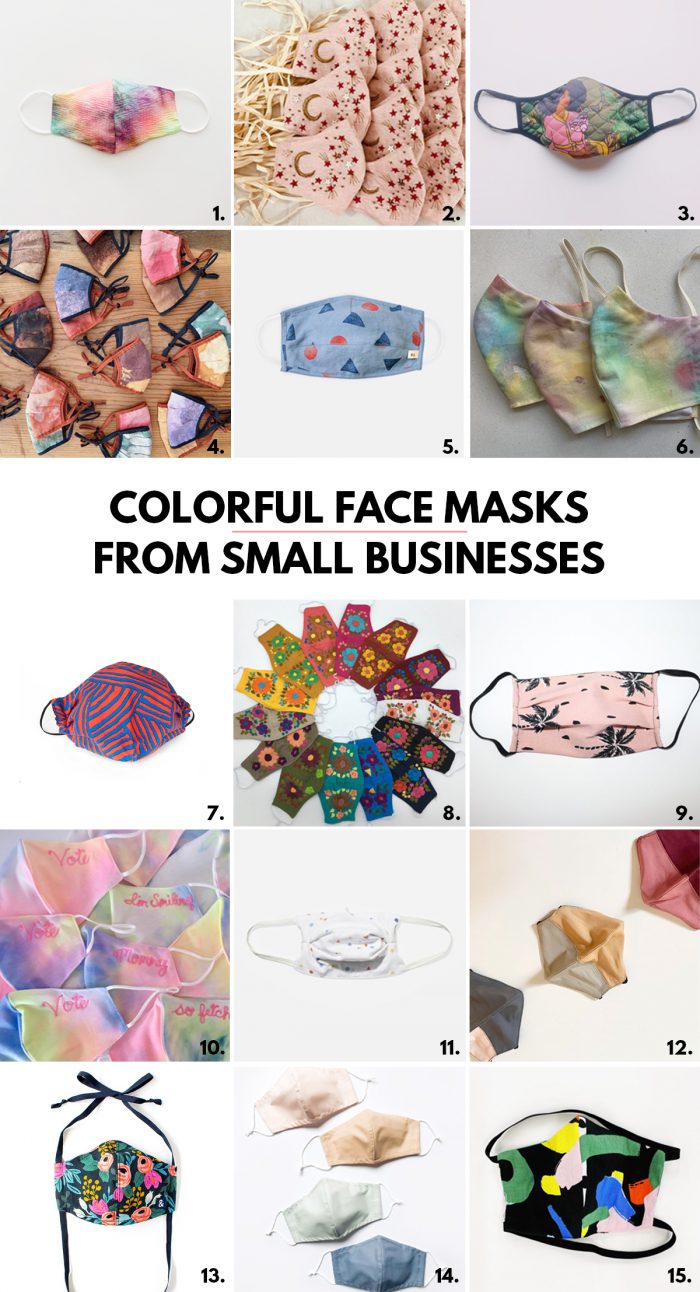 Here are a few of my favorite colorful adult face masks. Tie dye masks seem to be quite popular, so you'll find a few different varieties linked here! The embroidered ones are probably my favorite though. So beautiful!
I encourage you to check out the websites of each maker as many have several styles, patterns or color ways available that you might like even more than the ones I've picked! They also all have some incredible other products to check out, while you're shopping/ordering!
Additionally, each mask is constructed differently. Some have filter pockets, some have nose wires, some have specific washing instructions, etc. Be sure to read the details so you can pick the one that best suits what you're looking for, functionality-wise!
1. Crinkle Tie Dye Face Mask** | 2. Star Embroidered Face Mask
3. Plant Mom Face Mask
4. Tie Dye Linen Face Mask | 5. Geometric Face Mask
6. Watercolor Face Mask**
7. Reversible Face Mask | 8. Embroidered Face Mask
9. Palm Print Face Mask
10. Custom Tie Dye Face Mask | 11. Dot Face Mask**
12. Color Block Face Mask
13. Rifle Paper Floral Face Mask | 14. Pastel Face Mask**
15. Abstract Face Mask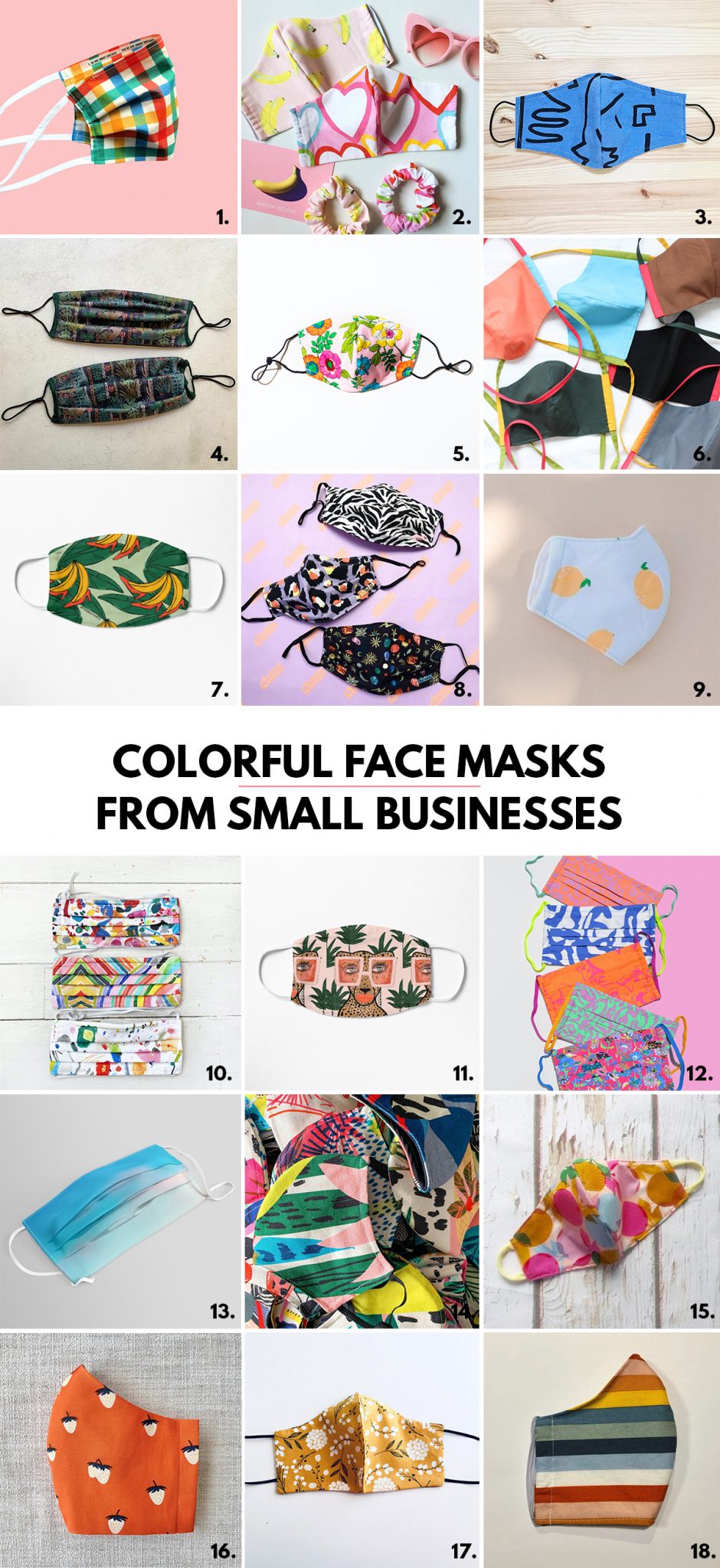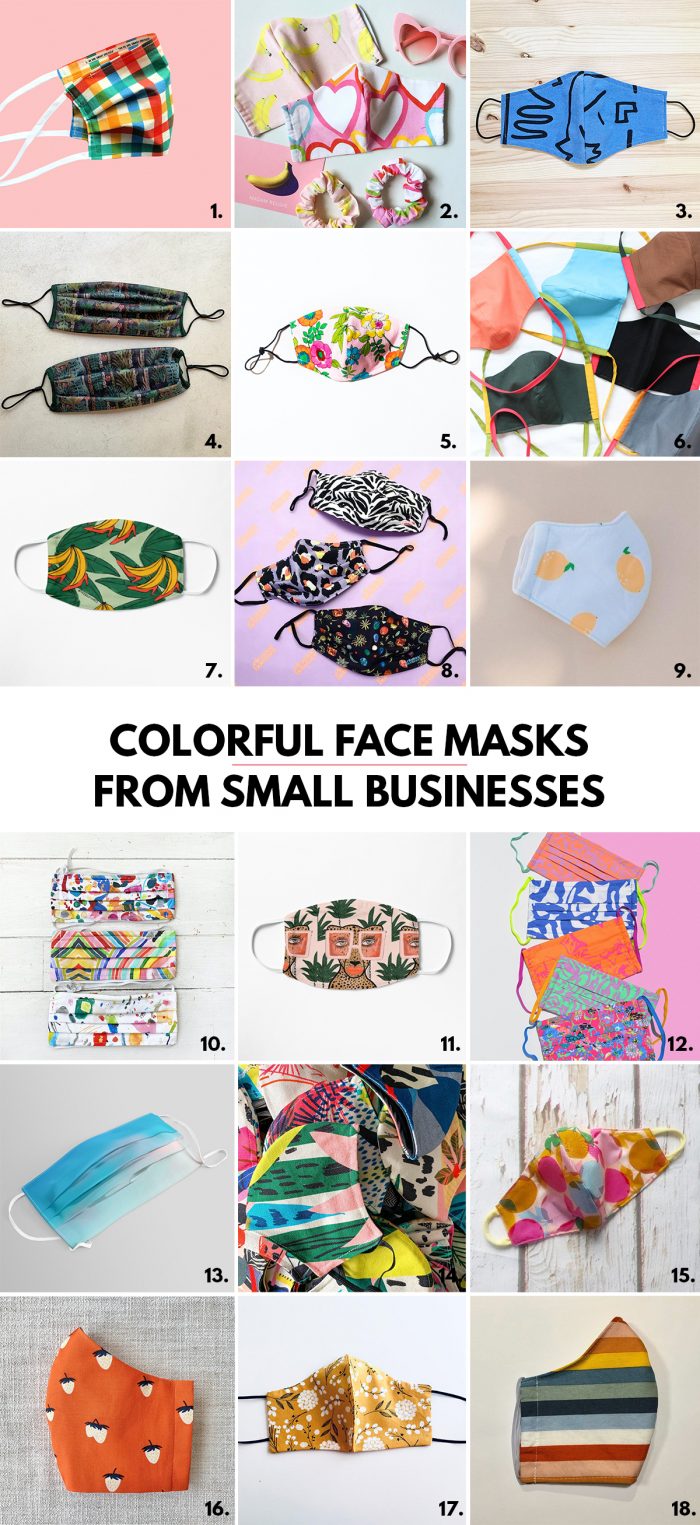 1. Gingham Mask | 2. Banana and Heart Masks
3. Blue Shapes Mask
4. Jungalow Masks | 5. Pink Floral Mask
6. Solid Color Blocked Masks**
7. Bananas in Heels Mask** | 8. Eleanor Bowmer Patterned Masks
9. Lemon Mask
10. Abstract Art Masks | 11. Cheetah Mask**
12. Neon Pattern Masks
13. Ombre Sky Mask | 14. Kitty McCall Patterned Mask
15. Fruit Mask**
16. Strawberry Mask** | 17. Yellow Floral Mask
18. Rainbow Stripe Mask**
Colorful Face Masks for Kids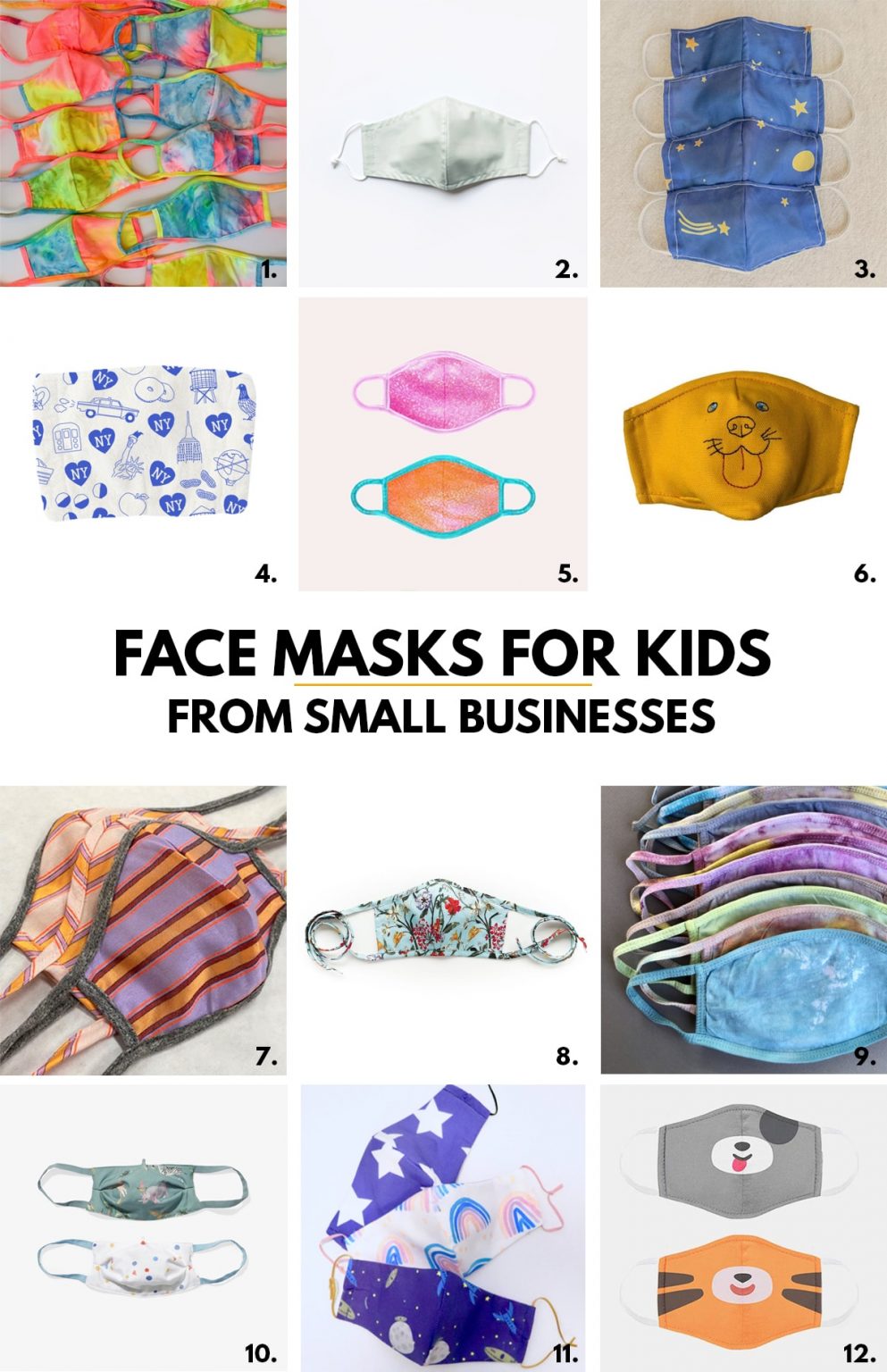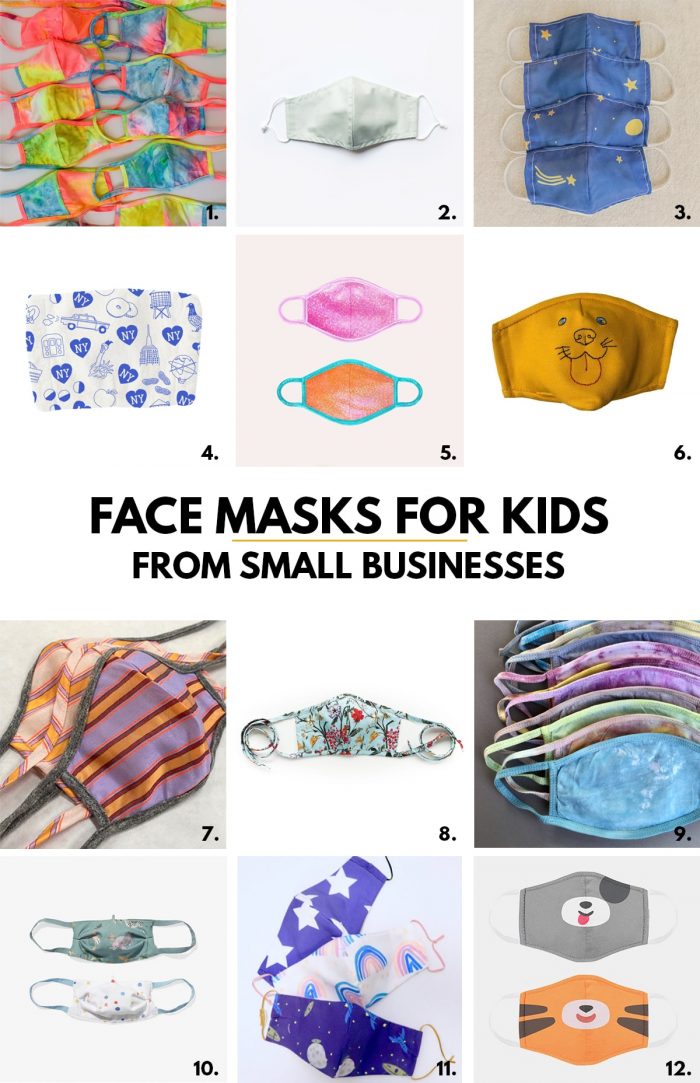 Sometimes it's all about a mask being "fun" for a kiddo to be more open to wearing one, so I tried to include a variety of fun themes and colors in the masks here!
Similar to the adult masks, almost all of these companies have additional styles and color ways so be sure to click through and check them out! Additionally, several have a variety of kid sizes, from toddler to teen, so I recommend reviewing the age bracket suggested for each one!
1. Neon Tie Dye Face Mask** | 2. Pastel Face Mask**
3. Silk Starry Night Face Mask
4. NYC Face Mask** | 5. Glitter Face Masks**
6. Dog Face Mask**
7. Stripe Face Masks** | 8. Floral Face Mask**
9. Tie Dye Face Mask
10. Jungle Animal Face Mask** | 11. Rainbow Face Mask**
12. Animal Face Mask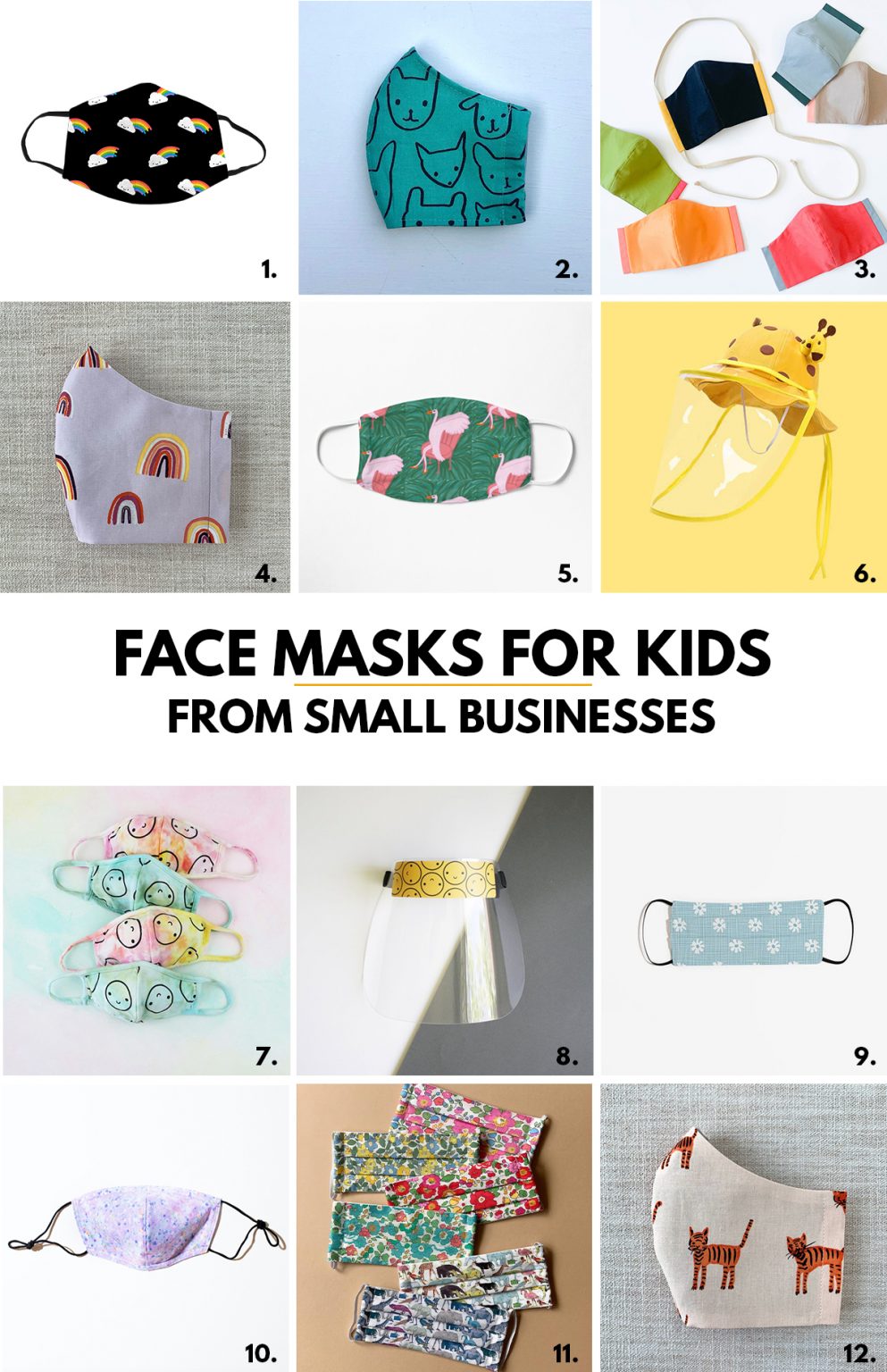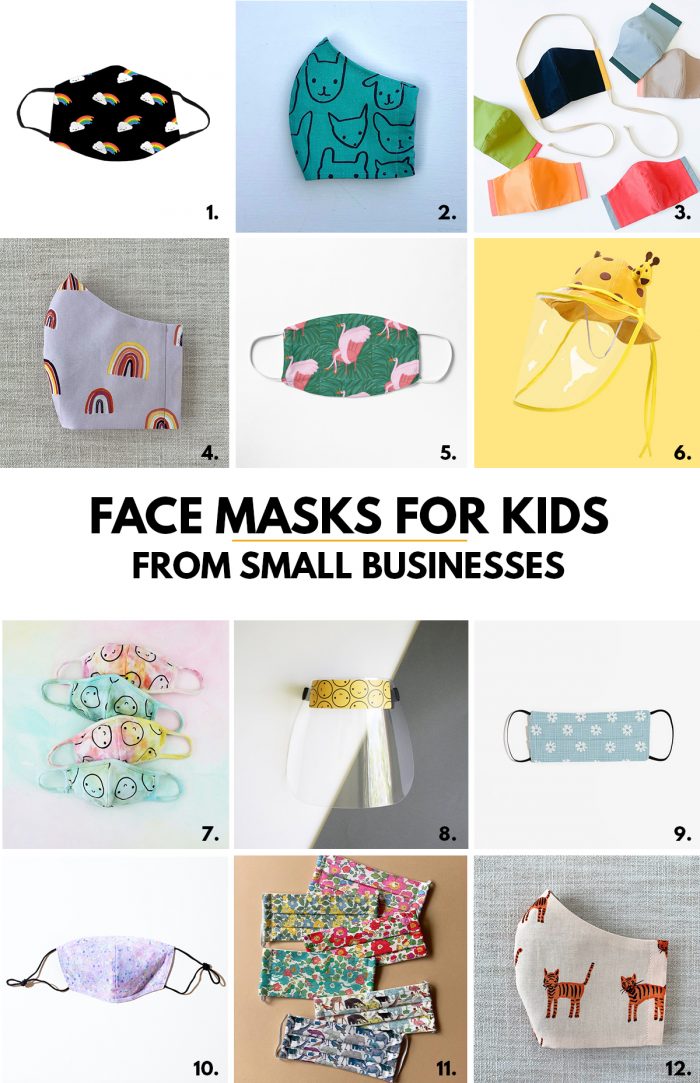 1. Rainbow Mask** | 2. Blue Dog Pattern Mask**
3. Solid Color Block Masks**
4. Rainbow Mask** | 5. Flamingo Mask**
6. Giraffe Face Shield
7. Ice Dyed Happy Face Mask | 8. Happy Face Shield
9. Daisy Mask**
10. Cotton Candy Mask** | 11. Floral + Animal Masks
12. Orange Cat Mask**
If you've purchased a mask from another small business that I didn't list here, leave it below! I'd love to check it out and I'm sure others would too!
Alternatively, if you'd like to make your own mask, I shared a tutorial on Instagram here.
Thank you for working to keep our communities safe! We're all in this together.