Did you see these pretty little packages? Well, today I'm sharing what they held inside! For the Southern Weddings Ornament Swap, I found my inspiration from those classic Christmas bows. You find them stuffed in bags at every shopping outlet and you'll find tons of tutorials for making them at home on Pinterest, but I took it a step further. I made one of these pretty little bows and then turned it into a pretty personalized ornament! See that monogram in there, well that's an embroidered button and today I'm sharing the entire how-to for this fun, custom project!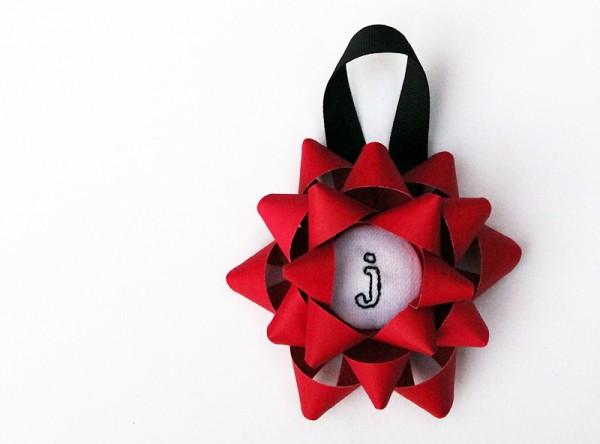 Supply List:
For the buttons:
White fabric (I actually used a white fabric napkin)
Half Ball Cover Buttons– (Size 1 1/2″)
Embroidery thread
Needle
Pencil eraser
Fabric scissors
For the Bows:
Scrapbook paper of your choice
Scissors, x-acto knife or paper cutter
Ruler
Stapler
Hot Glue Gun
Ribbon (or twine), for hanging
To make the buttons:
On the back of your pack of buttons you will find a half-circle template. Cut this out and use it as a template to draw a circle on your fabric. Then, freehand, stencil or trace your initial(s) at the center of the circle you just drew. (I wanted to use a font from the computer so I printed out the letter, colored over the back of the letter with a dark pencil, then flipped the letter over, aligned it and traced the outer edges, transferring the pencil line to the fabric).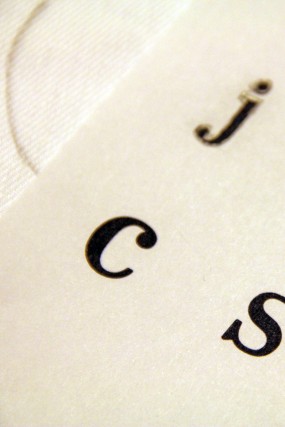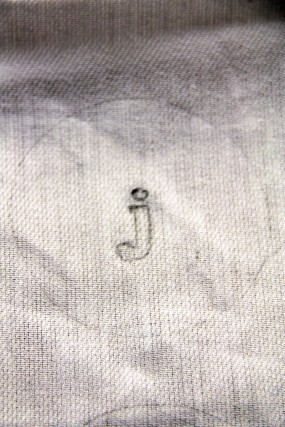 Cut a length of embroidery thread (mine was about 2 feet long). To make a thinner embroidered look as I did here, carefully separate the strands of the thread in half (You should end up with three or four strands to use). Thread your needle and tie a knot at the long end of your thread.
Here I used a simple backstitch. To do so (as pictured below) begin each stitch slightly in front of the previous one (determining the length of your stitch). Then, pull your thread back through, directly next to your previous stitch. Continue around your letter, using smaller stitches as you go around curves, until the letter's outline is complete. Knot.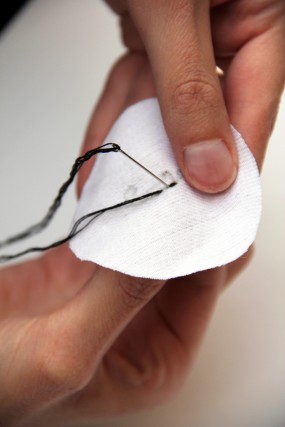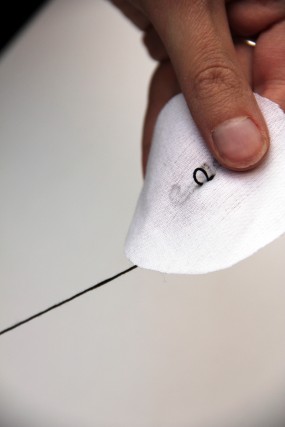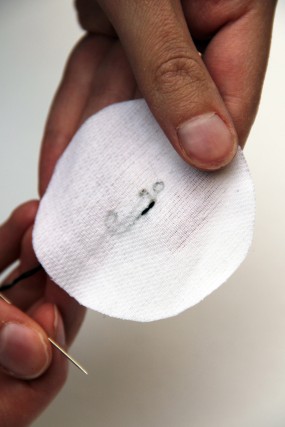 Now place your fabric circle right side down and center the domed part of your button over your embroidered letter. Following the directions on your button package, hook the excess fabric onto the teeth. Work top to bottom and side to side and, as the package suggests, use a pencil eraser to securely hook the fabric on (and avoid killing your fingers!).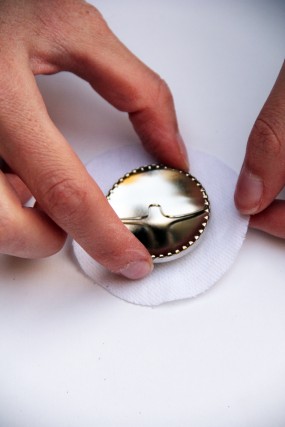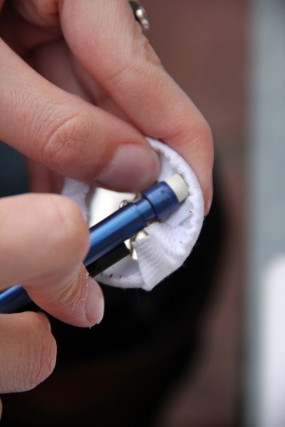 Once you have hooked the fabric to the teeth completely around the circle, the front of your button should look smooth. Now you're ready to snap the back of your button on. Aligning the back side's slot with the button's loop, firmly press until you hear a snap. And that, my friends, is how you make a button!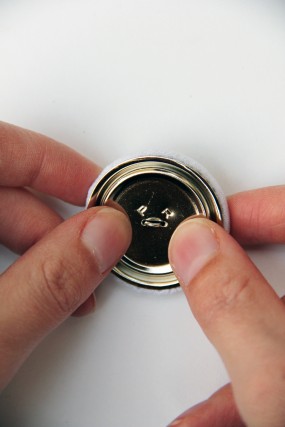 To Make the Bows:
You will need nine 3/4 inch wide strips of paper in total: Three 11-inch strips, three 10-inch strips and three 9 inch strips.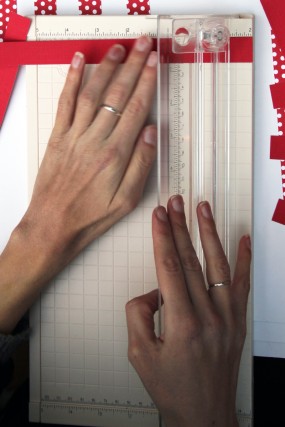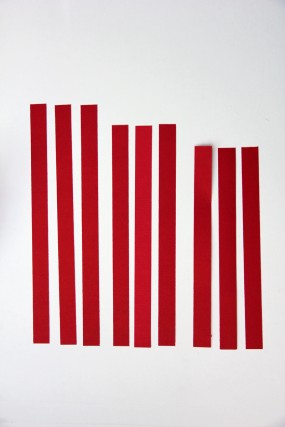 Form a loop at both ends of each strip as you see below. Staple each looped strip in the middle to secure.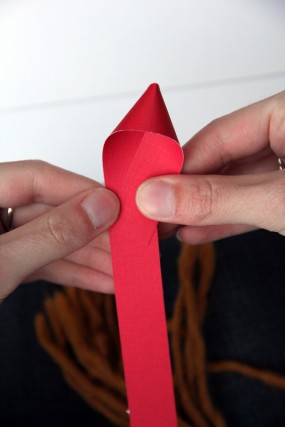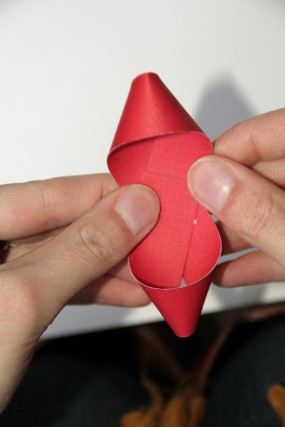 Once you have all nine loops stapled, begin with the 11-inch loops and layer them, hot gluing in between each and spacing them evenly to form a "star' shape. Repeat this with the 10-inch and 9-inch loops so that you have three separate star shapes.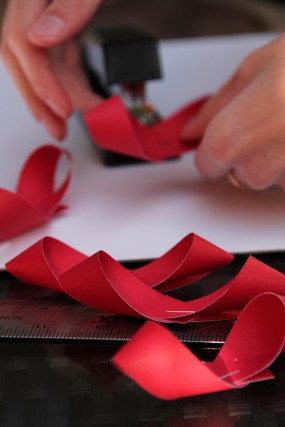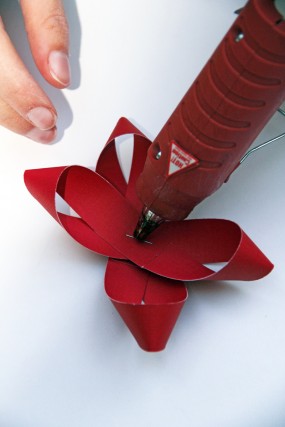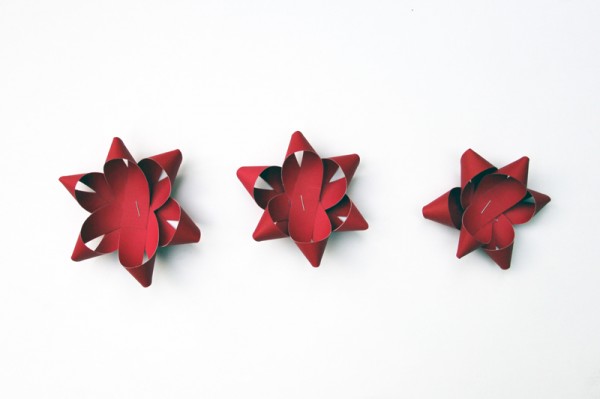 To complete your bow, hot glue your medium-sized star shape to the largest. Then, hot glue the smallest star shape on top. Hold firmly to secure. (Note: Make sure the points are spaced evenly so they do not overlap between layers but, rather, alternate)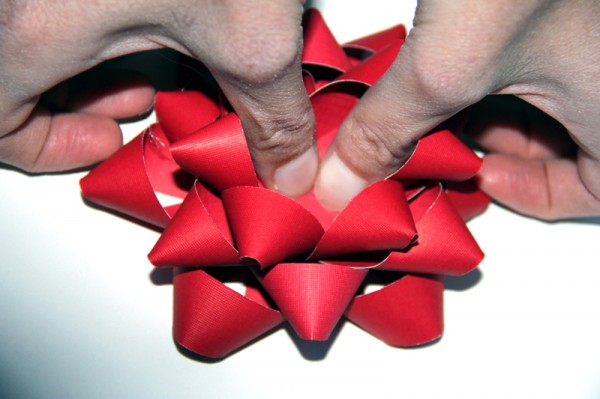 In place of the typical loop to finish the bow, you are going to add your button. Place a generous amount of hot glue onto the back of your button and quickly invert and secure it in the center of your bow.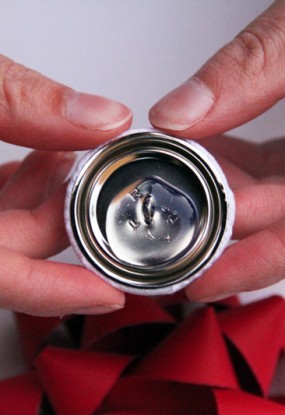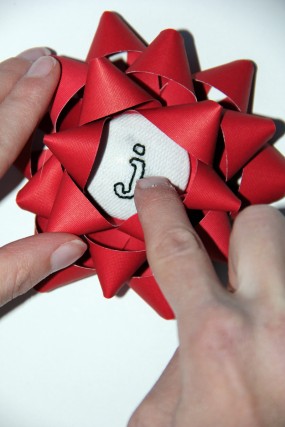 Tada! You can leave your bow at this for a pretty, custom package topper, or you can continue to complete the ornament!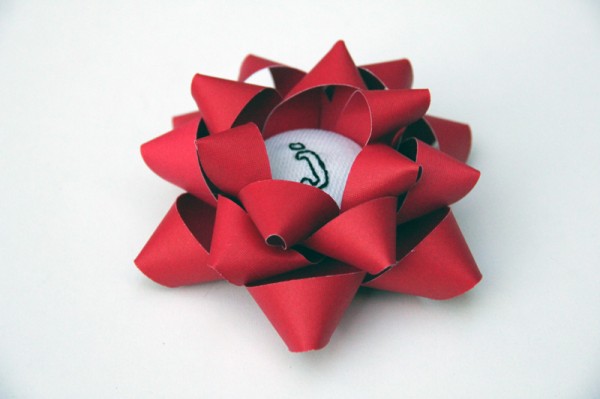 Cut your ribbon to the desired length. Also cut out a small circle (approximately 1 1/2 inches) from your leftover paper. Secure both ends of your ribbon, overlapping them, with hot glue. Then use a small amount of glue to attach your circle, covering the ends of the ribbon. Let dry.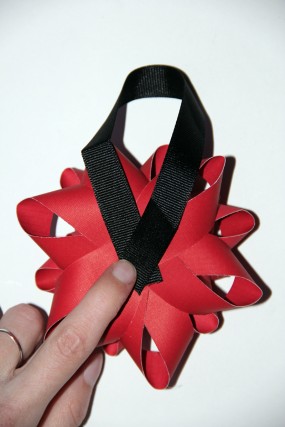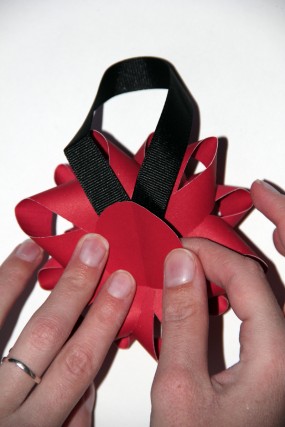 And you are left with a beautiful, customized ornament! These make great gifts and can be done in any color your heart desires! For my actual Southern Weddings Ornaments I used a gold and black combination to match the wrapping I shared yesterday. You could also forgo the embroidery and choose a fun holiday patterned fabric to cover your buttons with. The options are endless!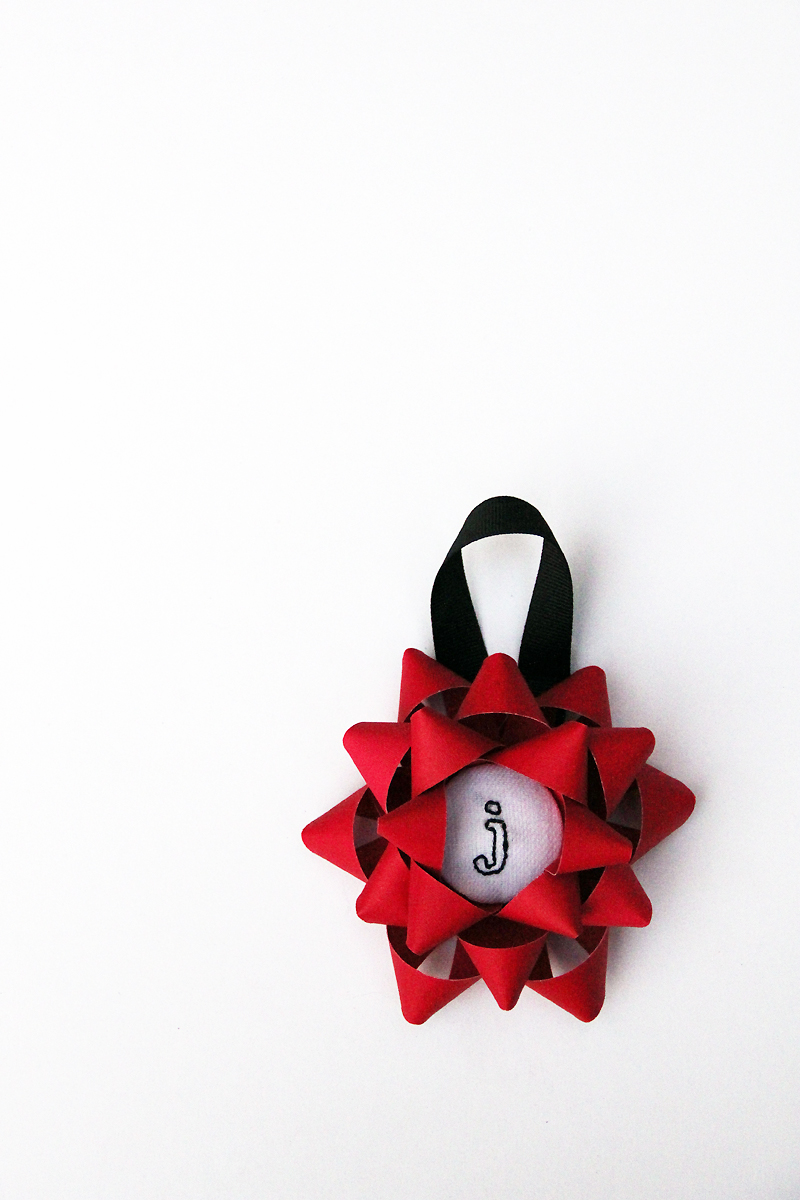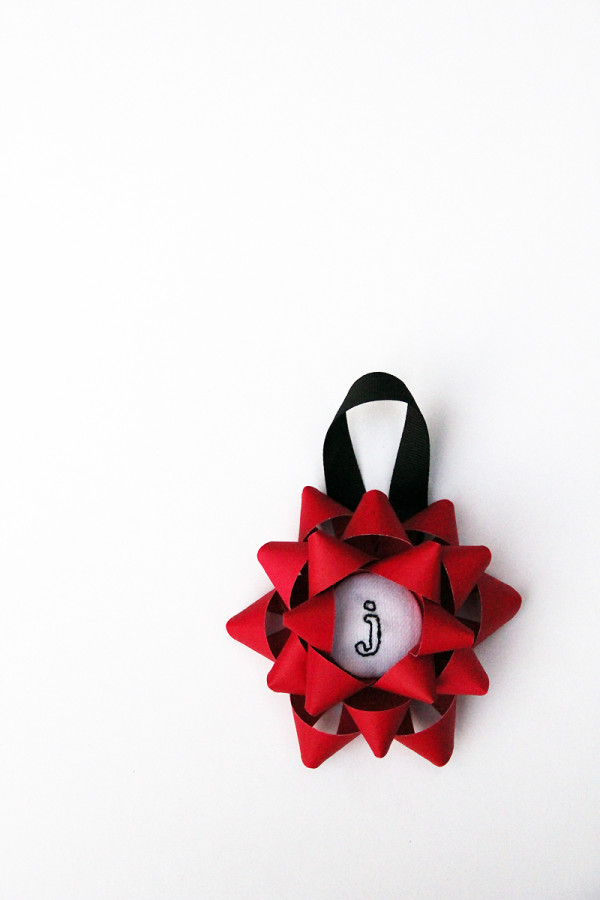 All Photos by Jeff Mindell Photography
Looking for supplies to make your own Christmas bow ornament? Check out the Craft Supplies Guide!