You saw him take a spin in my car, you saw him try to make a run for it and you saw him photo bomb my papel picado photos. And now, he got what he came for… a makeover!! You all know that I love making piñatas from scratch, but sometimes there just isn't time for cutting cardboard and gluing fringe. So I cheated and bought a traditional donkey piñata for this Cinco de Mayo, and then I got my craft on! I thought he could use a hefty dose of gold and some fancified paper flowers and now he has a whole new schnazy look! I feel like I need to submit him to Hoda + Kathie Lee's Ambush Makeover, no? Well, for now, I'll just tell ya how to revamp one of these guys yourself!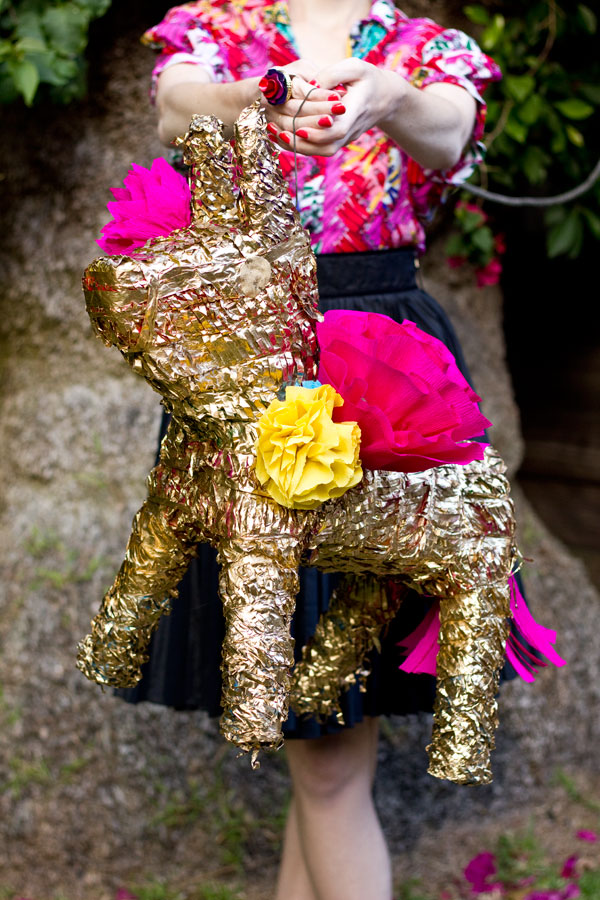 Face. Off. You should probably know that anything that is an animal or resembles an animal kind of sends me into a fit of excitement, squealy voices and just all around joy. I had so much fun with this dude, and that is why I am referring to him as a "he" and not an "it." I meant to name him, but then I didn't. I've just been calling him my donkey friend. Do you have a better suggestion!?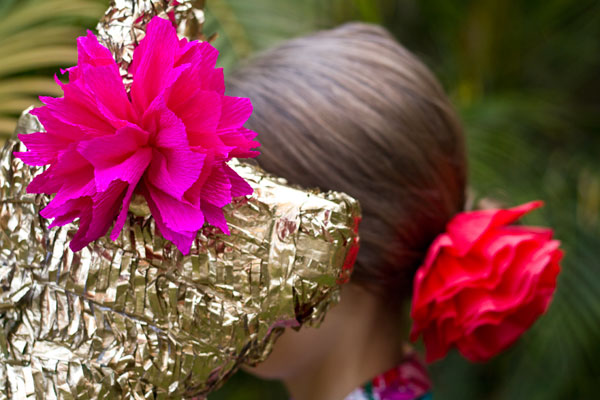 Who wears the flower better!?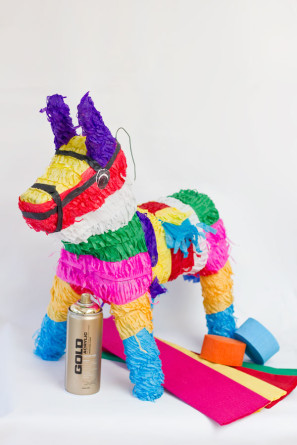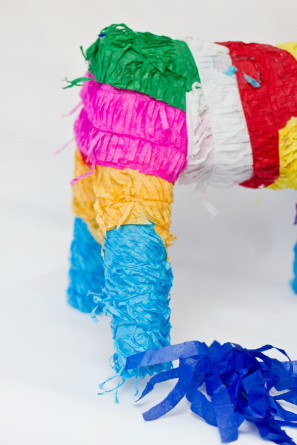 Store Bought Donkey Piñata (Mine was about $13 from my local party store.)
Gold Spray Paint
Crepe Paper in Assorted Colors (To get all the colors I wanted, I used a combination of heavy crepe, fine crepe and crepe streamers. All worked just fine!)
Twine or String
Hot Glue
Scissors
First you'll need to remove anything that's attached to your donkey, like his tail. These piñatas are not made well so it's pretty easy to pop that stuff off. I took off his tail and some extra fringe decoration on his back. If he has a wire hanger attached, tape that off with painters tape. Then take him outside to a well ventilated area to spray paint him. Lay out a large tarp or other protective surface and lay the donkey on his side. Spray all visible areas of the donkey with the paint, following the instructions on the can. Mine had two layers of fringe so I had to work at different angles to cover as much color as I could (It's ok if a bit still shows through! Really!). Let that side dry and then flip him to do the other side. Let dry again and then do any touch ups necessary. Now, let him dry completely (see suggested time on your spray paint) and remove the tape.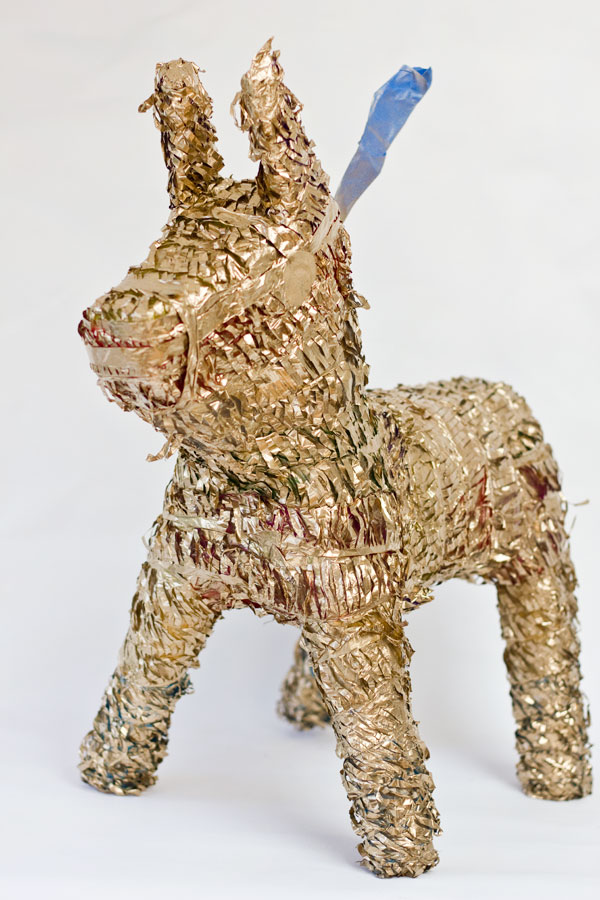 While he dries, you can make your paper flowers! I've showed in more detail how to create paper flowers here before. This time I used crepe paper and it's about 1000 times easier than using tissue. To start, cut squares of crepe paper to your desired size. Mine ranged from 6″ to 10″. If you're using fine crepe, I recommend six layers per flower. If you're using heavy crepe, you only need about four. Stack your squares on top of each other and accordion fold them at about 1″ wide sections. Tie this off in the middle, tightly, with twine or string. Now you can shape your petals! For a dahlia-like look, cut the ends to a point. For a traditional petal look, curve the edges, and for a ruffly look, leave them flat as is. Now, start pulling up your crepe paper from as close to the center as you can, one sheet at a time.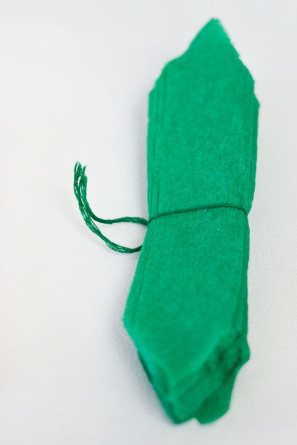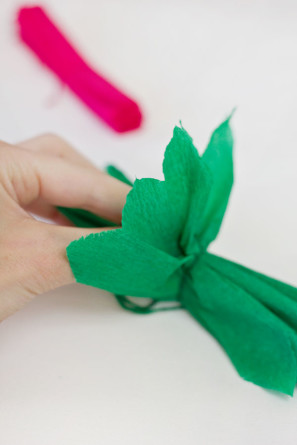 Keep going until you've pulled up all your layers to form a flower! Fluff as needed, then make as many as your heart desires for your donkey friend. (Note: you may notice some of these didn't end up on the donkey. This is because I loved them so much and kept them for my own hair!)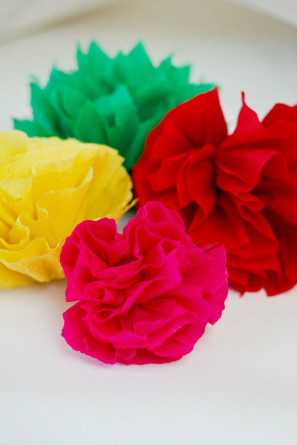 I also wanted to make a few itty bitty flowers as accents. To do this, I cut about an 18″ lenght of crepe streamers. I folded them in half and in half until I had a small section and then I fringed one side.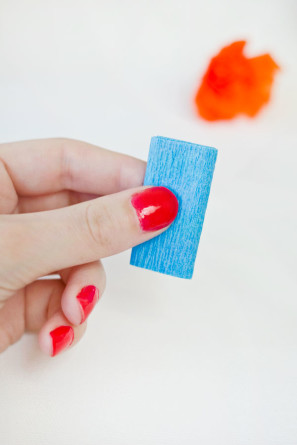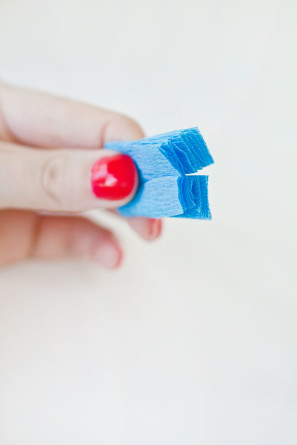 Unravel the fringe and then roll it up to form a teeny flower. Secure with glue or tape.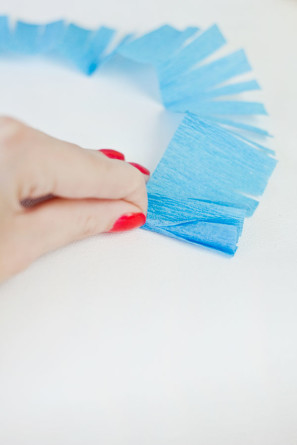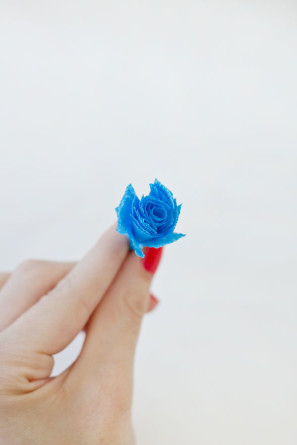 Now it's time to fancy up this gilded guy! Use hot glue to glue your flowers to him however you like. There's really no method here, just glue away!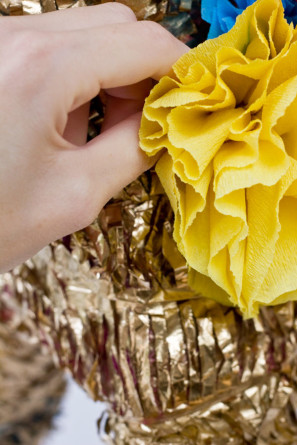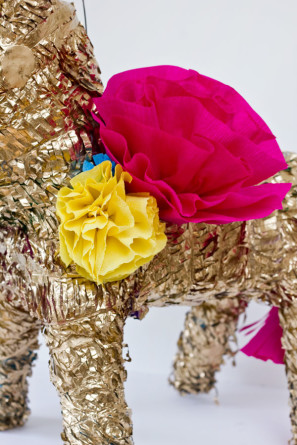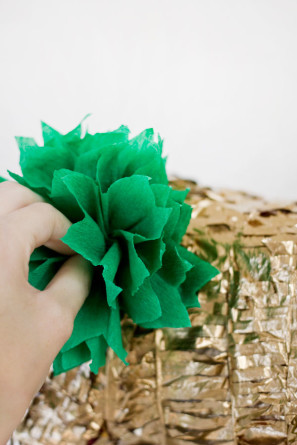 I also made him a new tail, using the same method as the fringed flowers above but a larger scale.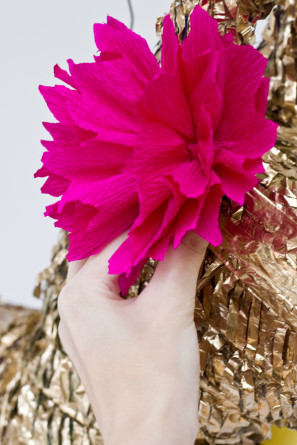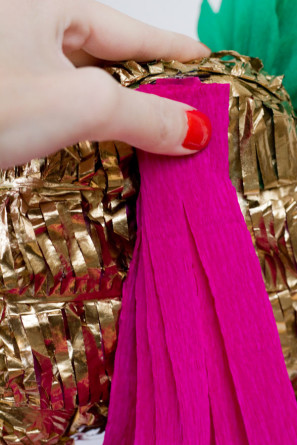 Done! Consider yourself made over, sir. What do you guys think!? To be honest, I loved him in all his colorful glory too, but I think he looks mighty fine in gold. Now you can choose whether you want to fill him and let him do his traditional piñata thing, or if you just want him to live in your house forever. Bet you can't guess which route I chose…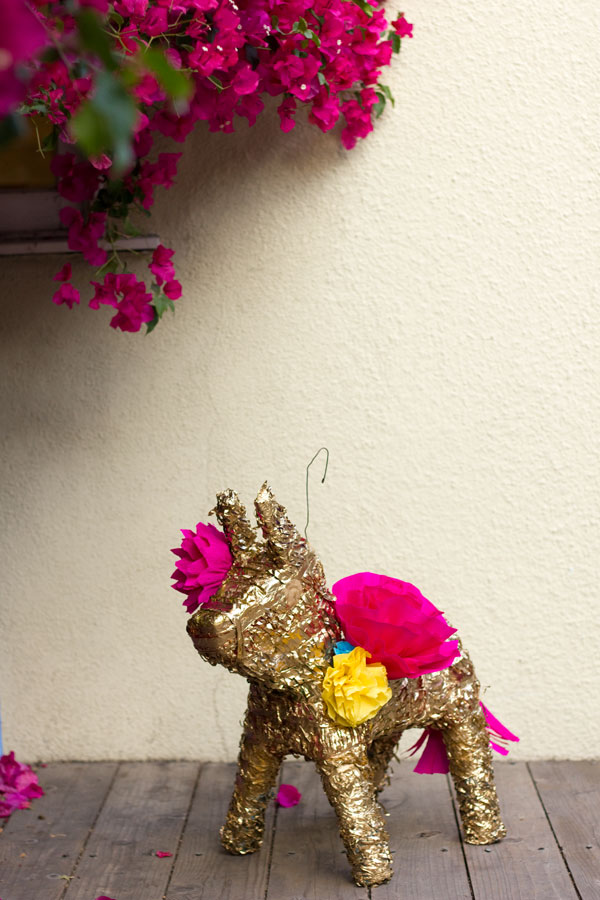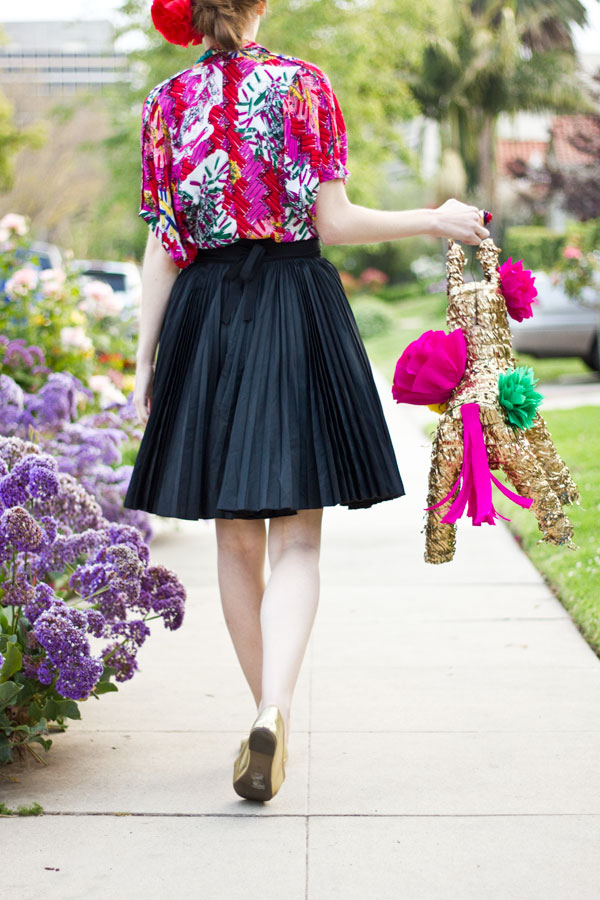 All Photos by Studio DIY
This was certainly my kind of makeover! He's now living in our apartment with the giant gold heart and they make a pretty flashy pair. Hope this little makeover helps you out if you don't want to craft one all the way from scratch. Piñatas for EVERYONE!
For more Cinco de Mayo fun, click here! And for more DIYs all around, head here!