Have you all ever heard of the Lovely Package Exchange? Well, it's a fantastic idea that Danni of Oh, Hello Friend came up with to allow all of us pretty-packaging lovers to both give and receive a beautifully wrapped gift. Hallelujah! I participated in the latest exchange and was paired with Stephanie of Sweet Symphanie. We discovered that we had a lot of things in common, but one thing Stephanie listed as a favorite was something I rarely ever dabble in… neon! So I decided to take on the challenge and go full-on fluorescent both inside, and out, of her lovely gift.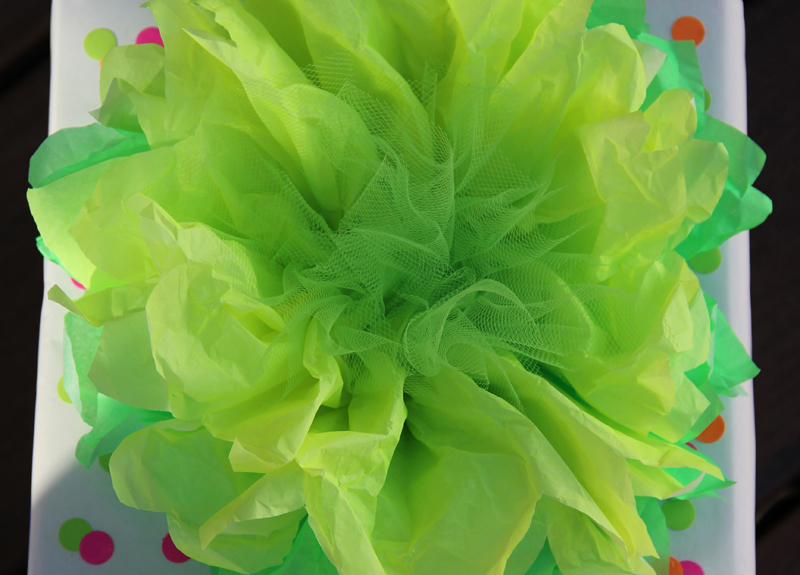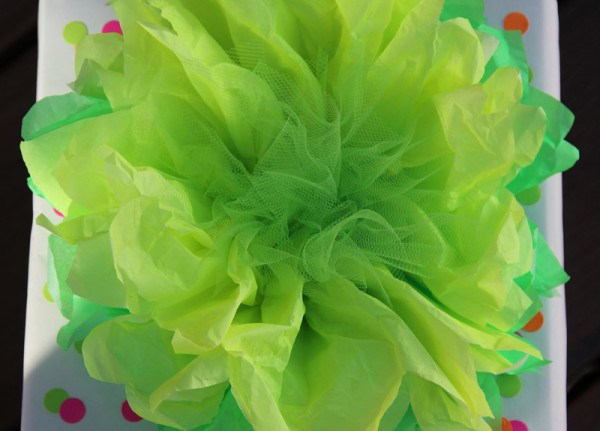 Stephanie loves to give "Party in a Box" type gifts and I decided she deserved one of her very own. I bought every neon party supply I could find, filled a simple white box with the goodies and then got to my favorite part.. the packaging! I purchased a giant pack of neon cardstock and went to town with my hole punch, then I glued (using a glue stick) each dot on randomly to give the look of confetti falling from the top of the package. P.S. It sounds more laborious then it is, really!)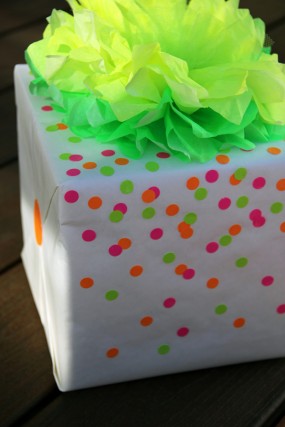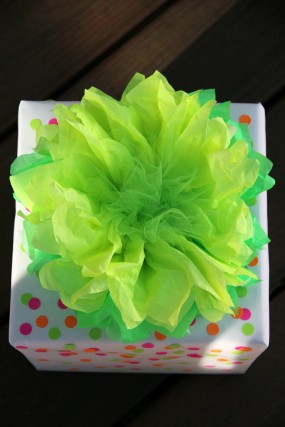 I followed and adapted this tutorial from Greedy for Colour for the tulle flower. Check it out for the full instructions but a quick summary:
All you need is a two regular sized sheets of tissue paper (cut into 4 even pieces) and a two lengths of tulle. Layer them, tulle on top of tissue, trim so they are equal in size (though my tulle was a bit smaller!) and fold accordion style. Find the center of your folded paper and tie a piece of bakers twine or string around the center, as tightly as you can get it. Trim the edges into a petal shape and then, beginning on one side, pull apart the layers of tulle and tissue until you're pleased with how they look! Gather, scrunch, push and pull… it really is all about preference. I attached it to the top of the package with a piece of neon duct tape… of course!
I had so much fun doing something totally outside of my neutral-tendency comfort zone. This may not be traditional holiday colors but you could easily adapt this for your last minute Christmas & Hanukkah wrapping. (More on that tomorrow!)
And I can't forget to mention what I received! Stephanie came up with the "Something" gift and every gift inside the box was labeled, "Something gold", "Something sparkly", etc. Cute, right?! You can check out more about our Lovely Package Exchange on Stephanie's blog here.
A very special thank you to Danni for orchestrating this lovely exchange!