This post may not be as colorful and glittery as most of my posts, but unfortunately I fell in love with a boy who doesn't like glitter, whoda thunk!? Now you see, Jeff is probably the most nostalgic person I know. He just loves remembering past events and re-visiting places he's been to. So for his birthday this year, I wanted to take him on a walk down memory lane. And since we live across the country now from where he's celebrated nearly all his birthdays, I came up with the "When you were…" concept, a day long birthday surprise. Every few hours he was able to re-live a memory from a past birthday, as recounted by family and friends. This is a great idea for a budget-friendly, but unbelievably personal, gift and while yours will obviously be far different from mine, I wanted to show you just want I did!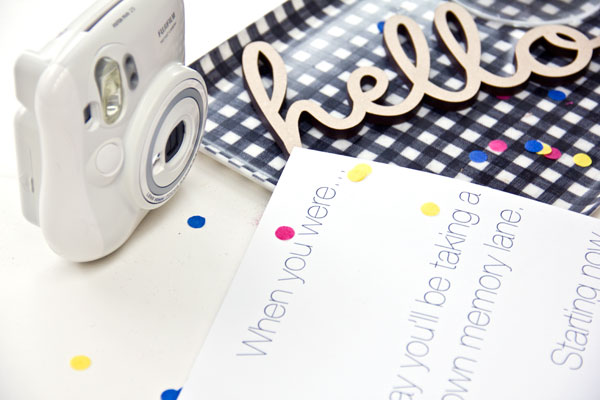 When he woke up in the morning and came out for breakfast (Jelly doughnuts, the birthday breakfast of champions!), I had a note waiting for him, introducing him to the concept. I also set up the Instax since I planned on taking photos throughout the day to then give to him with his final envelope (Keep reading!). I reached out to several family and friends of Jeff's and asked them to fill in the blanks in this "When you were….we…" with a memory from a birthday they celebrated together. I printed out each memory on a card and put it in an envelope, labeled with a specific time it should be opened. For each memory, I also pulled out a tangible item from it (Something they ate or watched, for example) so he could really "experience" the birthday again.
His first envelope, 8:00am, included a memory from his mom about the day he was born. She talked about how, while in labor, she watched Saturday Night Live, and actually he always talks about this too (Says it's the reason why he loves the show.), so I cued up a YouTube search of SNL skits from the year he was born to play while he read the message.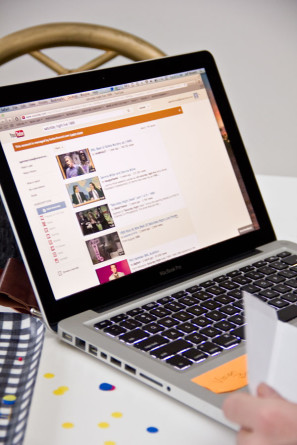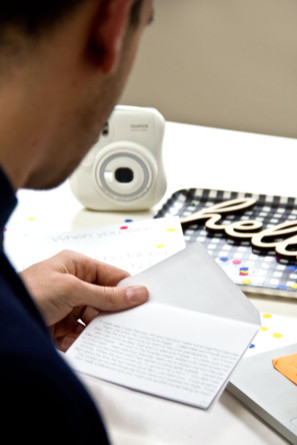 At 10:30 am, his envelope included his dad's memory of him pretty much covering himself in birthday cupcake. So I got him hand wipes (HA!), and proceeded to forget to take a picture (bad blogger!). At 1:00pm he read, from his sister, about their family celebrations at a local Mexican restaurant (hence the sombrero) and how he hates when the waitstaff sings happy birthday. And at 3:30pm I wrapped up some Little Debbie treats to go with a friend's memory. Apparently they used to pig out on those really healthy cakes.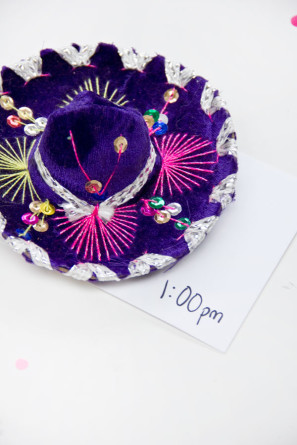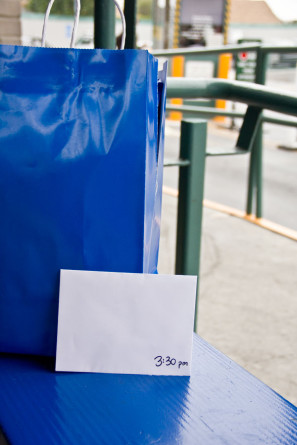 In between there we met for lunch and created a new memory, sandwiches on the sidewalk. I told you we keep things simple 'round here!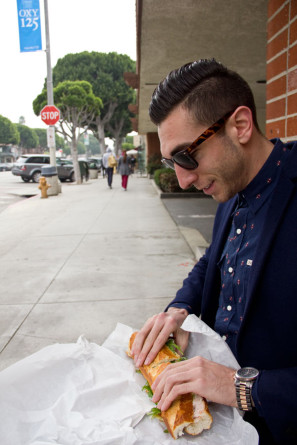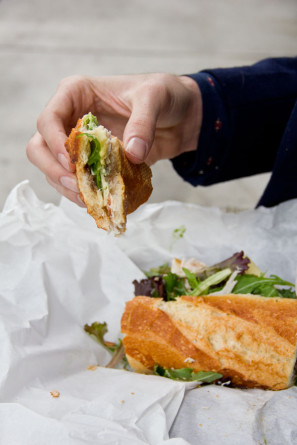 Isn't he schnazy!?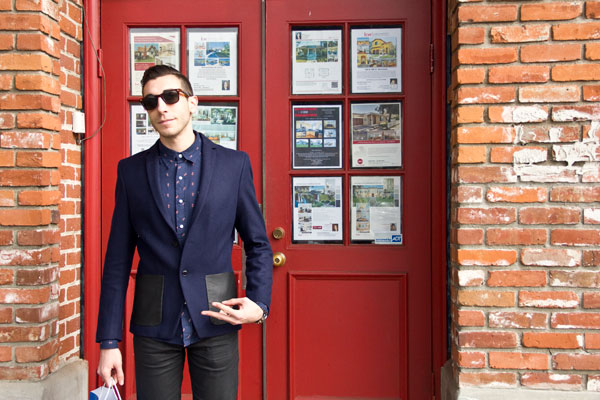 5:30pm ended his work day and I wanted to have his next surprise waiting in his car. So I bought a chocolate bar (he spent one of his birthday's at a chocolate-themed restaurant) and broke into his car to leave it for him…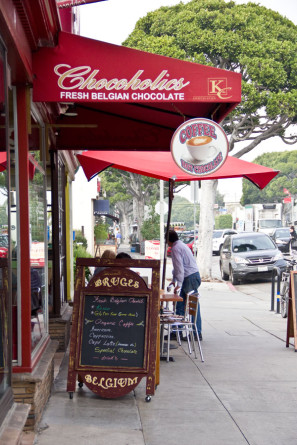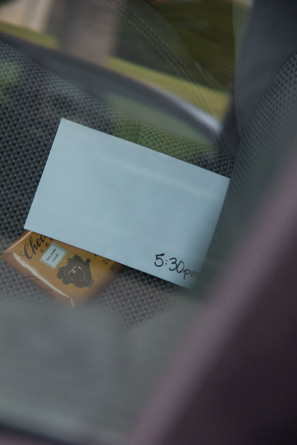 …with BALLOONS of course! Because birthdays just aren't complete without balloons. I tied them to the steering wheel and let them hang out the window. (If you aren't a creep like me and don't want to actually break into the car, just tie the gift and balloons to the side mirror.)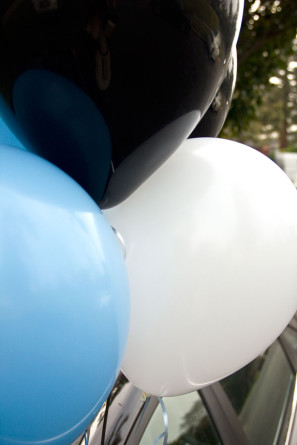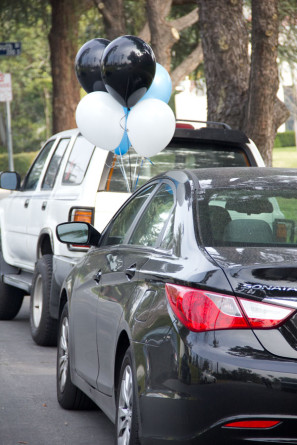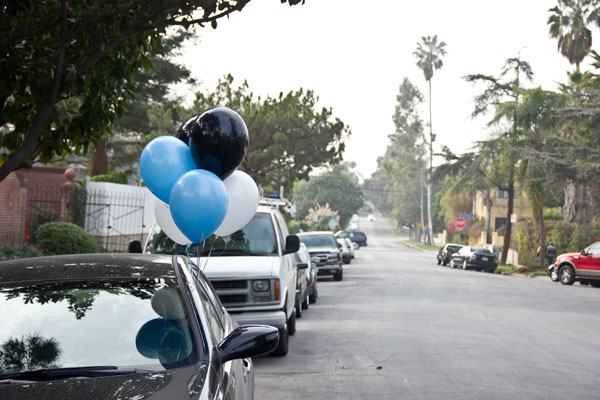 After he got home, we went out to a steak dinner (his choice!) and came home for his annual birthday cake (more on that later!). Then just before it was time to call it a day, I gave him his final envelope, with a card reading "When you turned 24, we…." and paired with all the Instax pictures we took throughout the day!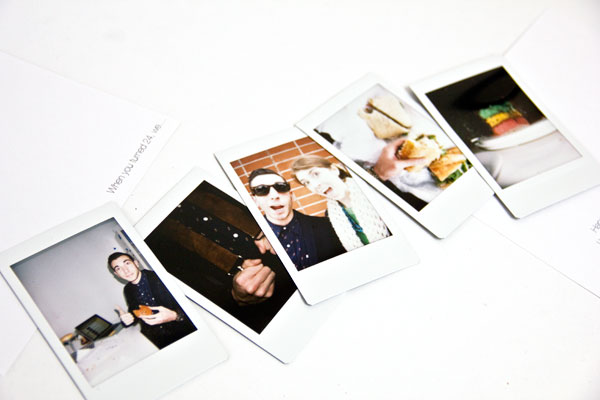 All Photos by Studio DIY
He had a blast re-living birthday's past and we had a lot of fun documenting this one. It was really simple to put together but meant a whole lot. Have you ever done anything like this for a birthday!?
You can see what I did for Jeff's birthday last year, right here. And if you follow me on Instagram, you'll know that I made him a camera piñata this year too! I'll try to post the DIY for that next week.
Looking for more DIY projects? Check out the full project gallery here!