I told you on Tuesday I'd be taking a trip down memory lane and sharing a project I worked on last year, and here I am delivering on my promise! I was part of an Etsy Challenge for Eco-Beautiful Weddings, an online wedding magazine, where we had to create an inspiration shoot based on a red and white cake stand. My friend Janice of Bellwether Events and I dreamed up a sweet elopement, as if the couple had just woken up one morning, tied the knot at a local courthouse and then headed to their favorite cafe for a celebratory breakfast. Using blue ticking stripe and bright red accents, I DIY'd up a lot of the details for this special and intimate day. Sadly I can't share all the photos of the details but here's a few from the magazine!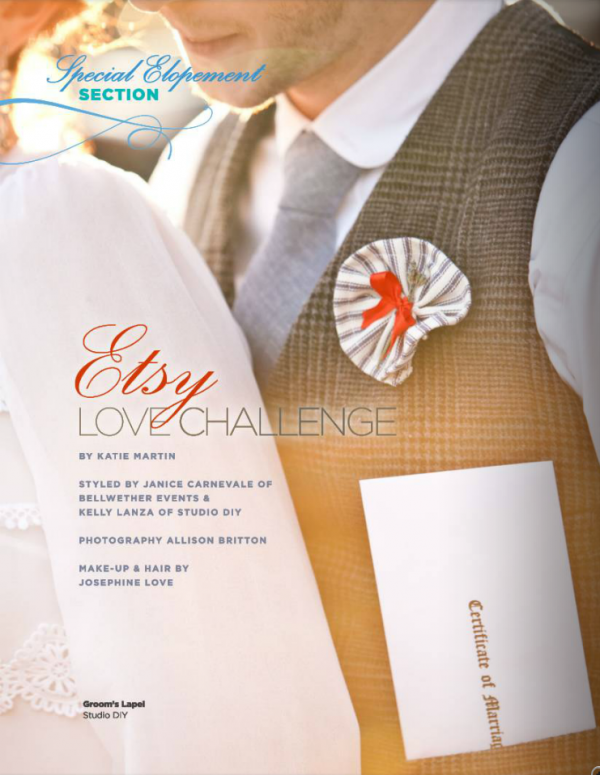 A simple piece of ticking stripe tied around a bouquet of lavender and a fabric, pinwheel style boutonniere with one sprig plucked from the bouquet.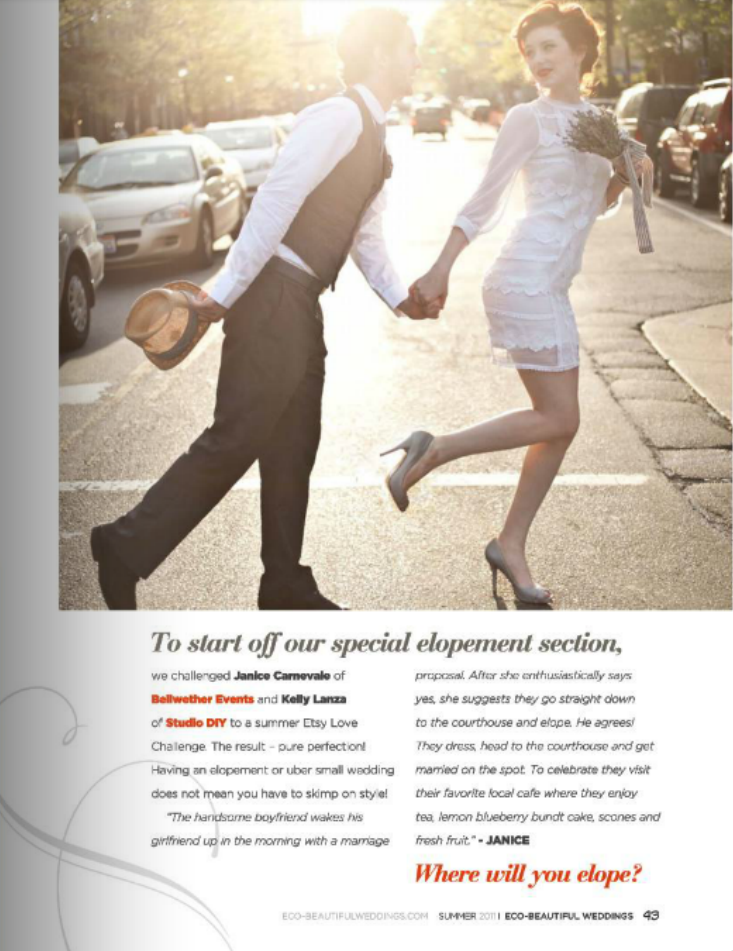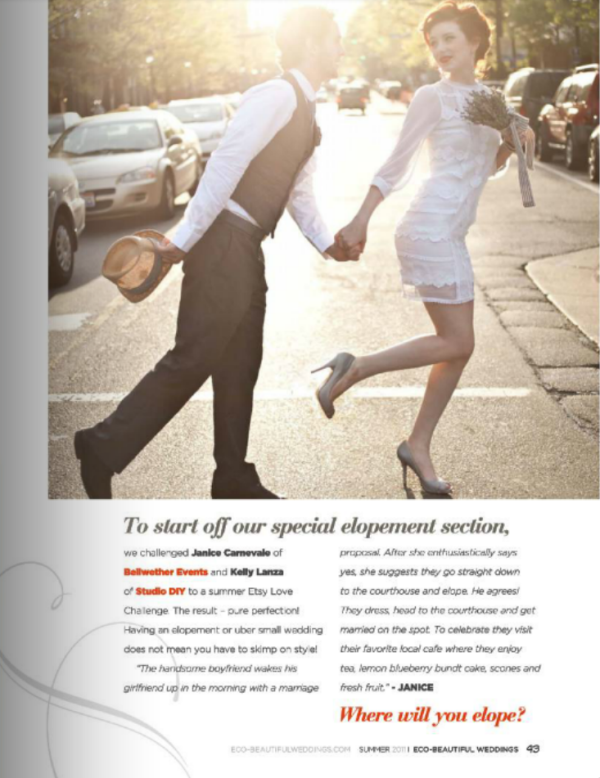 I'm have a big love of sewing (I used to go to fashion school after all!) and made these ruffled pillows and the ruffled table linen.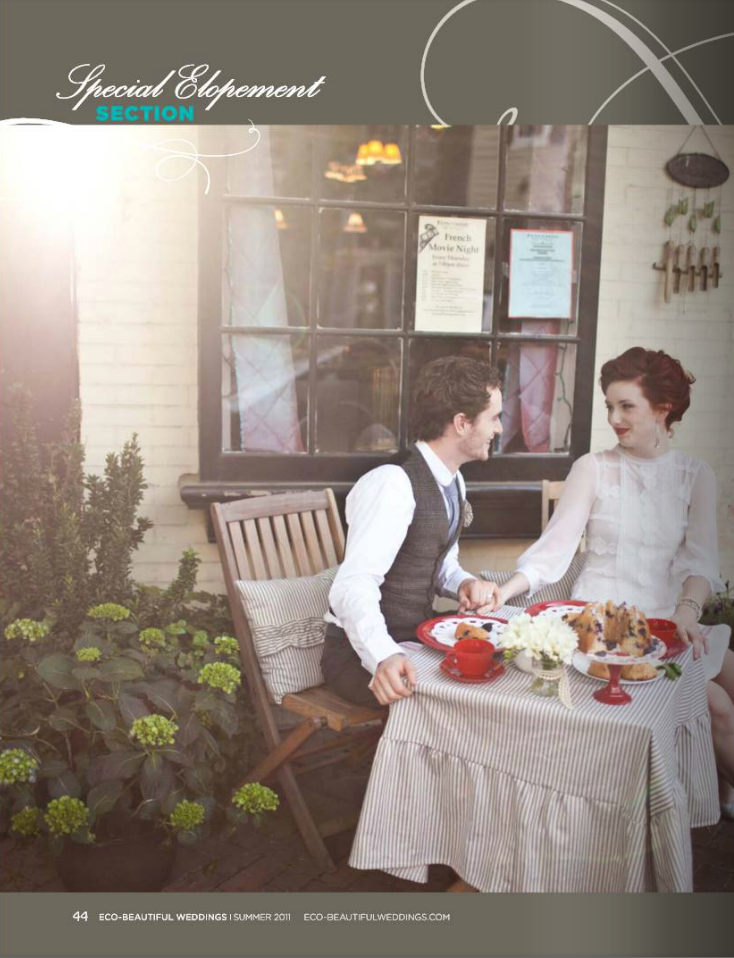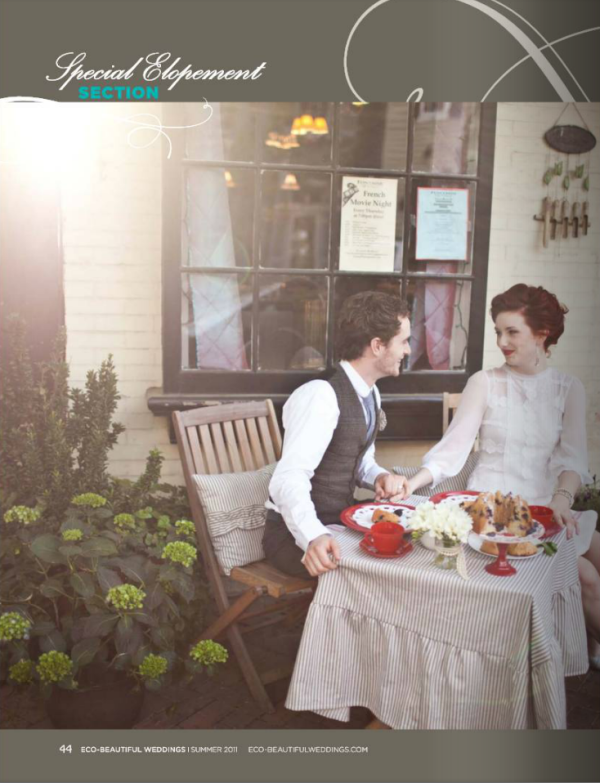 See those striped napkins, that was the inspiration for Tuesday's project! You can't see it well here but to jazz up the tea bags, I added scrapbooking stickers to the ends and a little circle of fabric to the tops of the jam jars!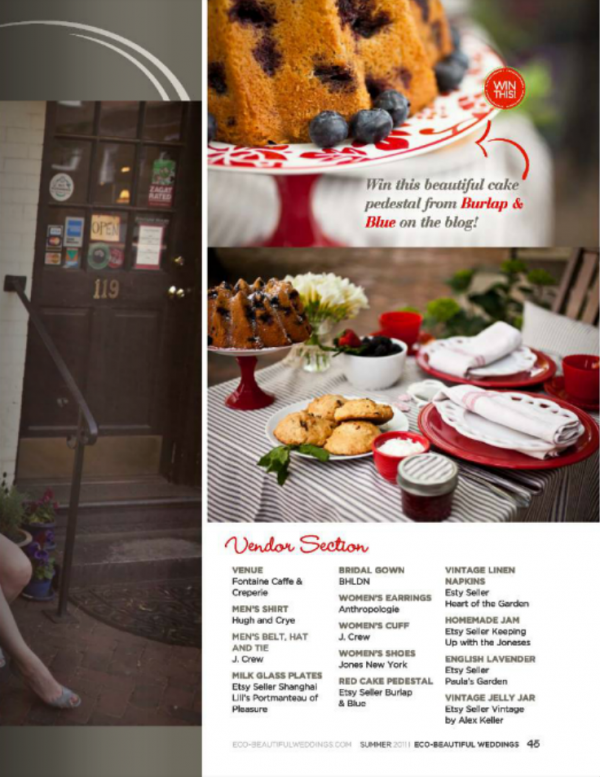 All Photos by Allison & Chris Britton Photography
You can check out the shoot in Eco-Beautiful Magazine's Summer 2011 issue (Page 42!) as well. Thanks for letting my share a little blast from my past today! On another note, any other sewing fanatics out there? I don't tend to post sewing tutorials as it's not something everyone has access to, but if you'd like to see a few.. let me know!
Participating Vendors
Styling + Event Production: Bellwether Events
DIY Details + Styling: Studio DIY
Venue: Fontaine Caffe & Creperie
Hair + Makeup: Josephine Love
Wedding Dress: BHLDN
Groom's Shirt: Hugh & Crye
Cake Pedestal: Burlap + Blue
Milk Glass Plates: Shanghai Lili's Portmanteau of Pleasure
Linen Napkins: Heart of the Garden
English Lavender: Paula's Garden
Crafting your own event details? The craft supply guide has all the supplies you'll need! Or perhaps you're looking for something handmade for your upcoming wedding? Head on over to the handmade vendor guide, too!