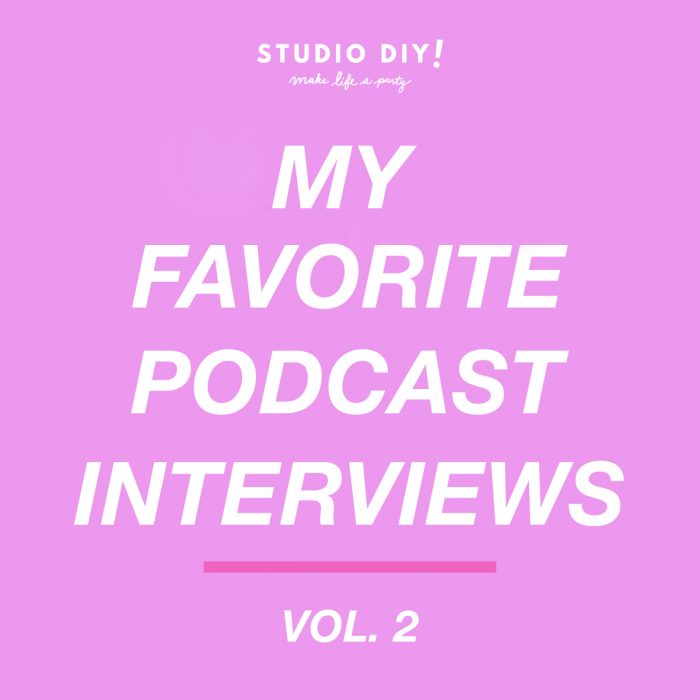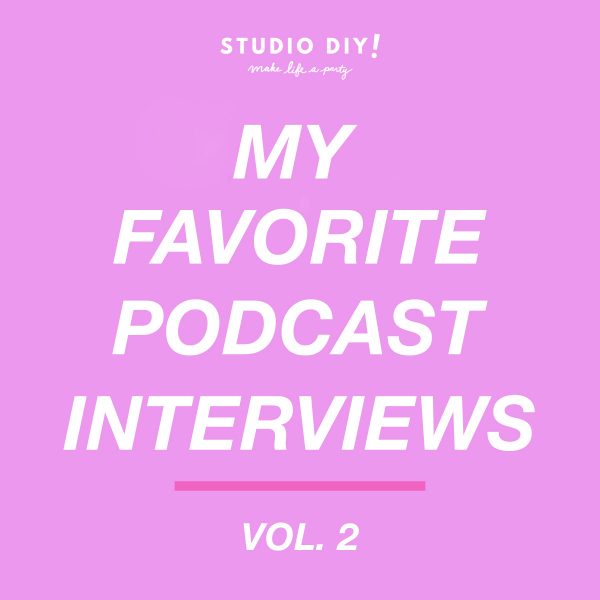 After yesterday's excitement (Have you subscribed yet!?), let's keep it light and fun today with another round of my favorite podcast interviews, mmmkay!? You guys liked the first one I did, and I've listened to so many more good ones since, that I thought I'd do another round! Here's a hodge podge of my recent faves!
Three Pro Bloggers Get Real About Sponsored Posts
on Young House Love Has A Podcast
I thought this podcast was SO fascinating and highly recommend if you're a blogger, or if you're just curious about blogging. I loved hearing Sherry + John (of YHL)'s blogging experience, as it is so different than mine, and their perspective on the industry as they came from a more traditional ad background. I also love how openly the three bloggers interviewed (Emily Henderson, Justina Blakeney, and Nicole Balch) spoke about money, sponsors and all those things that aren't often talked about!
The Editorial Process
on Monocycle with Leandra Medine
I could listen to people talking about how they run their business all day long. In this episode, Leandra + the Man Repeller team take you through how a story comes to be and it's so interesting to hear!
Not Pregnant
on Monocycle with Leandra Medine
As you may or may not know, Leandra has been going through infertility and I've really related to the various posts and podcasts she's done about it. This episode, in particular, she recorded mere minutes after finding out her IVF failed. I love that she recorded her emotions in the moment, instead of after she had time to process it. It was very real and very accurate to what I've felt throughout our journey.
Emma Chapman on Launching A Business
on Elise Gets Crafty
We all know that the ladies behind A Beautiful Mess are business masterminds! They've launched so many awesome businesses and are such an inspiration to so many! I loved listening to Emma chat about building business and taking risks!
Melissa Ben-Ishay of Baked by Melissa
on Girlboss Radio with Sophia Amoruso
I feel like I've told this story a million times but I remember finding Baked by Melissa when they were just a teeny tiny window in SoHo and being floored by how good the cupcakes were. And then taking everyone I knew there every time I was in the city. Fast forward a few years and the company has just EXPLODED! They even ship now, heyyyy-o! It was fun to hear Melissa talk about the evolution of the company. I feel oddly attached and proud! Haha!
Talking Infertility with Jenica Parcell
on Extraordinary Moms
I found Jenica's Instagram early on in our fertility struggle and quickly started following along. She's shared so openly on Instagram and her blog about every detail of fertility treatments and it was interesting to hear there talk about it in a podcast-setting too. Spoiler alert: Jenica is now the proud mama of IVF twins!
Emily Weiss of Glossier
on Oh Boy by Man Repeller
Another stellar business woman, Emily Weiss of Glossier on what is probably my fave podcast. I just love Jay's voice and interview style! Ha! Emily talks about her very very early "business" days and talks candidly about running a business too. Great listen!
James Corden
on Fresh Air
Ohhh you KNOW I love him! Adding it to my bucket list to do a Carpool Karaeoke ep with him. ANYWAY! In this episode, James talks about his childhood and says something I so relate to. It's along the lines of how, as a kid, you don't realize that not everyone grows up like you. You just think whatever your family does is normal. And then you get dumped into the real world and realize just how different everyone's experiences are. Can anyone else relate?
Ina Garten
on Bon Appétit Foodcast
Oh Ina! Who doesn't love Ina? Jeff and I are constantly quoting her. Mainly when I make chicken. "I'm making a roast chicken for Jeffrey." Ha, but seriously!! I was shocked at how much I liked this interview. I loved hearing that she actually follows a "normal" person through the grocery store during her recipe testing stage and admired her restraint in her career, saying "no" to preserve her happiness and quality of life. Something I could really learn from!
Ellen Bennett
on Radio Cherry Bombe
I'm lucky to call this lady a friend, but Ellen's enthusiasm for her business (Hedley & Bennett) is infectious! You just want to get up and achieve ALL the goals when you listen to her talk. It was interesting to hear about her childhood and how she gained her confidence and drive early on. Her part of the episode starts around the 27 minute mark!
If you have any fave new-to-you podcast interviews, share them in the comments below! Always looking for new ones to listen to!