Not to brag, but I grew up in "the" neighborhood to trick-or-treat in in my town. Our neighbors went all out with haunted houses, full-size candy bars, the works. It was pretty grand. Every Halloween my parents would (and still do) tally all the kids that came and it usually numbered in the many hundreds. Moving to an apartment in LA where we have approximately ZERO trick-or-treaters has been rough. But I'm trying to dig up some benefits to having minimal trick-or-treaters… like getting to make each treat a little more special! These five ideas may not work if you have throngs of masked kiddos coming to your door, but if you just have a few, make their day with one of these goodies! Just be prepared to have a much longer line ringing your doorbell next year…
1. Eyeball Treat Piñatas: Well this is genius… these are made from paper mache ornaments! Since we all know the craft stores have already moved on to Christmas, go ahead and pick some up and get your Halloween on. I mean HOW cool are these!?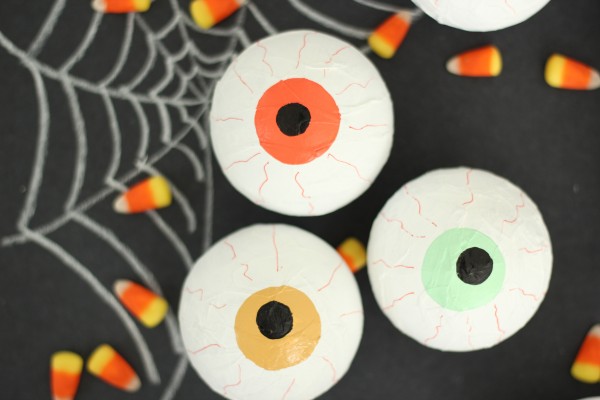 DIY Eyeball Treat Piñatas via The Homebook for You Are My Fave
2. Fringe Treat Bags: Grab a few rolls of duct tape (or steal your kid's. Are your kids obsessed with duct tape like the ones I know are!?) and fringe up some mini bags, then fill 'em with candy and send them on their trick-or-treating way.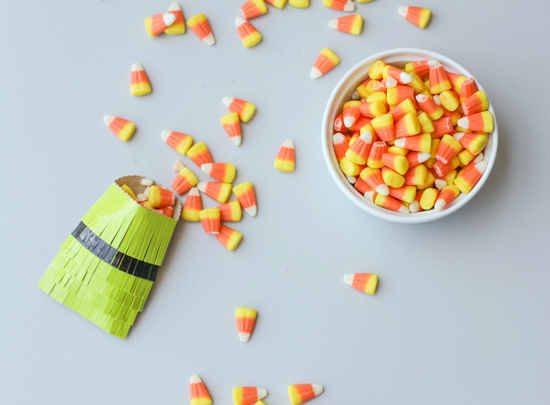 DIY Fringe Treat Bags via Paper & Stitch for One Charming Party
3. Printable Treat Bag Labels: Sometimes kids just like to know what they're getting. This lays it all out there for them. Ha! No tricks here.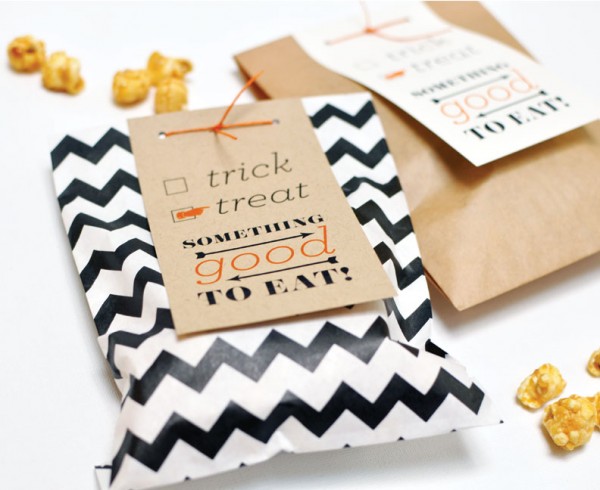 Free Printable DIY Halloween Treat Bag via Smitten on Paper
4. Heart Face Treat Boxes: Pillow boxes can be an affordable packaging option, so jazz 'em up with these spooky little hearts for a Halloween spin!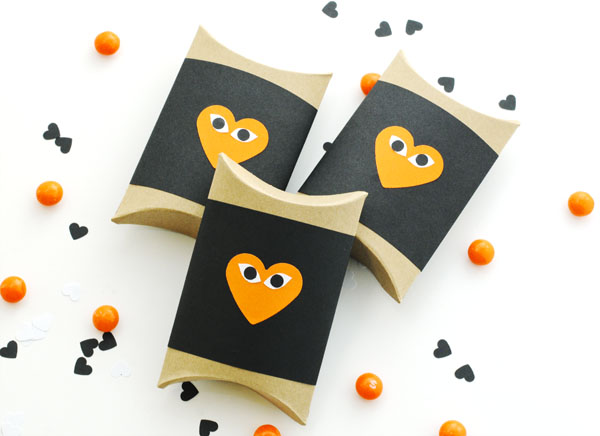 DIY Heart Face Treat Boxes via Sally J Shim for Oh Happy Day
5. Treat Filled Pumpkin Balloons: If someone gave me a balloon filled with candy on Halloween, I would pretty much take up permanent residence at their home. With that in mind, serve up these quirky goodies at your own risk!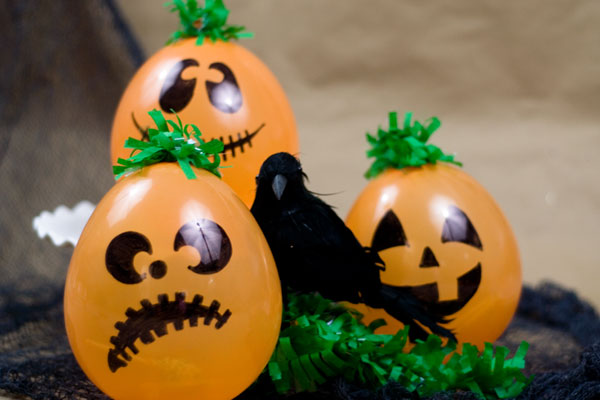 DIY Treat Filled Balloon Pumpkins via Confetti Sunshine
So are you prepared to be the coolest trick-or-treat destination of all time? I sure hope so, because now you have five ways to make that dream a reality, folks. Since no kiddos come to my apartment building and it makes me quite sad, don't be surprised if you see me dressed as a donut on the street corner handing some of these out…
Have something you'd like to see in the "Five Things" series?