Happy Monday, folks! Did ya know that Earth Day is just one week away? April is flying by! While Earth Day may not be a holiday you celebrate like many of the other holidays I go crazy over here, it's definitely a good excuse to get crafty with some items that may otherwise end up in the trash. Last year, I talked about a few awesome cardboard party crafts and this year I've got five more favorites to share! I think the best day of my life was the day my parents got a new fridge and I got the box! Who needs toys when you have cardboard anyway!? Here's some proof of that statement, and how you can use these upcycled toys for your kiddo's next party too.
1. Cardboard Rocket: If you don't think this is cool yourself, you're crazy! I'm sad to say that none of my box crafts looked this awesome, but holy cow I am about to build one of these for my living room. If you're throwing a space-themed party, make one of these for a photo opp, then use my favorite idea from my childhood parties and turn the photos into thank you postcards for all your guests!
DIY Rocket via Kate's Creative Space
2. Cardboard Castle: This castle is covered in duct tape. Do any of your little ones have an obsession with the stuff? My niece has a business selling her duct tape creations, and may be stopping by the blog to share some of them. Regardless, covering cardboard with colorful duct tape clearly makes the coolest castle ever! Set some of these up as centerpieces on a magical birthday party table for some interactive fun!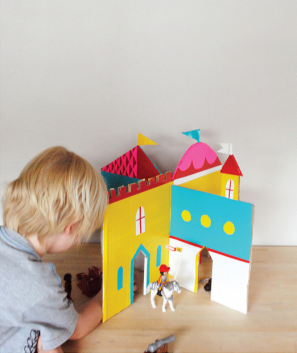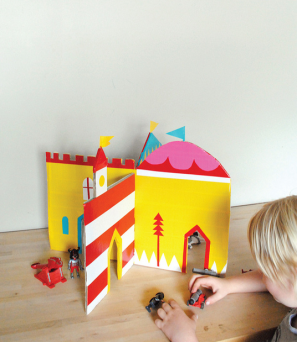 DIY Cardboard Castle via Mer Mag
3. Cardboard Toy Bed: When I was little, my dad made me a wooden doll bed and it was (is) a treasured possession. But I gotta say, this cardboard version is prett-ay cool too (and probably a lot less work. Sorry, Dad!). How fun would it be to have a sleepover party and invite the kids to bring their favorite stuffed animal, then have one of these beds set up for each of them next to their sleeping bags? (Sometimes coming up with these ideas makes me really jealous I'm no longer a kid.)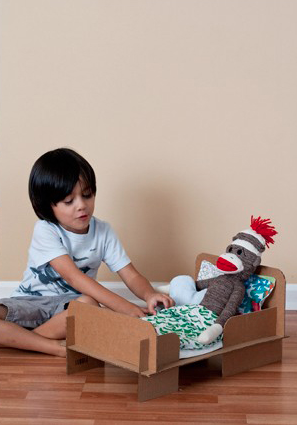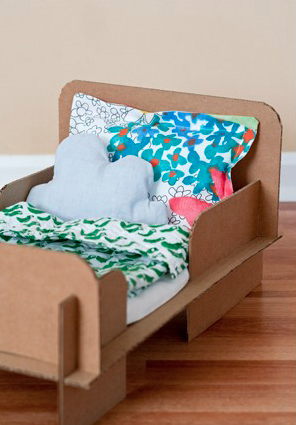 DIY Cardboard Bed via Ambrosia Creative
4. Cardboard Playhouses: We've talked about cardboard forts before, and playhouses were always my go-to cardboard project of choice. I think it would be a blast to have the basic houses constructed for a party and then let the kids decorate them with the gift wrap they peel off all those gifts! BAM! Double upcycle, win!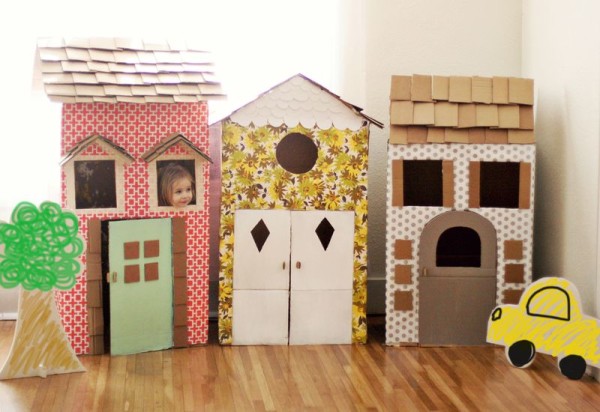 DIY Cardboard Playhouses via A Beautiful Mess
5. Cardboard Masks: Not to play favorites, but I am so obsessed with these cardboard masks that I had to save the best for last. Brittany knocked my darn socks off with these creations. She has tutorials for a whole bunch of forest animal masks, and yes, under there really is a base of cardboard! For your thespian child's bash, make a mask for each party guest (doubles as a favor!) and some cardboard props too, then let them put on a little show for all the parents at the end of the party!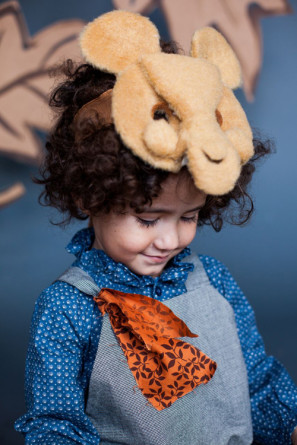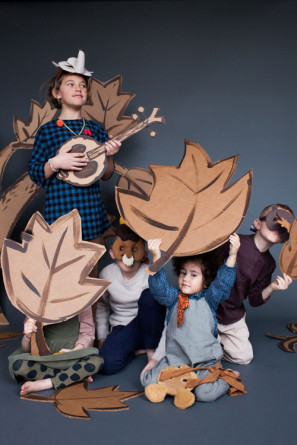 DIY Cardboard Animal Masks and Cardboard Props via The House That Lars Built
Did you ever make anything awesome with your kids, or as a kid, out of cardboard? Let's all give a round of applause to cardboard for being so awesome.
Have something you'd like to see in the "Five Things" series? Let me know in the comments below!