When I started the Garden Party series and my obsession with flowers went through the roof, I started to come across a lot of beautiful sweets and treats made with edible flowers! Holy moly are these things gorgeous. I've never actually tried edible flowers, have you? I'm hoping to do a few projects with them myself, so if you haven't experimented with them.. we can learn together! For now, let's start off with five party-worthy treats that will have your guests jaws hitting the floor.
1. Edible Flower Cake: Ooooohh, aaaahhh! This cake, it's just too much. I can't take the beauty. Talk about a garden party showstopper!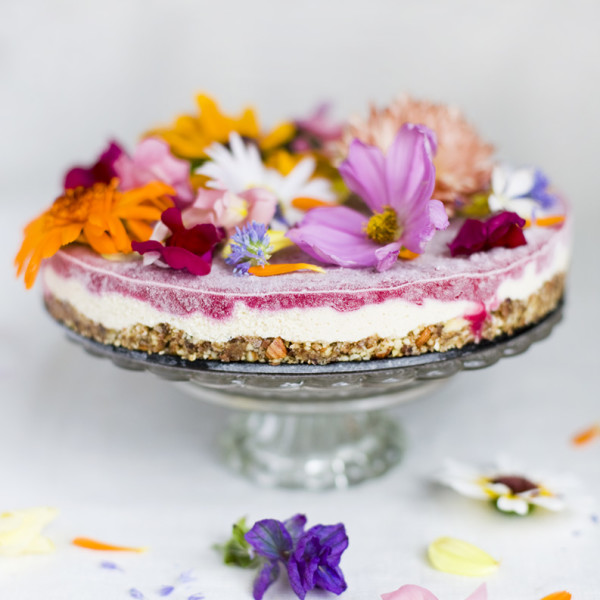 Edible Flower Cake via Green Kitchen Stories
2. Edible Flower Popsicles: When summer rolls around, not much sounds better than a popsicle. Make them all fancy with edible flowers and you just took a summertime staple to a whole new level!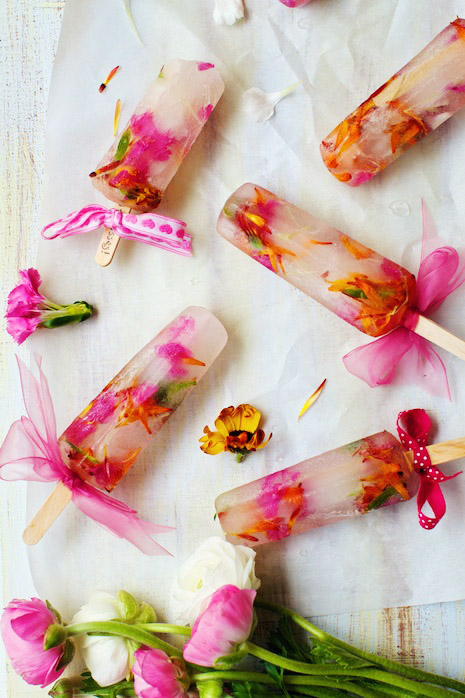 Edible Flower Popsicles via Family Fresh Cooking
3. Edible Flower Cookies: Ah, the sugar cookie. So adaptable and wonderful, no? The only way to make them better when they're the centerpiece of a tea party would be with a delicate little flower placed on top. These flowers are even sugared themselves. Wowza!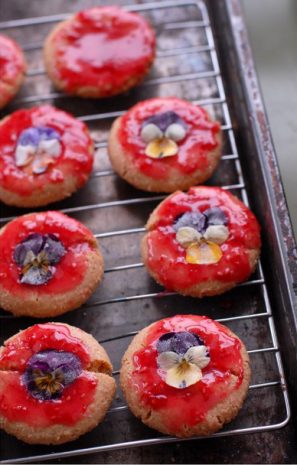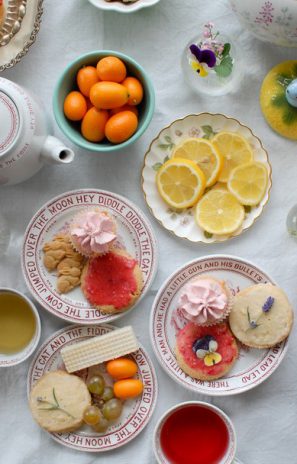 Edible Flower Cookies via Boulder Locavore
4. Edible Flower Eclairs: Oh! I don't think we've ever talked about eclairs before here. I always overlook them but goodness they are beautiful! These just sound delicious "Blueberry Violet Eclairs," don't they? How schmancy!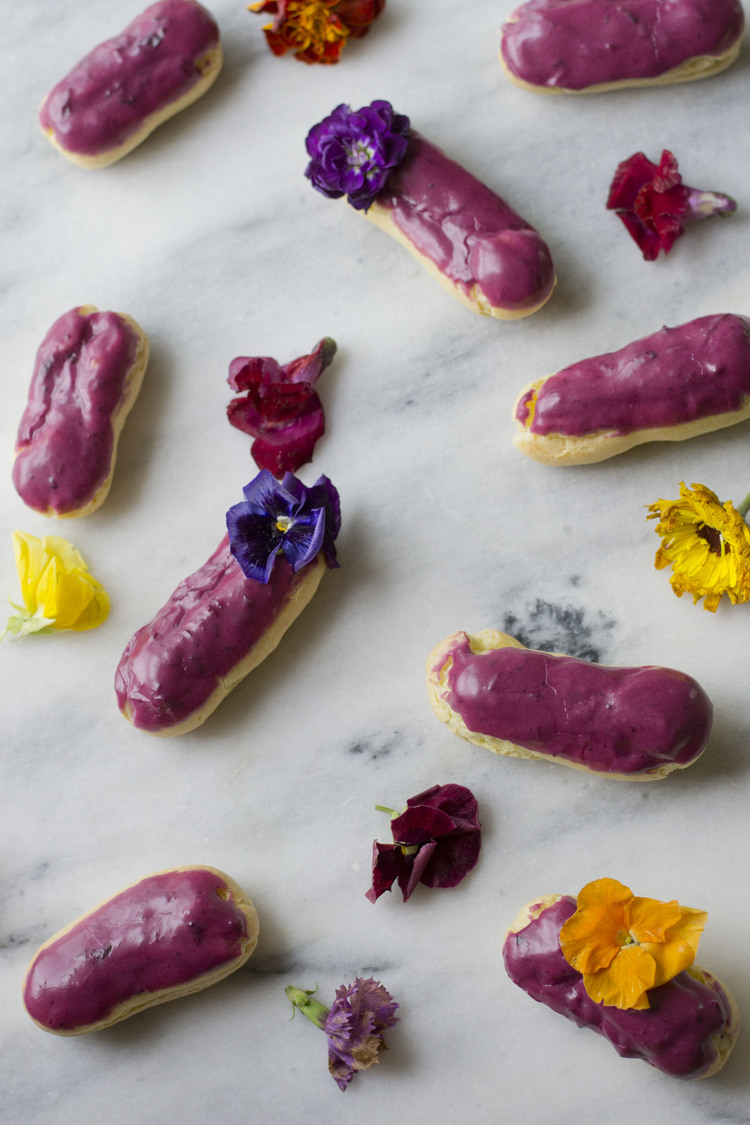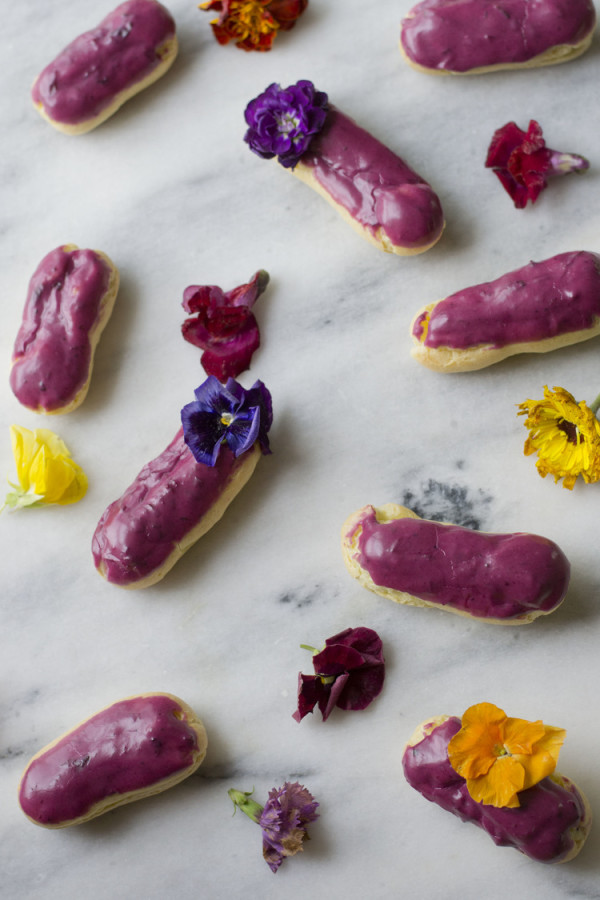 Edible Flower Eclairs via Sift & Whisk
5. Edible Flower Ice Cubes: If you aren't into desserts (Um, is that possible!?) and cocktails are more your thing, then you better check out this idea for edible flower ice cubes! They'd be pretty darn purdy in any drink, if you ask me.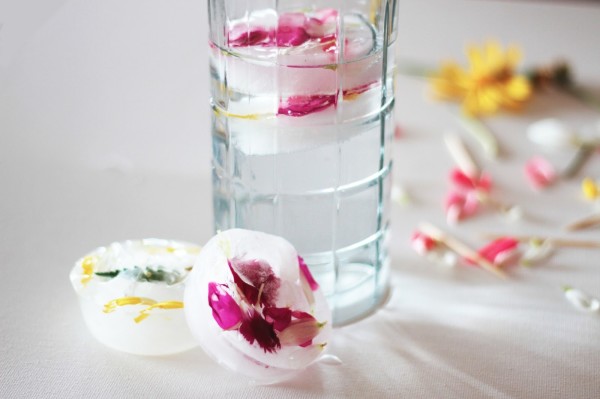 Edible Flower Ice Cubes via The Kipi Blog
Are you willing to try edible flowers or do you prefer leaving them for your other senses? Even if you don't actually eat the flowers in these, you gotta admit that a little flower garnish is worth it, just for the eye candy!
Have something you'd like to see in the "Five Things to do with…" series? Let me know in the comments below!