We've got a double whammy special post for you guys today!! First, it's another holiday gift guide! (Check out the rest here!) And second, it's a peek into Jeff and my home. We often get asked if we can do a house tour but, um… our house often looks like two people who work too much and don't have time to decorate/clean/cook live in it, so it's not often we get to share it! BUT! Leesa reached out and offered to let us try out one of their ships-in-a-box-to-your-door mattresses and since we've been sleeping on my CHILDHOOD MATTRESS (I know.) we thought it was high time we adult-ed and gave ourselves a bedroom makeover!
We're pretty darn happy with how it turned out and the best news is… we've been sleeping better than ever! So guys! Check out some photos of our schnazy new room, plus a gift guide for all your homebody friends (wives/husbands/parents/sisters) to cozy up with! 'Cause there really is no place like home. (*Insert cheesy Full House music here.*)
Can you believe a King size mattress fits in that box below!? It's kind of like a magic trick. A magic trick that very much terrified our dog as it grew into it's actual size, but very much impressed that husband of mine! If you haven't heard about Leesa, it's a luxury mattress (i.e. three layers of foam, including a layer designed to keep you cool!) that you order online and gets shipped straight to your door. Compressed. In a box. Ready to be unwrapped, unrolled, and cozied up on!
Neither Jeff nor I had ever had a foam mattress so I was skeptical, if I'm being honest, but I can now say from experience that we are sleeping SO. MUCH. BETTER. on it. If you're in the market for a new mattress, I highly recommend it and you can get $75 off right now by using the promo code DIY75! Comes with a 100 night risk-free trial (and free returns!) so if you're all "But, you bought a mattress without trying it??" no need to worry!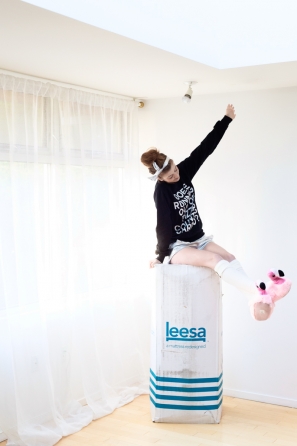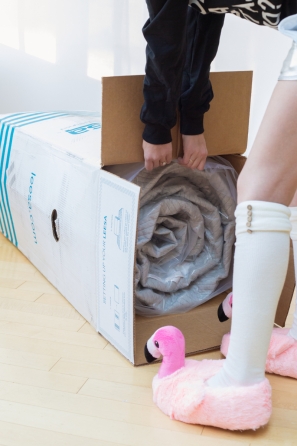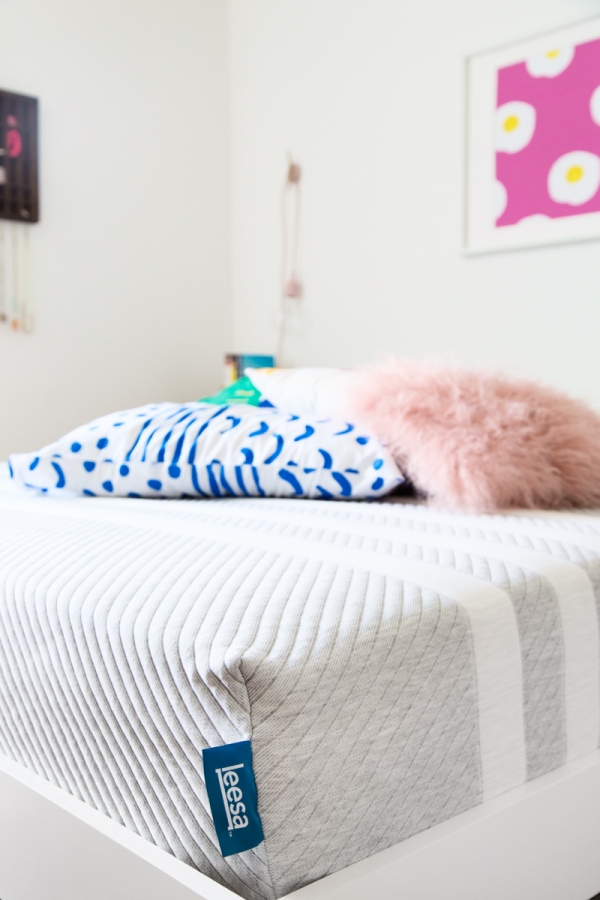 And since we were upgrading from a queen to a king, we went ahead and upgraded our whole room too! New lights, new art, new fun pillows!! I'm very lucky I married a man who isn't afraid of bold colors, eh?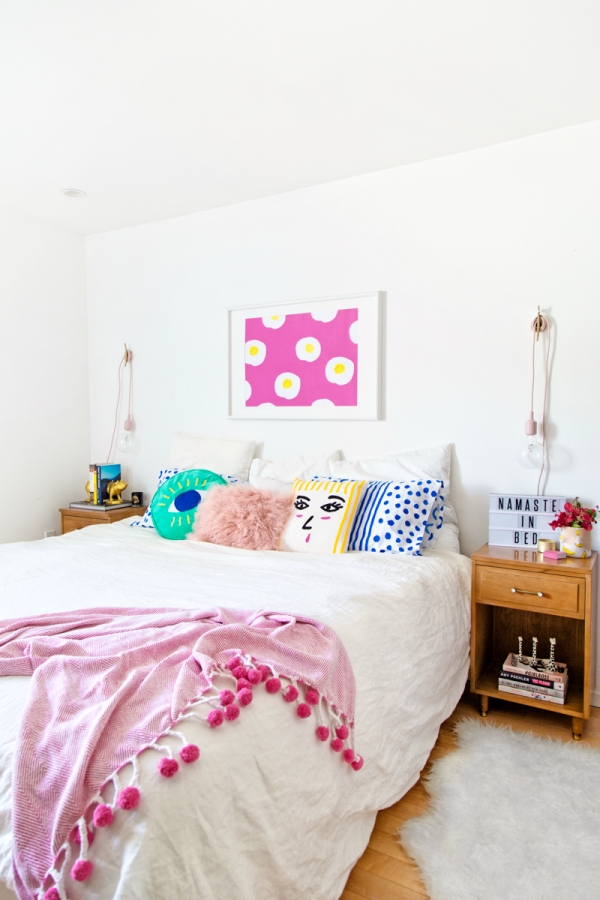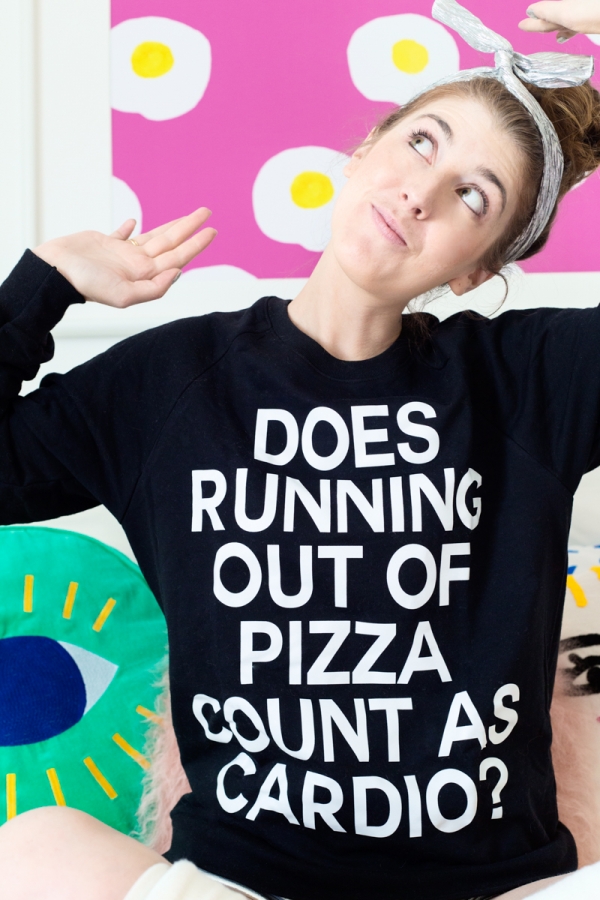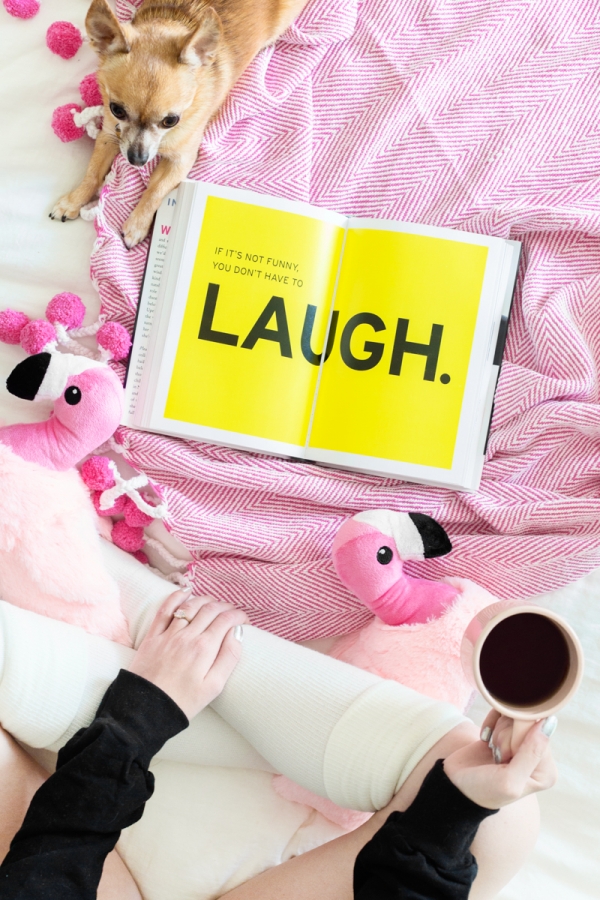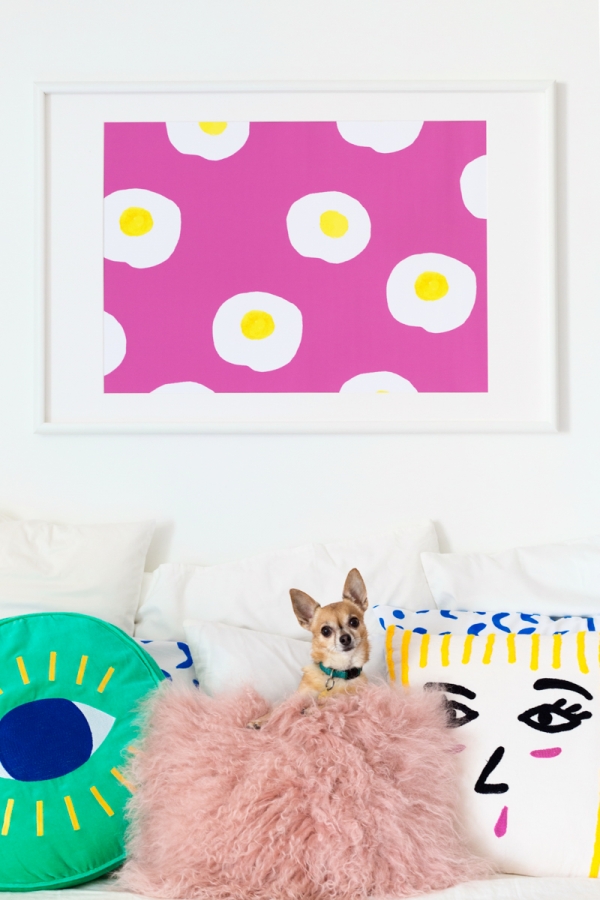 After Bella realized the mattress wasn't trying to eat her, she made herself at home and we cozied up together! I've never been a person to sit and read in bed, but now that we're so in love with this mattress and room… I've been finding any excuse I can to lounge around on it! And since it's prime holiday shopping time, check below for some of my fave gift ideas for a comfy cozy night in (the best kind of nights if you ask me)!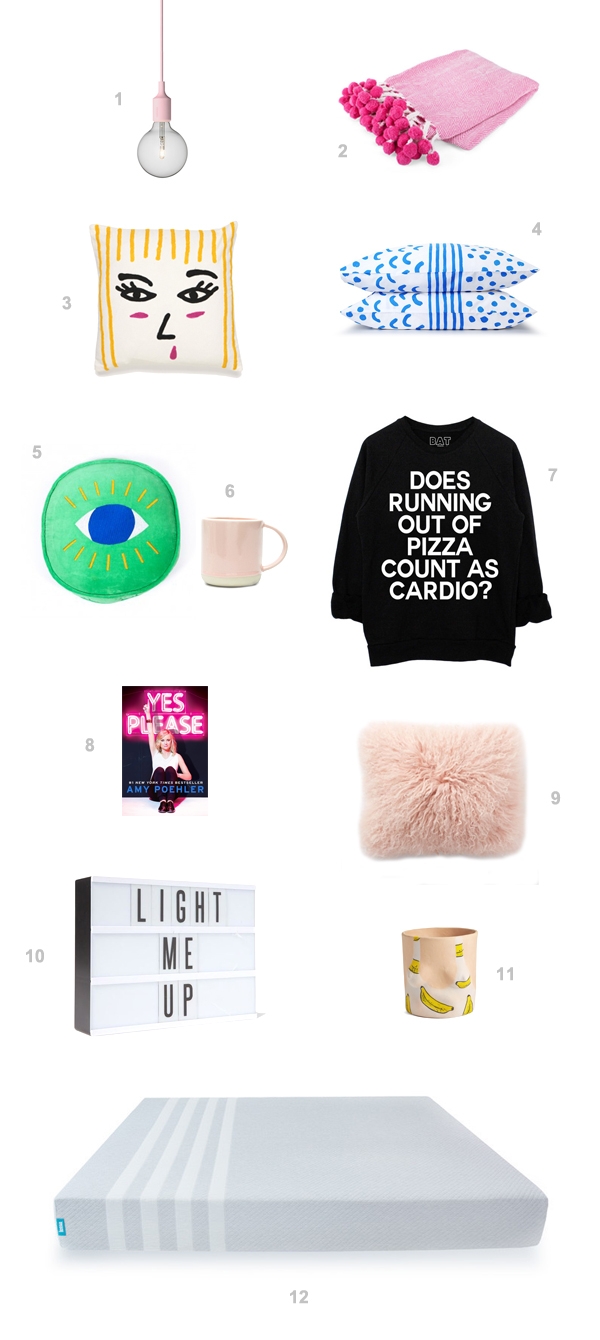 No. 1 Pendant Lights | No. 2 Pom Pom Blanket
No. 3 Saelfie Pillow | No. 4 Blue Pillow Cases
No. 5 Eye Cushion | No. 6 Pink Mugs
No. 7 Pizza Sweatshirt | No. 8 Yes Please by Amy Poehler
No. 9 Pink Fuzzy Pillow | No. 10 Light Box
No. 11 Banana Girl Pot | No. 12 Leesa Mattress
Other Room Sources: Bed Frame | Egg Print by Bouffants & Broken Hearts (We enlarged it!) | Hooks | Rugs | Flamingo Slippers | Dressers + Jewelry Display are Vintage!
Photos by Jeff Mindell
It feels really good to finally have a room we love in our apartment!! Now on to the next room… errr just kidding, I'm gonna go take a nap. 😉
This post was created in partnership with Leesa, All content and opinions are that of my own! Thank you for supporting the sponsors that keep the Studio DIY party going! Read more about my editorial policies here.