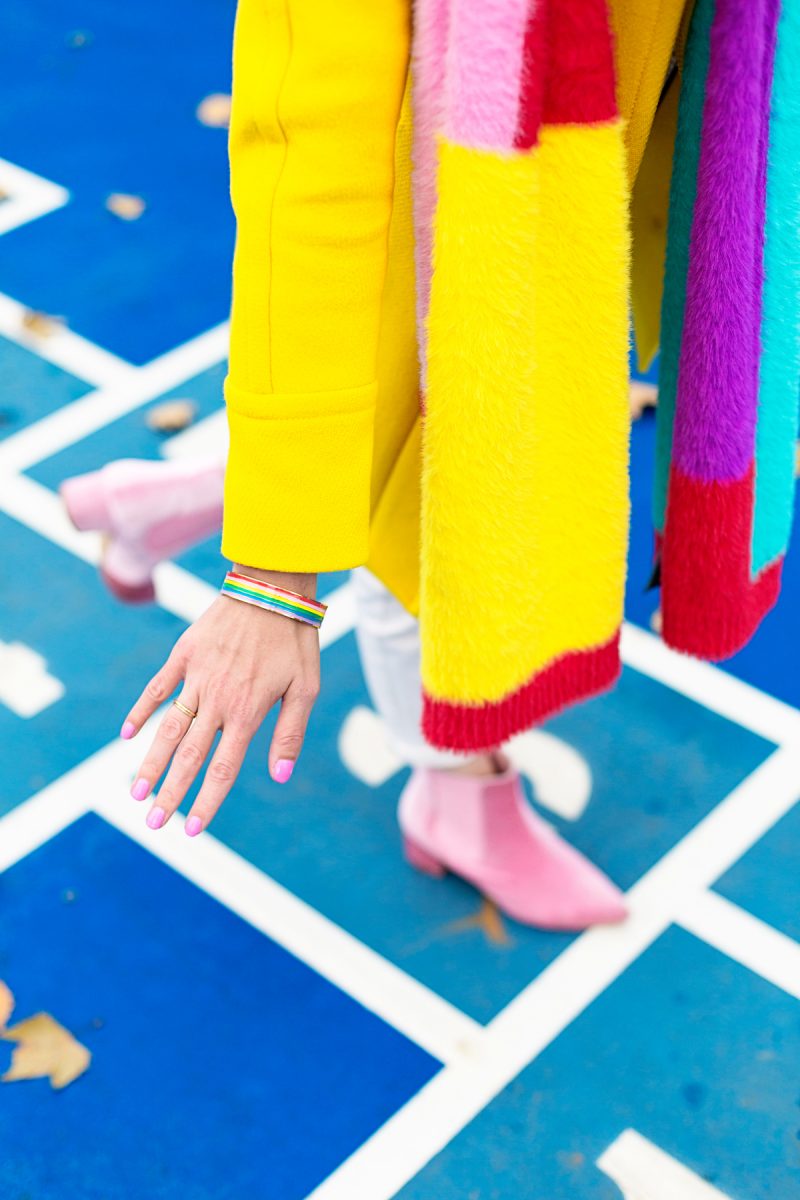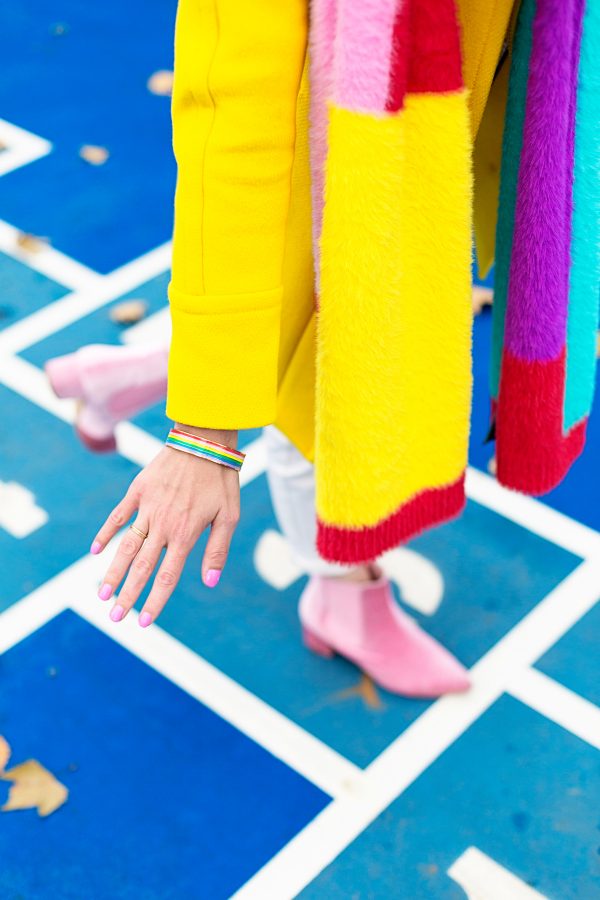 Been getting LOTS and lots of messages about posting a couple gift guides!! Well, here we are, folks!! First up, I put together one big gift guide for all the ladies in your life. We've got budgets all over the lot, from $10 to $200! I always like to include some great budget-friendly options that fit all those "$25 and under" gift exchanges and I also included several items that I get questions and compliments on almost daily! Let's do it!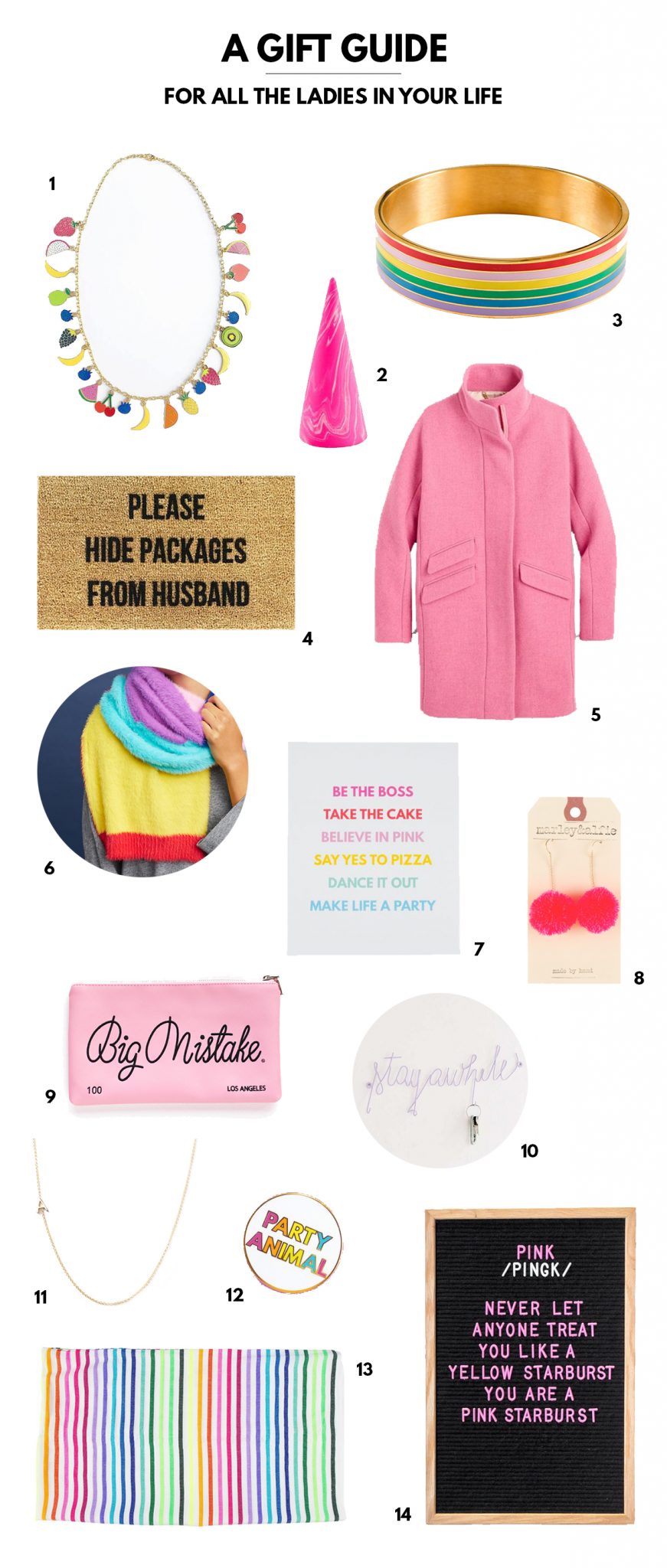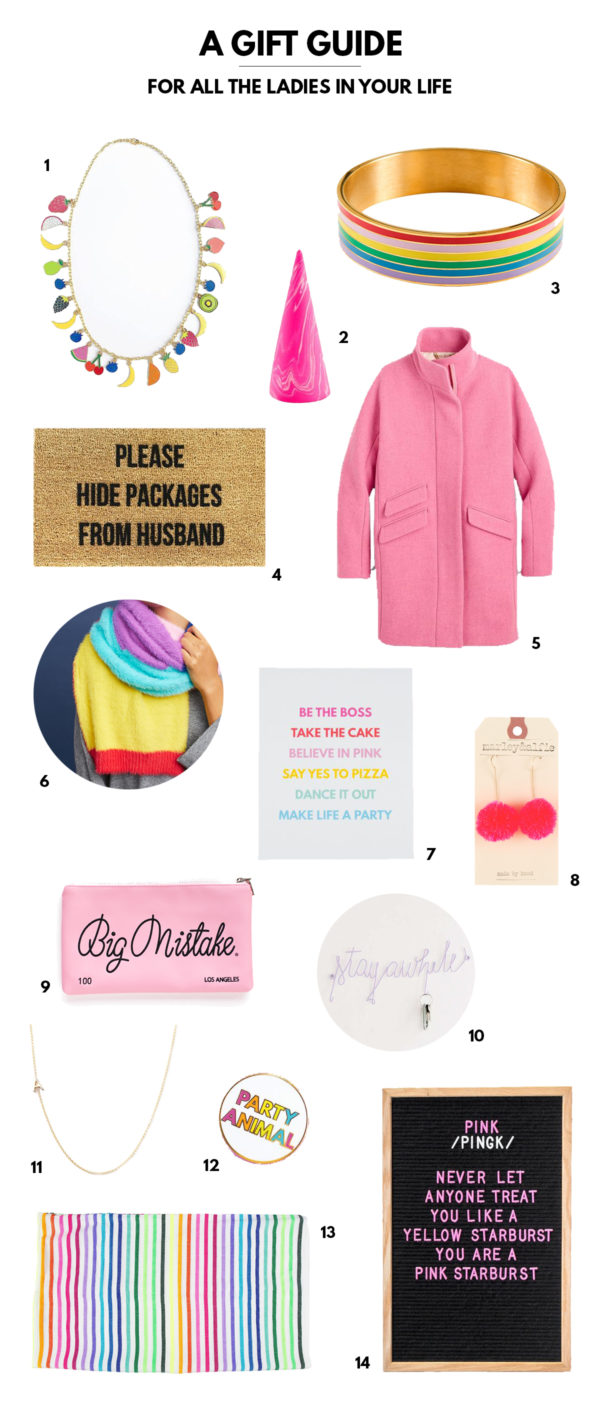 No. 1 Fruit Necklace
I know you guys love fruit so when I saw this, I HAD to include it. How amazing!!!
No. 2 Neon Marble Ring Cone
This is perfect for any friends or family members who just got engaged!
No. 3 Rainbow Bangle
This bracelet feels like it should be over $80 but it's less than $35!
No. 4 Doormat
I just got a text from Jeff saying "You got three more packages." I need this mat and I bet a lot of you do too… especially after this gift guide! 😉
No. 5 Stadium Coat
I have this coat in yellow and it's one of my favorite big-ticket purchases I've made. It's the ideal silhouette and is warm without feeling bulk. Plus it comes in so many fun colors!!! Free shipping right now too!
No. 6 Color Block Scarf
I know I keep talking about this but… have you bought it yet? Favorite scarf I've ever snagged and I get an insane amount of compliments on it. The colors are amazing and it's almost as soft as our fur clutch. 😉
No. 7 Studio DIY Mantra Art Print
One of the most popular items in our shop! These words to live by are a great gift for a student, boss lady or just your friend who really likes pizza. $9.99 you guys!!
No. 8 Pom Pom Earrings
These tiny pom earrings are exclusive to our shop! Most pom pom earrings on the market are quite large so these guys are great for those of you looking for something a little more subtle. They're really lightweight (I have sensitive ears and they give me no problems!) and the neon color is A++++!
No. 9 Eraser Clutch
In case ya missed it! We re-stocked some of our most popular clutches, keychains and flair! This "big mistake" clutch is great if you have a wedding to attend… JK! Haha! But it is great for any teachers, Pretty Woman enthusiasts or besties in your life.
No. 10 Stay Awhile Hook
If you know a gal who just got her first apartment, she needs this. The best key hook ever!!
No. 11 Initial Necklace
This is the necklace I wear every day with Arlo's initial on it. I get tons of questions from you guys about it. I really love it because it's super simple/modern and they have the option to send it back to add additional initials as you grow your fam!
No. 12 Party Animal Pin
Grab bag gift alert! Under $10 gifts usually mean a bunch of Starbucks gift cards and random lotions. BE THE WINNER WITH THIS PIN!
No. 13 Rainbow Stripe Blanket
This blanket is the most versatile blanket ever. We've used it as a picnic blanket, a thin blanket for LA "cold nights" and a towel at the beach. The colors can't be beat. It's got 'em all.
No. 14 Colorful Letter Board Letters
Another thing I get lots of questions about! These colorful letters for your letter boards! A few shades of pink, yellow and mint… if a friend of yours is obsessed with her letter board, this is a fun surprise addition!
If you're eyeing any of the items included from our shop, can I tell you about a crazy amazing deal we have going on right now!? If you spend $60 or more in our shop, you can get your first month of Can't Clutch This for FREE! So that's like a bunch of gifts for your friends and then a big ol' gift to yourself too!!! A free clutch!!!! Just use code 'CLUTCHGIFT' and head to the site for the full details!
I'll be sharing a big round up of baby gifts next week, including Arlo's favorite toys and a lot of the items we've picked up for his first Christmas gifts too!
SaveSaveSaveSave
SaveSaveSaveSave