Well, folks, I'm outta here! I have a big project to finish up today and then I'll be attempting my mom's sweet potato casserole, and Jeff's uncle's pumpkin pie and headed on over to Garlic My Soul's Friendsgiving extravaganza tomorrow. This will be our first Thanksgiving we are celebrating in California, and while we're sad to miss our family celebrations back east, it's kind of nice to think we don't have to deal with the airport/travel insanity that Thanksgiving brings, for once! I have so much to be thankful for this year, both personally and professionally. I hope all of you US readers out there have a wonderful Thanksgiving, and I'll bid you non-US folks farewell for a very long weekend! I'll be back on Monday to kick into full Christmas gear. Started your shopping yet? Hehe! See you on the flip side, folks! But wait… what's that down there?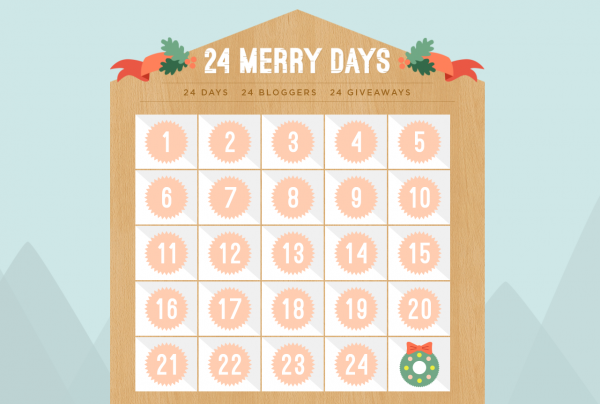 24 Merry Days! You all may remember the 24 day giveaway extravaganza I participated in last year, well it's BACK! And boy oh BOY are the prizes amazing, there's even a bike from PUBLIC Bikes up for grabs! Starting on December 1st, you'll be able to check out who's giving away what each day from the 24 Merry Days site, designed by the amazing Gloria of Little White Whale. On the 9th, I'll be giving away a HUGE gift certificate to a seriously awesome company. Can't wait to share, but in the meantime, be sure to check out everyone who's participating this year!
Last Minute Thanksgiving Projects from Studio DIY! (+ Some Advent Calendars to Get Started!)
DIY Confetti Stuffed Turkey
Free Printable Leftover Pie Labels
DIY Pineapple Walnuts
DIY "I Am Thankful For…" Balloon
DIY Take-Out Box Advent Calendar
DIY Punch Box Advent Calendar
Last Minute Thanksgiving Projects from Around the Web!
DIY Clay Wishbone Place Cards
Hilarious Pie Labels!
Typography Cookies
And a Typography Pie!
DIY Paper Cup Turkey

Safe travels everyone, and happy eating and crafting!