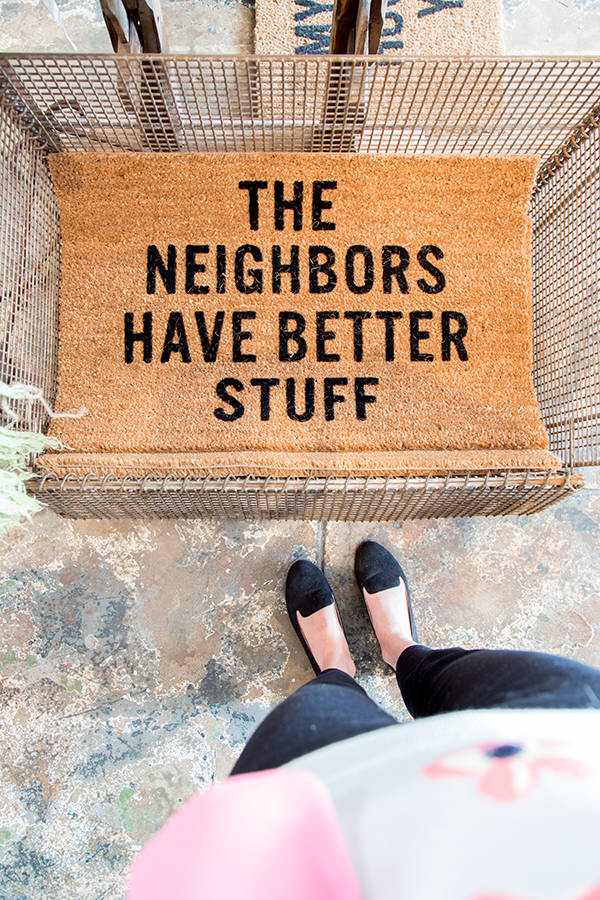 I did a guest post on one of my fave LA shopping spots, Max & Moritz, for Lovely Indeed while Chelsea enjoys being a mamma to the cutest little dude ever! Check it out! I want this doormat.
I spent a fun few days in NYC with Balloon Time and now I'm hanging out with my parents in NJ for a few days! In case you didn't know… it's cold here. 😉 But always fun to be back on my original coast. Next week I'm kicking off some Valentine's Day content and, well, we all know it's my favorite holiday of the year!!! Hope you all have a fun-tastic weekend!!!!
Links to love, watch + procrastinate with…
Better buy these heart pants before I buy ALL OF THEM.
Dreamy collaborations with stationers that should TOTALLY happen.
There weren't that many good videos this week, so I'm just going to leave an old favorite right here.
I've been looking for a tote bag but all I want are clutches like this one!
Driver, take me somewhere sunny.
Never Have I Ever…
I want (need) everything here.
Life lessons on a t-shirt.
Saturday is having the CRAZIEST sale. My boots that I LIVE IN are on sale for $88 (!!!!) and there's only a size 5. If you are one, you know what to do and you won't regret it. These are $48 + almost all sizes. I DIE!
Projects to try + sugar rushes to be had…
Soooo… oreo donuts sound like a pretty good idea.
Conversation heart macarons!!!!
A cute little XOXO throw blanket.
Waffles always.
This lettering… PERFECTION!