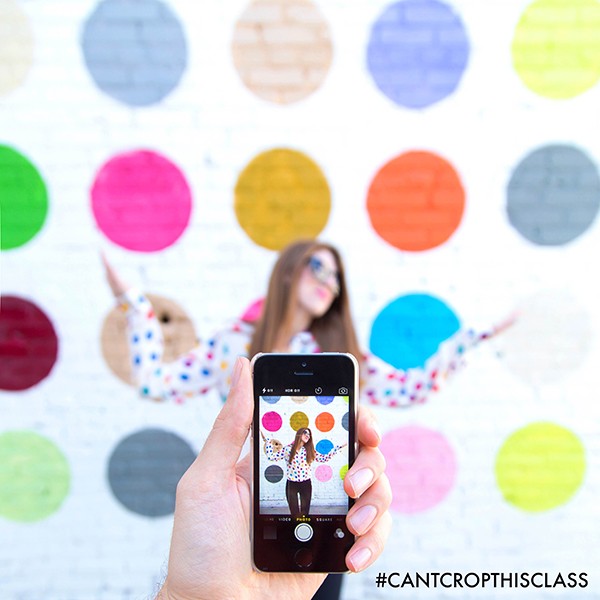 My shirt matched the wall, as all shirts should.
Oh man! What a fun and exciting week! We were so floored by your excitement about our Instagram Workshop! In case you missed it, the first session sold out but we've opened up a second one on the same day! You can snag your ticket here. And yes, we are definitely hoping to work on an online version ASAP too! Stay tuned. Jeff and I are attempting a cleanse this weekend which should be hilarious/result in us yelling at each other all weekend out of hangriness. Ha! Luckily, we're doing this one where you can actually eat. Kind of excited to challenge myself. Who wants to take bets on if I'll make it through the three days or not? Hope you all have a wonderful weekend. Eat some donuts for me!
Links to love, watch + procrastinate with…
So excited to be nominated for a Better Homes & Gardens Blogger Award! You can cast your vote here, if you feel so inclined. 😉
Haven't quite figured out how to keep mules on my feet yet, but I want these anyway.
So, I need a date with Procida, Italy.
So everyone keeps talking about this book. Have you read it?
I want this pillow so, so bad.
Jeff needs these ice cream swim trunks, yes?
A big ol' explanation of the Pinterest changes. Sad day.
Shopbop is having a huge sale! 15-25% off with code BIGEVENT15. My faves: this shirt, and this one. And these emoji shoes!
Projects to try + sugar rushes to be had…
This Irish cocoa needs to happen in my life.
Clover crown. Love!
I gotta make this neon sign. Have you pre-ordered Joy's book yet!?
Spring it on.
Girl Scout cookie s'mores. BECAUSE OMG.
Candy bars with mini cadbury eggs. I'm doomed.