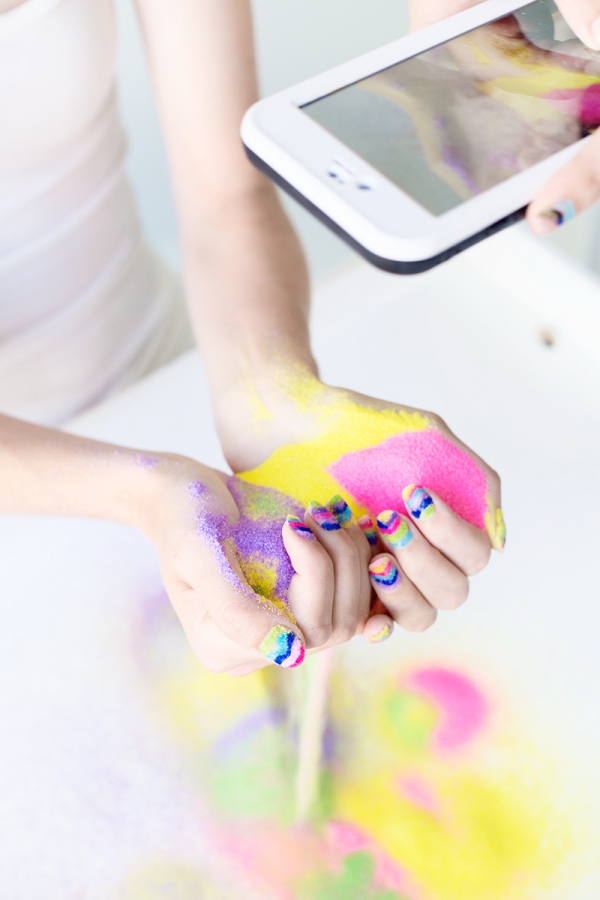 An outtake from our sand art mani shoot!
Hello from Santa Cruz! Jeff and I have been on a road trip up the coast this week and we have been having a BLAST so far! We'll be doing a full recap on the blog once we return but we've hit the Madonna Inn, are now in Santa Cruz and will be ending in San Francisco spending some time with my brother and his family! We might try to squeeze in an SF Sugar Fix so if you have any recommendations for an awesome sweet spot in San Fran, let me know!! Otherwise, stay tuned on Instagram and Snapchat (@studiodiy) where I'll be postin' my colorful brains out! Hope you guys have a spectacular weekend!! See you on the flip side!
Links to love, watch + procrastinate with…
Only a couple spots left in our Instagram workshop, be sure to snag one if you want to join!
If you live in Atlanta + need part time work, my best gal pal Brittni is hiring for FOUR awesome positions!
I WANT THESE SO BAD!
School in the 90s was THE BEST!
10 make up tips from the pros.. so interesting!
I have worn this every day since we posted about it and am OBSESSED.
Judge me but I love these.
Projects to try + sugar rushes to be had…
Fruity Pebble fro yo sammies. Yes, please.
And a fruit loop cake. Life is good.
This marble paper is the PRETTIEST!
Don't hula tassels just sound like the most fun thing ever?
BALLOON ANIMAL STUFFED ANIMALS!
S'mores. Brownie. Brittle.
Ash knocked it out of the park with this cake carrier.
Sun's out buns out, for just a few more weeks! Wahhhh!