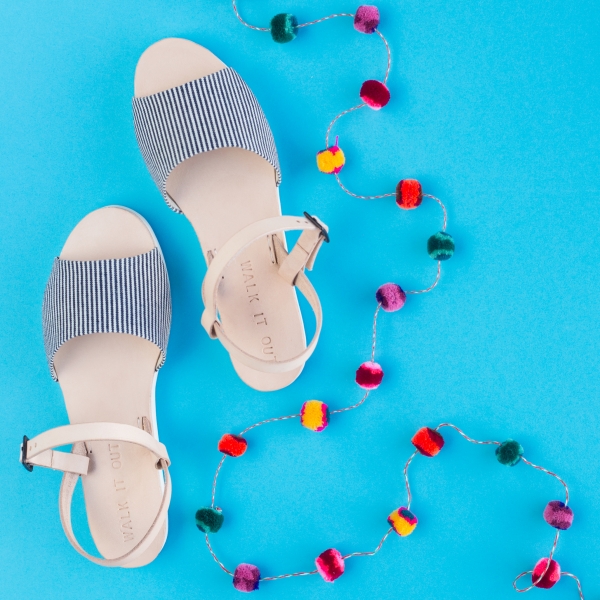 Obsessed with these sandals from Pam Left Pam Right! They'll stamp whatever you want in the sole!! Now walk it out.
This week FLEW by thanks to the holiday on Monday. Didn't it? This day will always be a heavy one for me and many of you, I imagine.. so I hope today's link-y round up can bring a bit of cheer to a somber day. That's always my goal here.
We've had a lot on our minds lately as we try to prep for busy season, grow the business and grow our family… too! We've hit a few speed bumps in the growing our family department which I hope to discuss here soon, since I don't feel like those topics are being discussed enough in this here blogosphere. But until then… a few weeks back I was asking my pal Brittany to send us some good baby vibes and she obliged. LITERALLY! Ha, check out the little care package she sent our way. 😉 And in other news, Jeff and I are headed on a little (colorful!) adventure this weekend, so be sure to follow along on Insta! Hope it's cooler where you guys are! What are YOU up to this weekend!?
Links to love, watch + procrastinate with…
THE MOST IMPORTANT NEWS THIS WEEK: CHEESE, TACO, UNICORN.
I fell even more in love with Jimmy this week. Fast forward to the 5ish minute mark.
The COMFIEST looking sweater. (That also happens to be rainbow.)
Gonna scroll through this this weekend, cheap eats are what I'm all about!
We just won't talk about how mad I am that I didn't see these before I placed my giant ASOS order.
Everyone needs a gilded pizza necklace.
I am 1,000% obsessed with these sugar letters.
The answer is always tacos.
Why do I love these chunky heel shoes so much!?
Projects to try + sugar rushes to be had…
Cutie little patterned pencil pouches!
All gifts should come wrapped in confetti.
I cleaned out my closet, now I need to up my hanger game!
If only burgers really came in this color palette.
This is in the final running of possible birthday cakes for my Mom later this month!
Poop emoji cupcakes! (That's quite a sentence.)
Made some fancy healthy fudge last weekend and it just really can't compare to this.