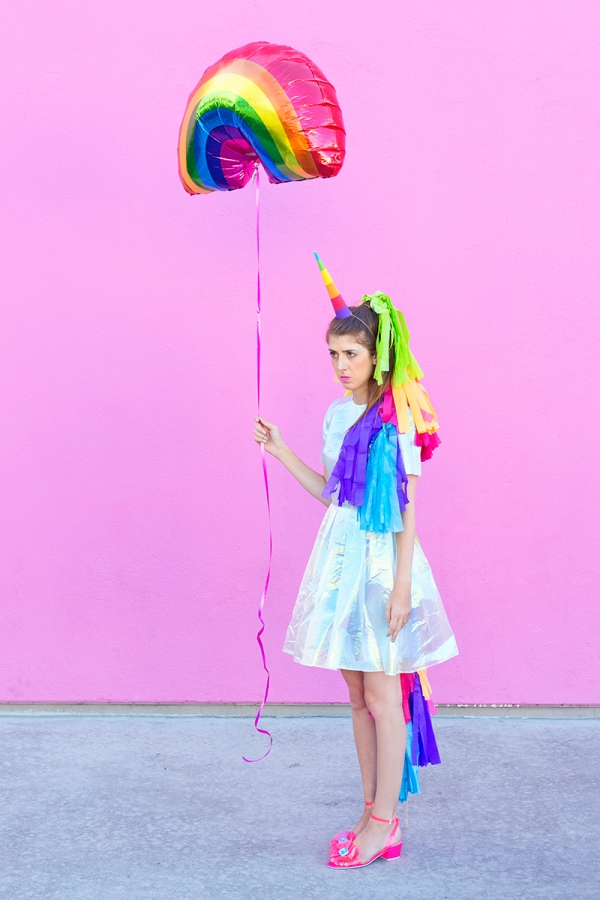 An outtake from our Lisa Frank Costume shoot that I like to call, "It's 8am and I just walked down the street dressed as a unicorn after spending 20 minutes looking for a bobby pin in my car so I could pin my mane on." BUT IT'S ALL WORTH IT, YOU GUYS!
We made it! This week has been such a thrill for me. If you follow me on Snapchat, you've already heard my (excessive) musings about our annual #studiodiyincostume series, but I'm going to say it all again. HA! Four years ago I started making DIY costumes because I thought there was a void in the market for costumes for girls. There were big/bulky/crazy/made-of-foam costumes, there were fancy and pricey masquerade type costumes and there were suppperrrrr scandalous/sexy costumes. But there wasn't really a lot out there for ladies who just wanted to go trick-or-treating with the kiddos, or to work, or to a party where they weren't trying to attract ALL of the single men in the room. So we started turning dresses from your closet into cute, appropriate, versatile and accessible costumes. And yes, we have some crazier/more involved costumes in the running now too, but they all fit the fun, appropriate, your kids can see you in it and it also didn't break the bank vibe.
I was so FLOORED when so many of you started making the costumes yourselves, and coming back year after year for more ideas. If you ask me what my biggest accomplishment of my career is thus far, it wouldn't be any of the magazine features or dream brand partnerships, it would be the fact that we helped fill a void for one of the greatest holidays out there and that SO many of you hopped on board and started sharing your versions of our costumes with #studiodiyincostume. I get really emotional every Halloween because I get so happy that you all are just as excited as me about the costume roll outs, so thank YOU for sharing in my love for crazy, fun and often food-themed Halloween attire. You guys ROCK!
But it has only just begun!!!!!!!!!!!!!!!!! We've got 12 more costumes for you guys and I just can't wait for you to see. For now, I'm spending the weekend with my parents who are in town (It's my mom's birthday today!) and taking some time off to try and relax after doing 20+ shoots in the last two weeks. Have a great weekend!!!
Links to love, watch + procrastinate with…
You are the Jay to my Bey.
Well DARN these end tables are gorgeous.
Loved this piece on In-N-Out's history.
FYI YOU CAN BUY LISA FRANK STICKERS HERE!!!!!
Guess I need to go back to Disney.
I would like to start a petition to have this made in my size.
A lot of you loved the wardrobe rack from this post and it's back in stock!
Iridescent flatware is PRETTY necessary.
Projects to try + sugar rushes to be had…
I just really don't feel like life could get any better than this.
If you can get through reading this title without drooling, there is something wrong with you.
How to marble candy apples!
Love these printable unicorn invites.
And this printable anniversary card!