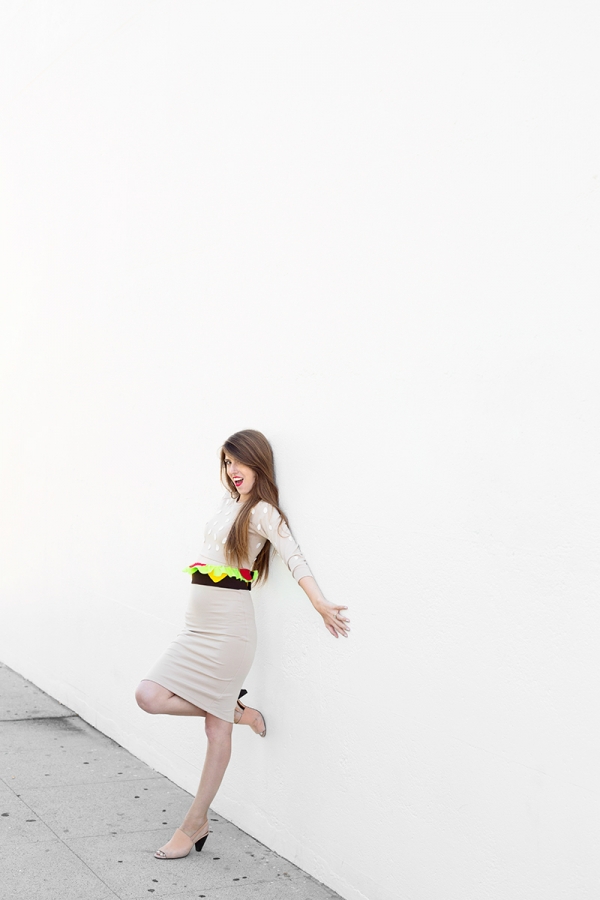 When you're dressed as a burger outside of a West Elm at 3pm on a Tuesday, you gotta have fun with it. Plus, the disco ball couldn't be the ONLY costume that got to show it's sultry side. HAHA!
Happy October you guys! Per usual, I can't believe it… we've already wrapped two weeks of Studio DIY in Costume! YOWZA! We've got more coming your way, plus some other fun fall and Halloween posts to get you in the spirit! AND an exciting announcement for some of you who might be making our costumes this Halloween!
Also! Victoria of A Subtle Revelry has a new podcast and she had me on as a guest! I shared a bit about how to take fun instagram photos and how to get comfortable in front of a camera, hope you'll give it a listen! This weekend Jeff and I will be laying low, catching up on TV shows (How do we feel about Empire season 2 so far?) and getting some work done too. Have a great one!
Links to love, watch + procrastinate with…
Well I definitely need a rainbow glassware collection now.
HAHA! I bet there's a lot of us that could use this reminder.
Lyndsay is so inspiring, what a rockstar!
These boots were DEFINITELY made for walking.
This card made me laugh.
Thanks to Buzzfeed and Huffington Post for the costume features!
Twister, Jenga and American Girl Dolls were nominated for the National Toy Hall of Fame this week!
Well, this is going on my Christmas list.
Projects to try + sugar rushes to be had…
Birds of a feather costumes!!
I think I linked to this last week but I'm not gonna apologize for linking to it again.
ALL. ABOUT. THIS. STENCIL SITUATION!
Jack-O-Lantern Balloons!
All of the best things in one brownie. Show off.
I think this might be my favorite 2015 costume so far!!
Are they apples or are they macarons?
I'd like to write on all my clutches now.