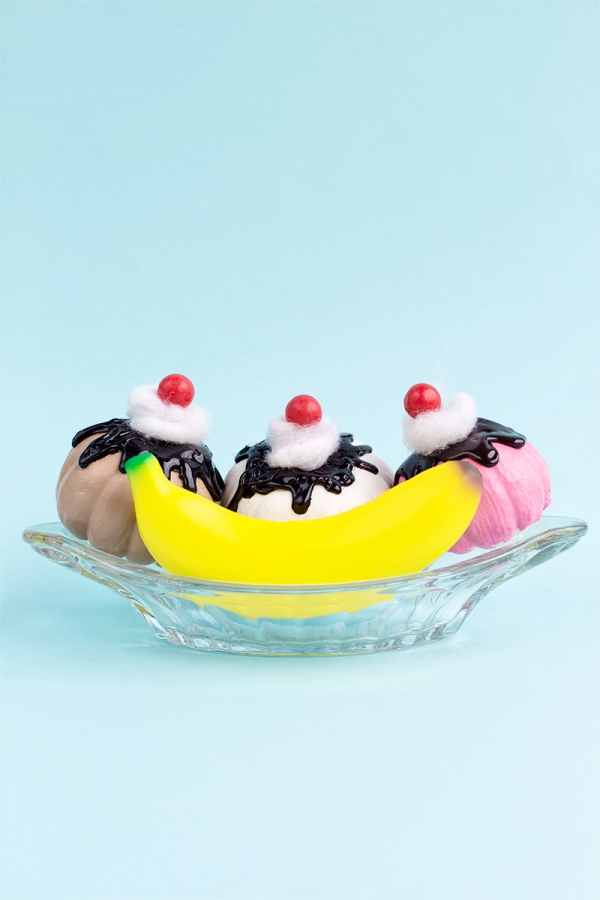 A DIY that didn't make the blog, but I just had to share here… we made banana split pumpkins!!!! We painted tiny upside down pumpkins and then used brown hot glue for the hot fudge, cotton batting for the whipped cream and gumballs for the cherries, plus this banana and this sundae boat to finish it off! Fun right?
15 days until Halloween you guys!!!!! Have any of you started making your costumes yet!? Remember if you are making a Studio DIY costume, tag it with #StudioDIYinCostume on Instagram! I still haven't decided which I'm gonna be, but my nieces have already claimed the fruit and the popcorn thus far. We have a couple fun last minute costumes coming your way in the next couple weeks for you super procrastinators out there! No judgement. This weekend we've got a family game night on the books (YESSS!), a couple shoots and some good ol' relax-y taxi-ing.
Links to love, watch + procrastinate with…
These costumes are KILLING ME! Hahaha!! This one sold out, but it's my favorite.
Yesss some good Snapchat tricks!
Emily's book arrived at the studio this week and we all literally GASPED.
I know we've all seen our fair share of weavings but THESE blew me away. I love the colors in this one.
Can someone make this into a wallpaper?
So many glittery boots, so little time.
I bawled my eyes out watching this. Jeff laughed at me. THEY'RE SO GOOD!
Oh a big fat YES to these earrings.
Projects to try + sugar rushes to be had…
These citrus pumpkins are crazy awesome!
A POP TART COSTUME!
The coolest piñata of all time.
GENIUS idea if you aren't into painting your pumpkins!
Yes, please. I will talk all of them.
Love this Pac Man costume!!!
MORE amazing book costumes! Oh and this one inspired by my boyfriend Jimmy Fallon's book.