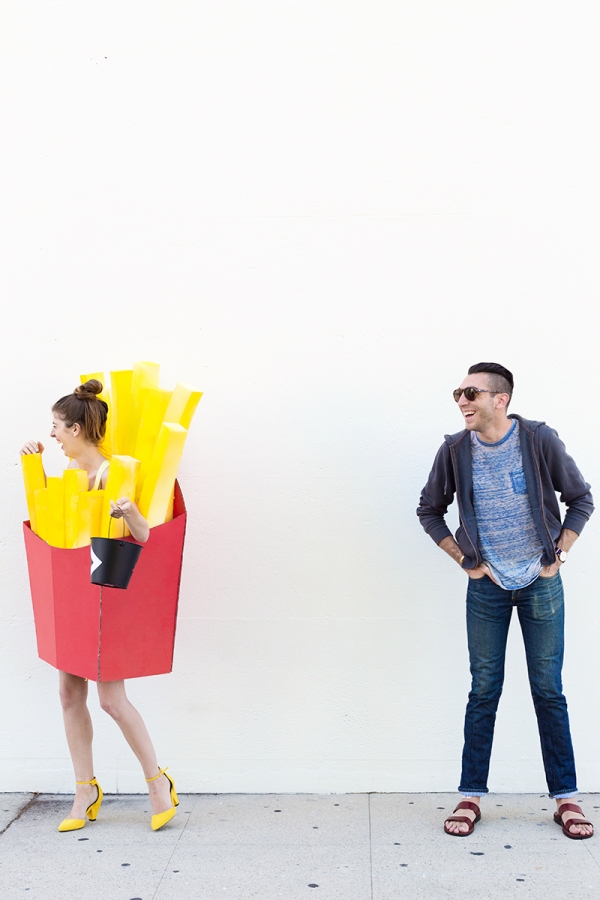 An outtake from our Fries Before Guys costume shoot!
Hello from San Francisco!!!!! If you follow along on Snapchat (@studiodiy), you know why we're here but if you don't… we're VISITING PIXAR!! I kid you not, visiting the Pixar campus is one of the top 10 things on my bucket list so it's pretty surreal to get this opportunity. If you're a Pixar nerd like me, you can check out more on Snapchat and Instagram today! After we wrap our time at Pixar, we're going to meet the newest and tiniest member of our family, our new niece! What a weekend! I hope you all are busy crafting up those costumes, last weekend before Halloween alert! I've been LOVING all the sneak peeks you've been snapping and instagraming! It's gonna be a GOOD Halloween year, you guys. Happy Friday!
Links to love, watch + procrastinate with…
My suitcase got stolen (WHOMP WHOMP!), but at least I know how I'll be replacing the tag!
PJ NEEDS!
Want to do this to all my cuffs!
Is it too early to shop for New Year's Eve outfits?
These might be my new fall boots you see in one million Instagram posts. haha!
Wore this shirt this week and Jeff said it was blinding him.
Always love Joy's "Making Of" posts!
Projects to try + sugar rushes to be had…
In case you wanted to dress up like my boyfriend this year for Halloween…
So who's gonna be a cereal bowl!?
Dear How Sweet It Is, we are soulmates.
A popsicle costume!
I need a date with this cake, please and thank you.
Pumpkin ice cream drumsticks!?