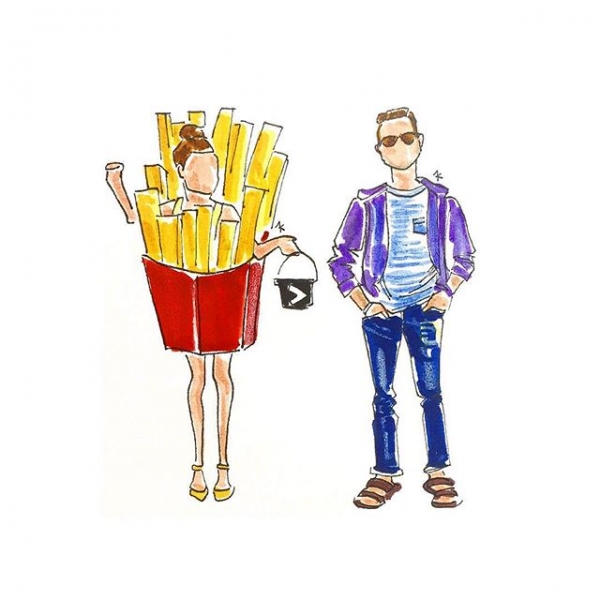 OBSESSED with this illustration @akimdesigns did of our Fries Before Guys costume!!!
It's here, it's here! Happy Halloween Weekend, everyone!!! The photos of your Studio DIY inspired costumes have started flowing into the #studiodiyincostume feed and I couldn't be happier! You guys always take my tutorials and make them EVEN BETTER and that makes Halloween one of my most favorite weekends of the year. Thank YOU for making this the best Studio DIY Halloween YET! I hope you all have some fun plans, whether it's a costume party, trick-or-treating or just watching Hocus Pocus on the couch (Ding ding ding!). If you do make one of our costumes, be sure to share a photo on Instagram and tag it with #studiodiyincostume. I'll be doing my annual #studiodiyincostume recap post next week and would LOVE to include yours! Have a total blast, eat some candy and I will see you back here on Monday! WOOOOO!!!!!!
Links to love, watch + procrastinate with…
Glitter Pizza Slice Bag. Yes, it's a real thing.
A day in the life of John Lasseter.
Iris Apfel's apartment, YOWZA!
Christmas shoes, oh, Christmas shoes! I really really need you.
FLAMINGO SLIPPERS!
And some PJs too… I feel a slumber par-tay comin' on!
Eyeing this gold cocktail shaker.
Projects to try + sugar rushes to be had…
The most gorgeous Halloween printables in all the land.
Well, SIGN ME UP!
Still time to be a cactus!
If you need something to do with your leftover candy…
How amazing is this balloon pumpkin!?!?
This ghost spoon rest is adorable!!!
These unicorn cupcakes cracked me up!