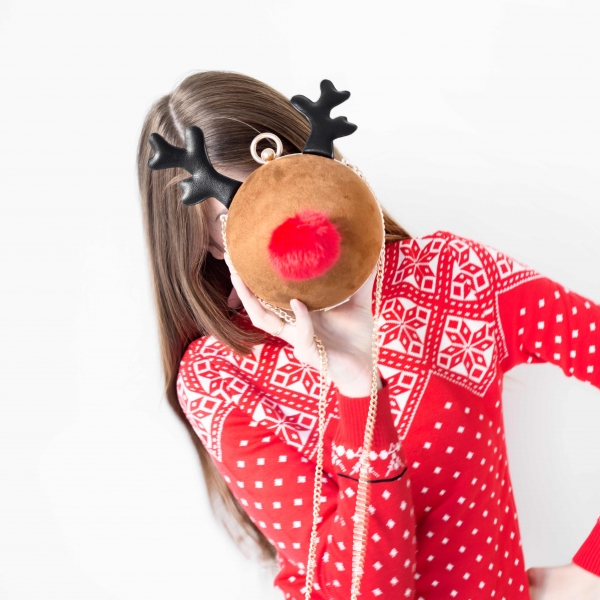 This reindeer purse, though. I CAN'T!!!
(p.s. The sweater is from here!)
As you may have noticed, we've missed a few weeks of our Happy Weekend posts! Thing is, when the holidays roll around, we have SO many ideas we share, that we take up all five days fo the work week to do so! But, I know a lot of you really like the round-up posts SO from now until the end of the year, we'll be sharing them on Saturdays, along with gift guides on Sundays starting next week. WOAH!
What are you up to this weekend? It's a pretty special one though, it's Jeff and my FIRST wedding anniversary!!!! I can't believe it's been a year. Holy cannoli. And hopefully sometime in 2016 we'll get to share our wedding photos but if you happen to be planning a wedding and haven't checked out all our posts chronicling our experience, you can find them all right here! We've got a jam packed week of holiday content next week and a really exciting announcement on Monday, so get ready!!! Have a great weekend, you guys!
Links to love, watch + procrastinate with…
The 20 best colorful coats. This one is my fave!
I officially need a house so I can use Justina's new wallpaper.
Every single thing from Gorman's line is going on my Christmas list.
Speaking of, I would like to attend this party, please.
This made me laugh because it is SO ACCURATE!
Testing, testing. Are you a real Friends fan?
Ain't that the truth.
Projects to try + sugar rushes to be had…
OBSESSED with these DIY footed bowls!
I would like to eat this for breakfast, lunch and dinner, please.
This pumpkin pie garland!!
A colorful Thanksgiving to end ALL Thanksgivings!
The cutest Christmas party hats!
Love these hand painted dishes!