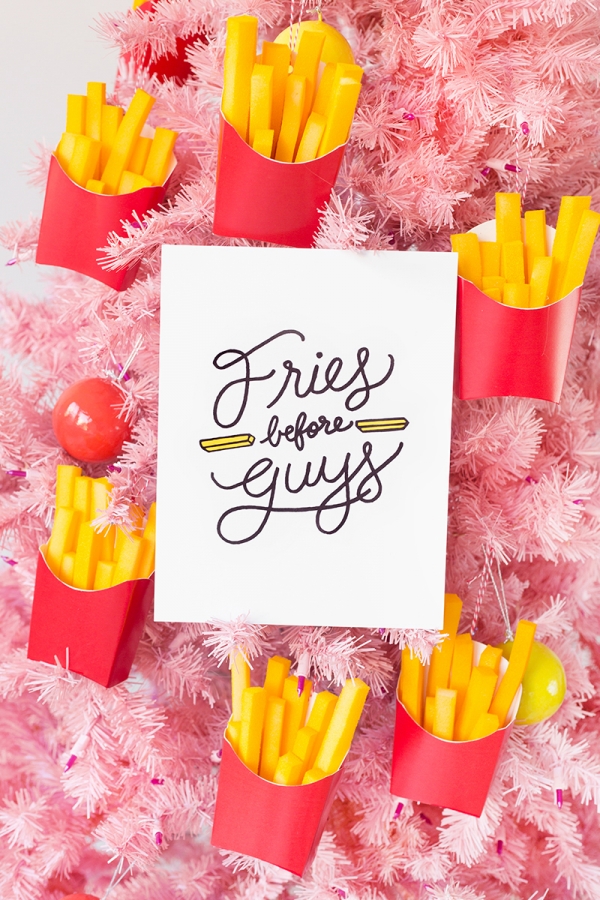 My fave project of the season I think… fry ornaments!
Hey-oo! It's been awhile! Is everyone's holiday season off to a festive start!? We're rockin' and rollin' over here getting some SUPPERRR exciting things underway for 2016! This weekend we're headed to Unique LA (Let me know if you'll be there so I can say hello!), re-doing our bedroom for a fun project and meeting Leah's cute little bundles of adorableness. WHAT a weekend! We've got another great week of holiday content for ya starting Monday so get READY! And in the meantime, check out some links and have a glorious weekend you guys!
Links to love, watch + procrastinate with…
If I ever needed rainboots, these would be them!
THIS OMBRE RAINBOW LAMP!
Also, unicorn glitter dispensers.
I've watched this video one thousand times. A GIRL CAN DREAM!
ALERT ALERT! Avocado wallpaper!
D. All of the above.
Projects to try + sugar rushes to be had…
Candy. Candy Canes. Candy Corns. And syrup!
Cutie little peppermint flats!
Lovin' on these gift wrap printables!
I know when that hotline bling!
The prettiest patterns for gift wrap!!!
Confetti cones for all!
The COOLEST snow globe cupcakes!!