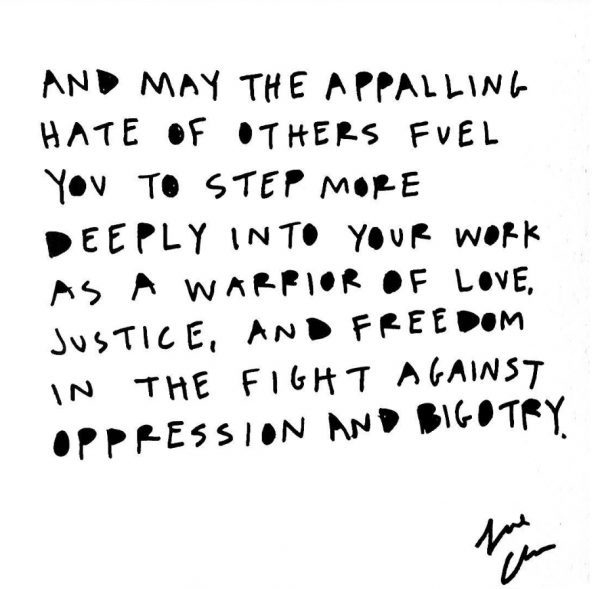 Above Image By Cleo Wade
I wrote a "Happy Weekend" post and then wanted to punch myself. The domestic terrorism in Charlottesville last weekend was horrifying, but not surprising. Our president's reaction to what happened in Charlottesville was vile, but not unexpected. This. Is. A. Problem.
I'm not the first to say this and I hope I won't be the last but… when there are two sides, and nazis and the KKK are on one of them… You choose the other side. It's not hard. If anyone here disagrees with that, you have come to the wrong place.
This blog is meant to be a happy place but it's also meant to be an inclusive, positive and supportive community for ALL. We spread love and not hate. Except what happened last weekend shouldn't even be disguised as just hate. Racism, religious intolerance, sexism, homophobia, so many more. Those words need to be heard and they need to be condemned. If they are going to be shouted from the rooftops by white nationalists, we need to shout louder. And while I may have a long way to go in educating myself on the deeply-rooted issues at the helm of the happenings this week, and I'm not going to pretend I don't, I know enough to be 100% sure that staying silent is the worst thing I can do. Especially when I am lucky enough to have a platform such as this to speak from.
There is no place for racism in this world and no place in this country for a president who thinks the people spewing it are "fine people."
This weekend, I'd like to encourage you to spread love, positivity and inclusiveness, as I always indirectly do. But I'd also like to encourage you to start condemning the opposite. In lieu of our typical links, I wanted to share some important articles and videos that my peers, who are far more educated on these topics, have been sharing this week. I am learning a lot and I hope you will too.
The Most Important Things To Watch and Read This Weekend
A very hard but very important video to watch from Vice, where a reporter interviews white nationalist leaders and counter-protestors.
On Raising Race-Conscious Children.
Eight ways you can help after Charlottesville.
On why people are still racist.
A syllabus for white people to educate themselves.
On how Charlottesville was painful, but it wasn't a surprise.
First hand accounts from U. Va. students.
On how "nice white people" benefit from Charlottesville and white supremacy.
A reformed white nationalist speaks out on Charlottesville.
A live conversation about what's happening in our country right now and how to learn what to say and how to help.
Should any of you have further articles to share, please leave them in the comments below so we can all learn from each other.
SaveSave
SaveSaveSaveSave
SaveSave
SaveSaveSaveSaveSaveSaveSaveSave
SaveSave
SaveSave
SaveSave
SaveSave