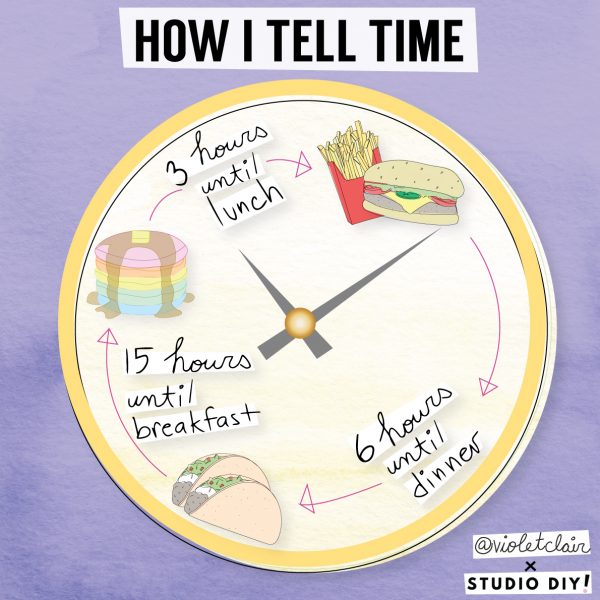 Our collab with our fave comic maker, Violet Clair is back! Am I the only one who tells time this way??
It's been so devastating watching the floods in Texas this week. But it has been wonderful watching everyone come together to help, donate, give and rescue. Reminds you that there IS good in this world, despite all the horrible things that have been happening lately.
We've sent a huge box of baby clothes and supplies down to Texas, and if you're looking to help as well you can check out Ashley's post here. If you are or you know a survivor family in need of help, she's also working to pair families in need with sponsor families to get them back on their feet. The email address is in the post as well. Baby2Baby is hosting a diaper drive too.
I have rounded up some light-hearted links this week too as I usually do, but if there's only one link you're going to click on, I hope it's one of the above.
The Best Things on the Internet This Week
You guys hunted down the neon frames I was looking for in this post!! I LOVE YOU!!
It's 104 here but I really want this yellow sweater.
Apparently I live in a deep dark hole and am the last person to know about Toy Story Land!?
These paper cacti!!
Ash did a couple posts from our weekend in Roundtop! Take me back!
Obsessed with this workspace makeover.
And this laundry room!!!
Someone buy this rainbow zebra head. QUICK!
Happy Weekend!
SaveSaveSaveSaveSaveSaveSaveSaveSaveSave
SaveSave
SaveSave