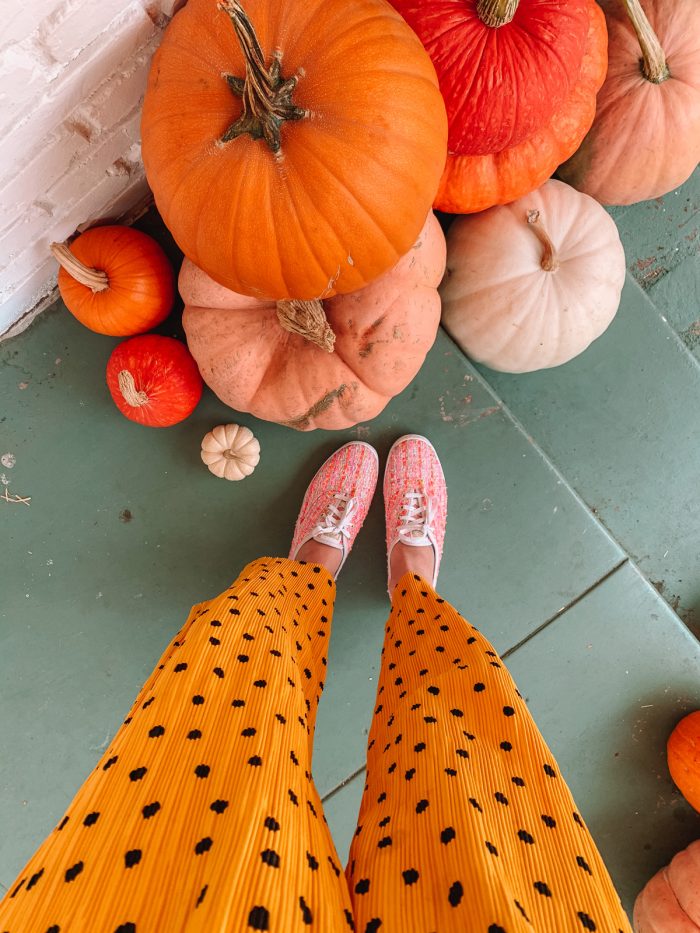 My shoes are from here, pants are Topshop but several seasons ago!
Happy Sunday (night)! We had a nice weekend. Went to see some more Halloween decorations, had a virtual sewing date with a friend and took our family walk and got to say hello to another friend! Also got some more of our decorations up, hoping to snap some photos to share at some point this week.
Most importantly, we wrote out more postcards to send to voters in swing states and we got our ballots which we're going to fill out and drop off this week! Have you made your voting plan yet? You can enter your info here and you'll be able to check your registration, learn more about what's on your ballot and what your voting options are!
Here's some links to kick off your week…
A conversation with God about guns. (Read it, I can assure you it's different than what you're thinking!)
If you're a new parent in this pandemic, you may take some comfort in reading the comments on this post. You aren't alone!
Super cute yarn pumpkin garland!
The fireplaces in this brownstone. OMG.
A Biden sign perfect for Halloween, we just printed ours!
This yellow bathroom makeover!
A hopeful story that emphasizes the fact that there are some people only you can reach.
A directory of woman-owned small businesses selling Halloween items!
Ashley always has the best holiday front door decor!
This roasted tomato and ricotta toast sounds AMAZING.