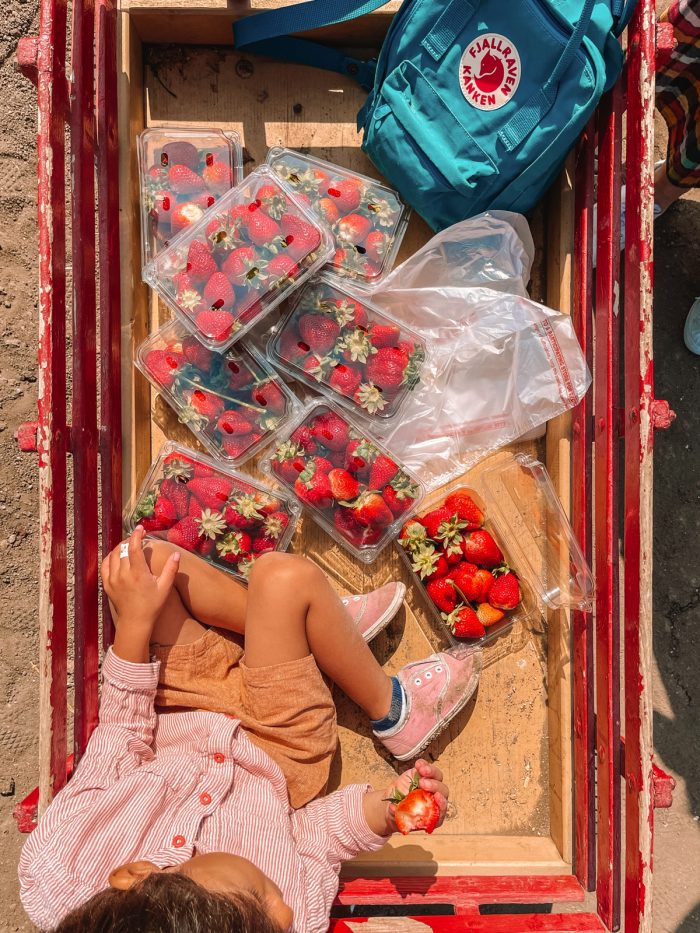 Happy Weekend! We are hoping to go to Rose Bowl Flea Market this weekend!! We had just gotten in the habit of regularly going to flea markets before Covid hit and we all miss it. Arlo usually gets to bring a few dollars to buy something like a train for his train tracks, and we usually hunt for vintage Disney goodies. I'm so excited!
We may also go strawberry picking but we'll see! (Update: Clearly we went strawberry picking, haha!) Hope you have something fun and/or relaxing planned. Here's a few links for your weekend…
I mean, I know we all already know this but just in case you forgot the number one state for pizza. 😉 (+ the best pizza in every other state)
One of a kind clothes made from vintage Disney sheets + sleeping bags!!
I've been really loving Hilary Clinton's podcast this week, which I somehow had never listened to before? Loved the episodes with Amanda Gorman and with Bobby Berk.
I'm sorry, I cannot believe this is a real place. 732 mini castles!?
A great, important article on why GreatSchools is so problematic and how it may be worsening neighborhood segregation.
The tattersall plaid on plaid room in this home is just SO great.
How to turn down an invite without lying. (I loved these responses!)
Ok this is random but I learned so much about monarch butterfly migration from this! FASCINATING!
Viri Ramos sent us this puzzle and Arlo and I have been working on it each morning. So fun!
If you need a SUPER last minute Mother's Day gift, I gave my dad this for Father's Day last year and it has been the best! Would be a great gift for moms, grandmas and other mother figures too.