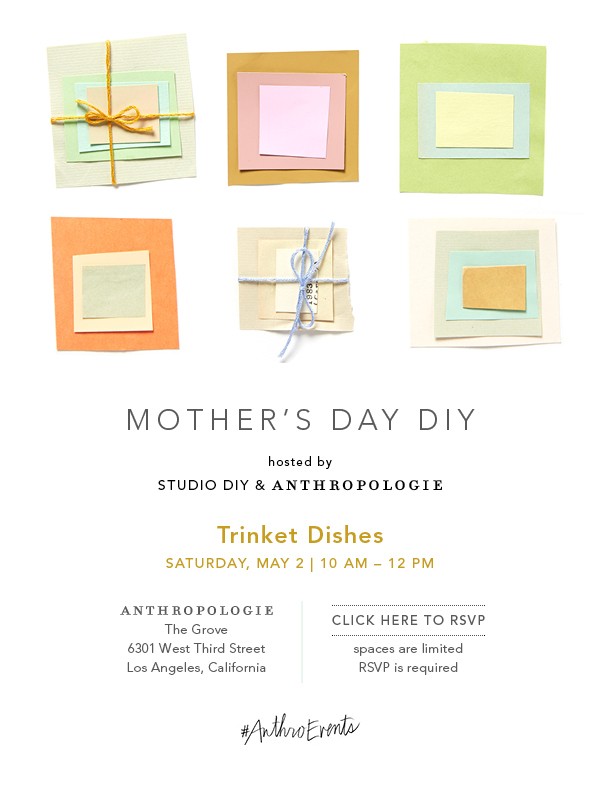 I'm SO excited to announce that I'll be hosting a Mother's Day DIY event at Anthropologie on May 2nd! We'll be makin' + paintin' cute little trinket dishes at the Anthro at The Grove! And the best part… it's free for you guys! Spaces are limited, so be sure to RSVP right here! Bring your mom or your pals, it's gonna be a blast!! Can't wait to see some of you there! (Update! The event has sold out! Thanks so much guys, can't wait to get our craft on!)
This weekend Jeff and I are hangin' home trying to get our house looking… livable. My parents are in town next week and now that we had our big studio sale, we can actually get our place back in order before they arrive! We're also putting the finishing touches on a little somethin' somethin' that we can't wait to announce next week! What's everyone else up to!? Have a great weekend, folks!
Links to love, watch + procrastinate with…
Gold sandals seem like an EXCELLENT idea right now.
Designer Lipstick and pizza. Life's essentials.
SOOO we all need some cactus pants!!!
We should all be eating unicorn breakfasts more often.
Glad we are all in agreement that these shoes are da bomb!
We need more rain in LA. For the drought, sure, but also for this coat.
Oh, just a donut clutch!
This book looks mighty interesting! Adding it to the list.
Projects to try + sugar rushes to be had…
I got to meet Alana yesterday and she brought me one of her CACTUS CAKES!
Love these pretend ice cream cones!
Birthday cake crumble. Yes.
The easiest, cutest ear buds!
Printable beach ball favors!
Love this metallic geo ball.
This matchstick vanity tray is SPOT ON.
On a constant quest for the best chocolate donut recipe, gotta try this one.