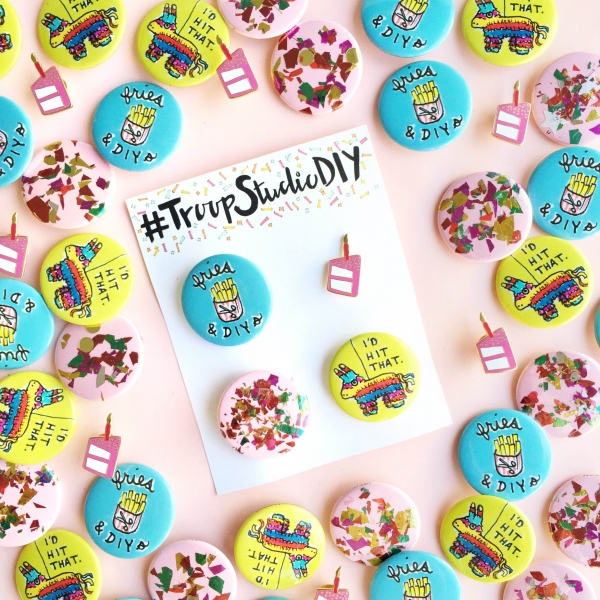 A peek at our pin pack!
At the very beginning of 2015, I made it a goal to work on a project that showed YOU GUYS just how much I appreciate your support, your versions of Studio DIY projects (and costumes!) and just the fact that you stick around here for all the fun and insanity! And I'm so excited it's finally here!!!!!!
We worked with some of our favorite artists to create a #TroopStudioDIY pin pack and every month we'll be sending some of these fun goodies out to a few readers + followers who've made our projects (tag #troopstudiodiy) or our costumes (tag #studiodiyincostume) or just were all around rockstars! 'Cause we'd be nothing without our Troop Studio DIY members, and I can't wait to spread these bits of flair all around the country and the world!!!! So if you've made a project or costume in the past, or are planning on making one in the future, be sure to share photos with us on Instagram using the hashtags!! You just may find some fun pins headed your way if you do.
A quick and very special shout out to the talented gals who helped make this possible and designed these goodies for us! The Fries & DIYs and "I'd Hit That" pins are by Butt'n Booty, the enamel cake pin is by my girl Kendra of Bouffants & Broken Hearts and the confetti buttons are by my new idol Margot of Confetti Buttons, our youngest collaborator to date at the age of 6 years old! Plus a special thank you to Nicole of Floating Specks for illustrating the cards and labels to go with. I'm so excited to get these in the mail, just you wait!!!!
And now for our links!
Links to love, watch + procrastinate with…
Think what you may, but I kind of love the girl.
Holographic shoes be like "BUY ME NOW, LADY!"
It's beginning to look a lot like Christmas.
Excited to listen to this over the weekend!
Bombs away!
I'm not usually a bracelet person, but I'm loving this one.
I'm just kinda crazy for this fuzzy little guy.
If I start wearing my favorite scarf, maybe it will stop being 100 degrees.
Projects to try + sugar rushes to be had…
Could this cake BE any prettier? (Said in my best Chandler voice.)
THIS BIRTHDAY CAKE COSTUME! (Psst.. be the matching mommy slice!)
I've got my eye on these donuts.
Don't let the pigeon drive the bus! Love that book.
Sweeten up that popcorn! (And wear it too.)
Lollipop, lollipop!