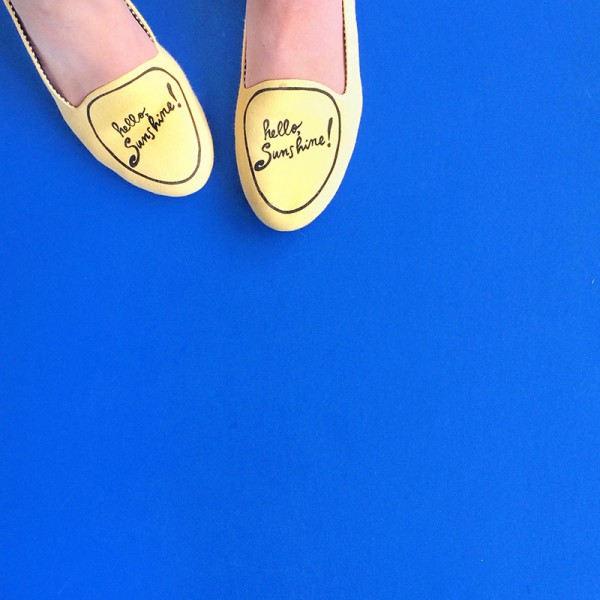 My new favorite shoes! Thought the sentiment was appropriate. 😉

Next week marks eight years that Jeff and I have been together (!) and we've only ever taken one real vacation together. Yes, we've done many a weekend trip to Palm Springs, but only once have we taken a trip that was more than two days and didn't involve visiting family… and that was over 5 years ago! So we are BEYOND excited to be going on a real live HONEYMOON next month! We're going to be living the dream in Santorini and the Amalfi Coast. Holy cannoli. Can I tell you, Greece has been number one on my travel bucket list since I was in high school! I can hardly believe we're actually GOING!
We worked with Katie of Ever After Honeymoons, a concierge style service that helps create amazing honeymoon experiences and she has hooked us UP! We'll be staying at Canaves Oia in Santorini and Casa Angelina on the Amalfi Coast. If any of you have recommendations for sites, food, anything in either city, please let us know! Would love to hear them! We can't wait to take one BILLION photos and also take a little much deserved time off. Countdown is ON! But first, weekend links!
psst.. Thank you to those of you so far who applied for the creative production assistant position! We're accepting applications through the weekend, so if you're in the LA area and are a stellar baker + crafter, head here for more details on how to apply!
Links to love, watch + procrastinate with…
Jeff started a print shop and is selling some of my favorite photos of his!
Gotta gotta have these flamingo candles!
Catch Phrase is an institution in the Lanza family, so I loved this.
That gold heel though.
Have you seen all the Kate Spade flamingo goodies! Wanting this shirt, this clutch and this bikini!
Everyone's been talking about this article.
Made me laugh.
Bought these minnow shorts for the honeymoon!
Projects to try + sugar rushes to be had…
Stroopwafel ice cream sammies for the WIN!
Ok, and double chocolate chip ones too.
Cute DIY wedding confetti poppers!
Chocolate chili splatter paint cake. WHAT.
Make some tiny tassels!
Disco ball photo holders are the way to go.
These faux cactus terrariums are amazing.