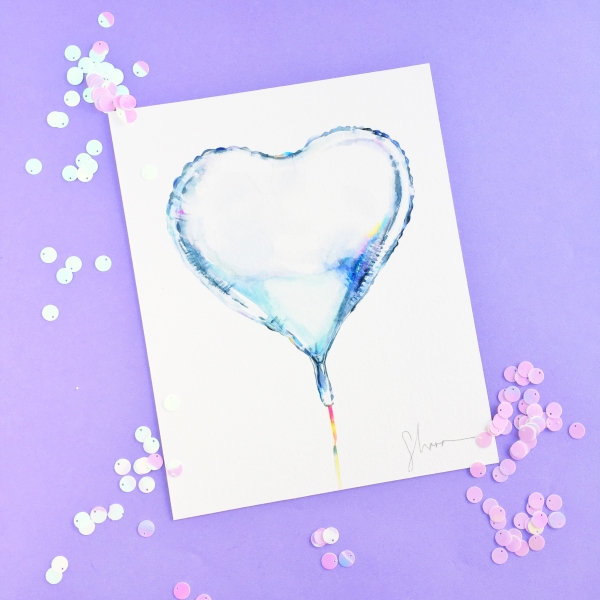 How gorgeous is this heart balloon painting Shana sent over?? It's iridescent!!!
Today is Jeff's birthday!!! I think we're doing dinner and a movie and keeping it low key! Plus, of course I'm making him his annual cake!!!!! I might be more excited for it than he is? 😉 We've had another whirlwind of a week after our Grease adventures and our Sugarfina event, so we're excited to relax a bit. What are you guys up to!?
Our time on set last week had me thinking about today's question…
What decade would you want to live in if you could go back in time?
Mine would definitely be the 50s, exclusively for the music, dancing and the clothes! Funny because I don't really have any sort of retro/50s influence in my wardrobe, but I really do love it. And I just want to swing dance, lindy hop and hand jive all the live long day. Jeff said the '80s and Samantha said she'd just like to stay in the current decade we're in. HA! So, how about you!?
Giveaway Update: Congrats Alexandra and Madison! Your #TroopStudioDIY Pin Packs are on their way!
And now for some links…
The Best Things on the Internet This Week
Don't forget to print your Super Bowl Bingo!
You're the Mary Kate to my Ashley.
A professional chocolate tester? Sign me up!
Love this holographic gift wrap from Brittni!
These date night dice are genius!!!!
This licorice all sorts party is TOO. GOOD.
Lovingggg the wallpaper in Elsie's dining room.
This colorful jewelry is SO gorgeous.
Gonna need to make these flats.
Chocolate nutella cookie bars are calling my name!
I had way too many of the irrational fears mentioned in these comments. OOPS! And also, I totally keep one eye open in the shower at all times.
Oh! And one more thing. Studio DIY was nominated for a Shorty Award!!!! If you feel so inclined, I would be so grateful to have your vote! =) SO many awesome and talented folks are nominated, and I'm honored to be a part of the group! Happy Weekend!!