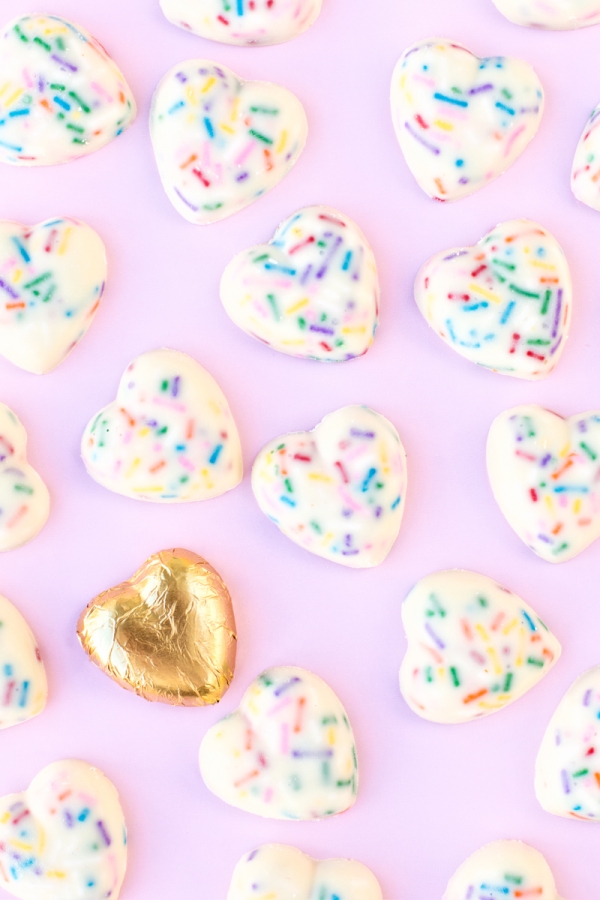 A quick little v-day idea! Melt white chocolate + mix in sprinkles and fill chocolate heart molds to make funfetti chocolates! Then wrap 'em in gold wrappers.
Phew, this was our busiest week in a long time! We had three jam packed shoot days, conference calls, interviews, dinner with friends… the works! And, we have a new Studio DIY team member starting today! WAHOOO! As a result, we don't have a ton in the works for the weekend and I'm very happy about it. I'm also excited because I'm planning a few fun girls trips for the next couple months, after talking about it for 1,000 years. Anyone stayed at a cute Airbnb in Ojai or Santa Barbara?? Looking for a good rec! Anyway, on to other important things like the question of the day…
What was your first screen name (or email address)?
The topic of AIM screen names came up this week. Remember the whole UpPeRcAsE lOwErCaSe phenomenon? Yep, my screen name was xFaShIoNiStA621x, starting and ending with an "x" was definitely a trend too.. right!? haha!! I wanted to be a fashion designer at the time, hence the Fashionista reference. 😉 Samantha's was UGAbabe2489 and Jeff's was Hughie2589. But now, we need to know YOURS!
We'll be giving out pin packs to a few people who share their answers each week!
Giveaway Update: Congrats Sarah, Samantha, and Lizzie! Your #TroopStudioDIY pin packs are on their way!
The Best Things on the Internet This Week
These Hey Arnold earrings really cracked me up.
Remember the rainbow bagels we shared? Here's an awesome interview with the creator!
Super cute DIY heart sweatshirt for v-day this weekend!
Kate designed a super fun Palm Springs shirt, featuring one of my very favorite doors!
Another week, another carpool karaoke!
I just really need this sequin dress.
The googly eyes kill me!
Kendra has a new line of clothing and I'm DYING over it!!
Happy weekend you guys!!