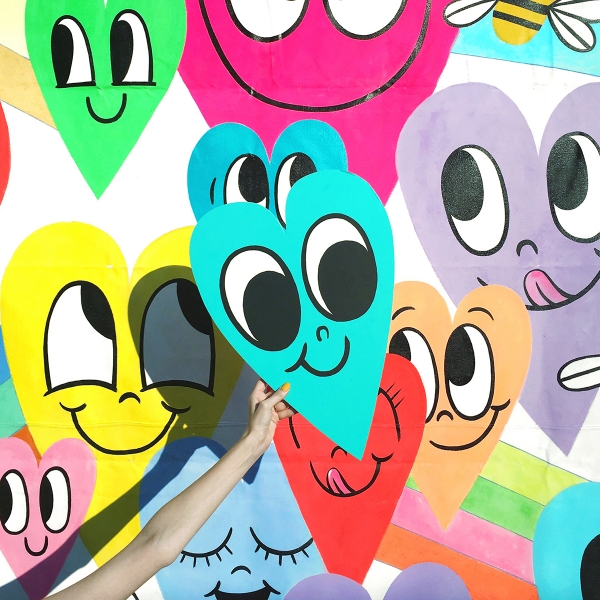 One more snap from the Chris Uphues event at Pygmy Hippo Shoppe! Love these happy hearts.
It's been a weird week. An emotional one, family-wise, and a hectic one work-wise which was a recipe for I haven't gone grocery shopping in two weeks and have just been eating takeout/breakfast for dinner. Oh well! In very important news, I downloaded Tricia Miranda's WTF dance tutorial to learn so, you know, GET READY. How has your week been? Up to anything fun this weekend!? And now for our fun question….
Which TV family would you want to adopt you!?
Mine would hands DOWN be the Braverman family from Parenthood. Ironically, Zeke is an exact clone of my dad, so I guess my real life family isn't too far off. 😉 But really, not only would I want them to adopt me, but that family is my exact goal for what I want Jeff and my future family to be. I think watching this show finally helped me convince Jeff to get on board with my "I want at least four kids" campaign. 😉 Oh and I cried at every darn episode. Hahah!
Samantha wants the Brothers & Sisters family to adopt her so Sally Field can be her mom, Annie voted for Modern Family with an addition of Larry David as her crazy uncle. And Alex went with the Fresh Prince of Bel-Air fam. Hahaha!
So.. what about you!?!?!?
We'll be giving out pin packs to a few people who share their answers each week!
Giveaway Update: Congrats Wendy + Sophie! Your pin packs are on their way!
And now for some links…
The Best Things on the Internet This Week
My gal pal Natasha interviewed me about social media if you want to check it out!
Last week's question of the day answers were HILARIOUS. I love you guys.
Hotline Bing. This is EVERYTHING.
Ellen in Adele's ear.
Pretty into this choreography to the new Beyoncé!!!!! OK and this one too.
Scooping up this flamingo purse STAT!
Mean Tweets is my FAVE. Hahahaha!
SO into this patch.
Jeff has an epic obsession with Larry David so I'm always on the look out for funny things on Etsy!
I think everyone would be 5,000 times happier if there was a constant Carpool Karaoke loop playing in their lives.
Happy Weekend!