In case my Instagram doesn't make it obvious enough, I'm a sucker for color frenzies of late. The more color the better, if you ask me! Lately I've been kind of freaking out over all the new products that Studio DIY Partner in Craft, Baba Souk has been loading their shop with! You may remember this eclectic little Internet gem from the DIY fresh flower gift tags I did a few months back, but I just have to share a few of my faves that I've been freaking out over every time they share a new one on their Insta feed. Baba Souk is all about supporting and showcasing independent designers and you better bet I'm all about that too. These items would make the most fantastic party gifts, no!?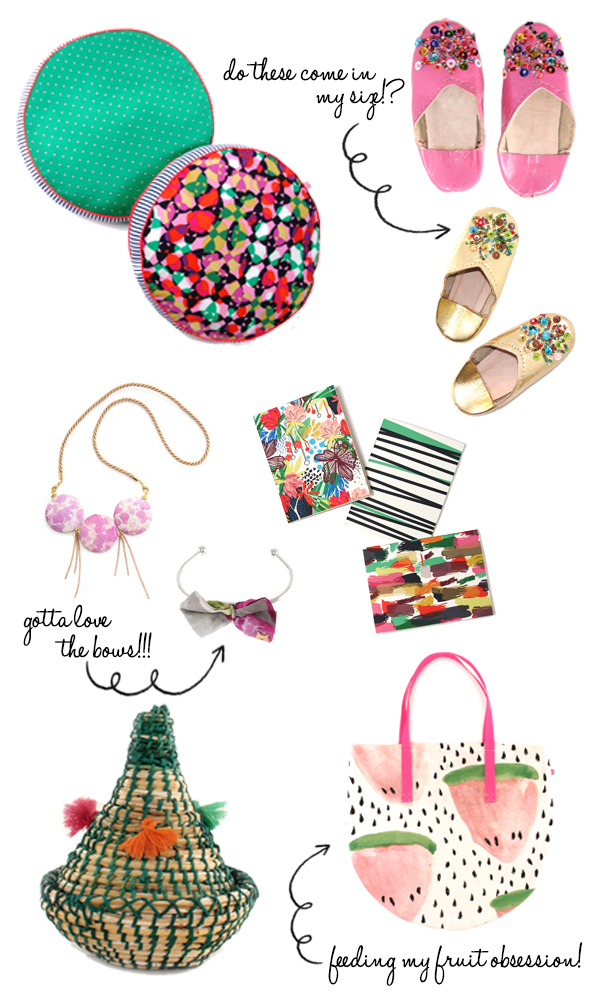 Pillows / Baby Slippers / Necklace / Bracelet / Notebooks / Basket / Tote Bag
I can barely even handle that watermelon tote. In fact, it inspired a Party Stylin' post, comin' at you in just a bit!!! What's your fave? And how badly do you wish those glitzy shoes came in adult sizes too!?
Check out the rest of Baba Souk's products here!
*Baba Souk is one of Studio DIY's crafty sponsors. For more information on sponsorship opportunities, click here.